Video: Open Days at Teddy Hall
16 Aug 2018
Many prospective students find that Open Days are one of the best ways to get a feel for a university or college. Oxford's college system may seem a little daunting at first glance, but having the chance to look around can really highlight each college's individual personality. In a new video, we explain what prospective applicants can expect from an Open Day at St Edmund Hall.
The University holds Open Days in June and September each year, where departments and colleges open their doors to prospective students. Filmed on a beautifully sunny day at the last Open Day in June, this video explores what it is like to experience an Open Day at Teddy Hall.
Prospective students are offered guided tours around the College from current students, who often study their subject of interest, and have the opportunity to ask questions about the course or life at Teddy Hall. From the dining hall to the Junior Common Room (JCR) to a typical student bedroom, the College is open for prospective applicants and their families to look around. We also run a 'Meet the Tutors' event at 1:45pm, where prospective applicants have the opportunity to meet the Teddy Hall tutors in their subject of interest and have a chat about the course. Many applicants also choose to visit the University more widely, and several events are held at the various departments and faculties throughout the day.
For more information about the June Open Day, see our article.
The next Open Day is on Friday 14 September 2018. St Edmund Hall will be open from 9:30am to welcome prospective students, so do come and say hello!
Related News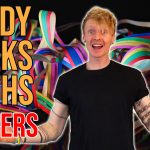 Teddy Rocks Maths Essay Competition - 2021 Winners Announced
College Lecturer Tom Crawford announces the winners of the 2021 Teddy Rocks Maths Essay Competition
14 Jun 2021