Welcome to the new JCR President 22-23
24 Jan 2023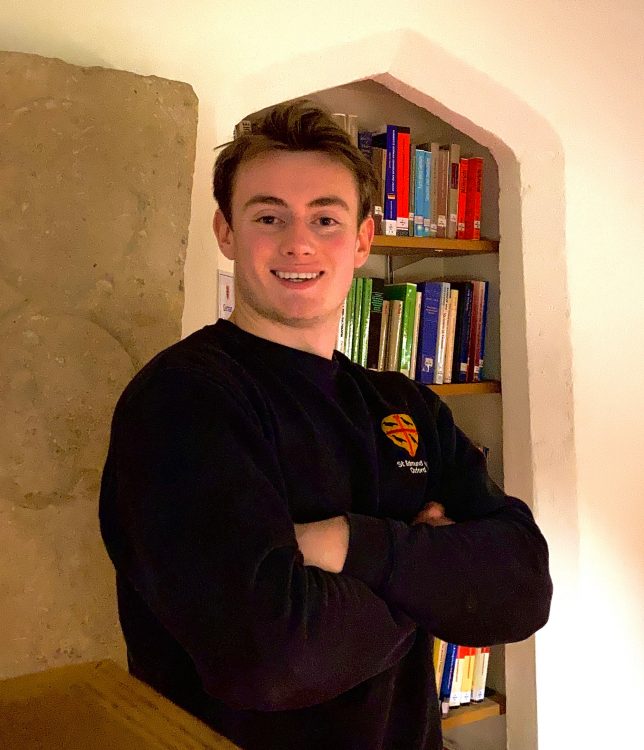 Brodie Weymouth (2021, Geography) was elected by the St Edmund Hall undergraduate students to become their next JCR (Junior Common Room) president. He took over the role from Brittany Perera in 9th Week of Michaelmas term 2022.
Why did you choose to stand for election?
The Hall has shaped me so much as a person, I felt it was only right to give back to the College. It might sound cliché, but I really do believe in the Hall Spirit. In no other college can you bump into a random person on the walk to the library and be able to have a full conversation with them. The community at Teddy is so close between the years, sports helps to get you to know people across the years really well.
What are you hoping to achieve?
A couple of things really. Firstly, I want to keep that close knit feel of Teddy going, so organising more events that everyone can get involved with is really important to me. Secondly, I want to help the College become greener, as a geographer I feel obliged to do this, but it is also something I really believe in and I feel that Teddy is already on a great track for this. Finally, I want to celebrate the amazingly diverse community at Teddy.
What do you think are the current strengths of the College?
The "have a go" attitude at Teddy, it translates to all aspects of life here. From our cuppers campaigns in every single sport that has a cuppers tournament to our amazing musical talents showcase at our open mic nights. The friendly atmosphere at Teddy gives people confidence to showcase their skills or try out new things that they are unsure about.
Tell us a little more about yourself, and your interests.
I play hockey for the College, despite having not played for a couple of years! I am also captain of both the rounder and powerlifting teams. Powerlifting is a sport I do at the university level, competing with the team in several events. I come from the lakes in Cumbria, so working as president is a very different task to herding sheep. You'll probably find me spending far too long at lunch or dinner chatting to people in the Wolfson.
What do you think might be the most difficult aspect of being JCR President?
Team management. As president you are responsible for the ongoings of the JCR committee, making sure they all understand what they are doing and most importantly, that they are all okay. The welfare of the committee is something that can easily be hidden underneath all of the workload and meetings you attend. But unlike herding sheep, it is a vital part of a functioning flock.
What was the most amusing or unexpected question you were asked in Hustings, and how did you reply?
Unfortunately, husting wasn't very exciting this year for presidents. But our Entz Reps (Social) had to do a cat walk down the aisle.
Other JCR Committee Posts
Congratulations to the following students, who were also elected:
Secretary – Catherine Gower
Social Secretaries – Michael Atife and Maria Nozdrina
Women* Welfare Officer – Lalou Laredo
Men* Welfare Officer – Joss Carr
Access Officers – Mya Hesketh-Bream and Ellis Hall
Academic Affairs and Careers – Weijia Gao
LGBT reps – Harry McWilliam and Amy Shaw
International and Visiting Students' rep – Eden Long
Sports reps – Alexander Burson and Dan Cryer
Environment and Ethics Officer – Lenny Bailleux