I came up to the Hall in 1972 on an Open Scholarship to read English Language and Literature. Coming from a state grammar school, I had been quite daunted about applying to Oxford at all, but on a 1971 school trip to see Othello at the Playhouse we dropped in to look at a number of colleges and I was captivated by the small scale and friendly atmosphere of the Hall.
A follow-up visit to meet some undergraduates convinced me that this was the place for me. Fortunately I was quite a voracious reader, and that stood me in good stead in the entrance exam and interview. My English master at school had suggested that reading round a topic was a good idea, and it was certainly helpful in the interview that I'd read e e cummings' The Enormous Room and Edmund Blunden's Undertones of War when we came to discuss the World War One poets. Nonetheless, the award of a scholarship was a bit of surprise! So my first tip is to read as much and as widely on every area of your A-level work as you can, even before you arrive in Oxford.
All the way through school I had a bit of a reputation as a dabbler in all sorts of things alongside the subjects I was supposed to be studying. For a time I got so interested in printmaking I thought seriously about jacking in Oxford and going to art school instead. But I was also playing the double bass at county orchestra level, and music was an equally strong pull. So once I arrived at the Hall I realised that the University is a dabbler's paradise. Artistic interest was helped by attending life drawing classes at the Ruskin School of Art, and there was as much music as I wanted, as every orchestra in Oxford was short of a bass player! We had quite a good orchestra at SEH one year and did a creditable performance of the Mozart Clarinet Concerto in the Wolfson Hall.
I failed to turn up to quite a lot of English lectures (though I was always there for the star turns like Dame Helen Gardner on Eliot and Donne) but instead found myself at the head of the queue for Sir Nikolaus Pevsner's weekly Slade lectures on British art and architecture (given at the top of the Ashmolean with ancient monochrome slides projected on a vintage magic lantern), and Roy Jenkins' brilliant analyses of American politics. I got into student journalism, and realised nobody wanted to review classical music or jazz for the university magazine, Isis, so suddenly found I had a pair of free tickets for almost every concert I wanted to go to. (In my first Michaelmas term these ranged from Segovia at the Sheldonian to Oscar Peterson and Buddy Rich at the New Theatre.)
I also found that a pile of records built up in the magazine offices and as nobody else wanted to review them, I did, building up a decent collection and paying for it by tapping out a few thousand words. (All done on an old-fashioned typewriter!) Then there was student drama, and as well as acting and directing for the John Oldham Society in the Hall, there was music to be written and played for other productions including the OUDS revue and the Oxford and Cambridge Shakespeare Company's production of Much Ado About Nothing, directed by the then up-and-coming Elijah Moshinsky. So my second tip is, throw yourself into everything the university has to offer. My reviewing of concerts and records was invaluable when I came to do the same job for The Times, twenty years later, and the interviews I did for Isis also gave me what would turn out to be valuable experience when I later did similar jobs for the Guardian and the Telegraph, not to mention over 750 interviews for BBC Radio 3! The free tickets and records aren't so bad, either!
Obviously, despite all this extra activity, I still had to get the work done for my English course. So I worked on being able to write clean, tidy final essay drafts, with no revision. My main weekly literature tutorial tended to be before lunch on a Thursday, so I'd do the reading in the first part of the week, and then get up at seven on Thursday and knock off two or three thousand words by 11. Then there was just time for a cup of tea, before wandering along to my tutor's rooms. Anglo-Saxon and Middle English was a matter of short term memory – cramming the stuff the night before, and then dashing from the library for a pint at the Cricketers (now the Mad Hatter on Circus St) before closing time.
For the most part I could hang onto the necessary vocabulary for the next 18 hours or so. I do confess, however, to spending part of the long vac in 1973 doing my own translations of Gawain and The Pearl, and totally immersing myself in the 14th century language subsequently made those short term memory exercises a lot easier. I'd also worked in Denmark for part of the summer and somehow hearing that Scandinavian language as a living thing made the medieval texts seem closer and easier. So tip number three is work on your writing so that it is as easy as breathing, and use your vacations to travel judiciously and get the kind of in depth reading done that you can't do in term time.
In my third year, the looming question arose of what on earth to do next. I was accepted by Oxford to do an M. Litt on Dylan Thomas, but then had second thoughts and applied for a PhD at the Courtauld Institute in History of Art for which I was accepted, so I said no to Oxford. I'd been closely involved throughout 1973-5 with a couple of contemporaries in cataloguing and extending the SEH art collection so this Courtauld place furthered another of my dabbler's interests. But my father – always pragmatic – thought I ought to have a safety net in place in case I didn't get a good enough degree to be able to take up the PhD. So almost on a whim I applied for Macmillan Publishers' trainee scheme. To my surprise I was one of the three candidates accepted that year, so reluctantly I turned down the Courtauld and went off to be a publisher. (I did do a PhD in music at Oxford Brookes, thirty years later, but that's another story!)
My first job was editing children's literature, and everything I've said so far about Oxford was useful preparation: a broad spread of interests; the ability to produce quick, tidy copy; an awareness of overseas markets (I'd also spent other long vacs in France); and the ability to read texts quickly and assimilate them. When I eventually moved from publishing to writing and broadcasting, the same things held true, all making use of skills I had learned at SEH. And, as I've said in talks to the Hall Writers' Forum, it was also Oxford that stimulated my desire to be a biographer, having gone to hear Michael Holroyd at MoMA talking about his life of Lytton Strachey. That one evening of listening to one of our great biographers convinced me that life-writing was the way I wanted to go with my own work, and several biographies later, I'm sure that was the right decision.
"I was inspired to become a biographer by a talk given by Michael Holroyd at Modern Art Oxford in 1973. The English course itself gave me the discipline to write tidy first drafts, to length and on time, with no rewrites or revisions. This discipline has been an essential element in writing overnight concert reviews for the Times for the last twenty years, and in writing up the research (the interesting bit) in my biographies."
Alyn Shipton (1972, English) is a Research Fellow of the Royal Academy of Music and both a presenter and producer of jazz programmes for BBC Radio 3.
After reading English, Alyn left the Hall and entered a career in publishing, and was variously a teenage fiction, school textbook and academic editor, nurturing many writers into print on a variety of subjects. As a writer and editor himself, he was the Consultant Editor of the New Grove Dictionary of Jazz, and has had a lifelong interest in oral history, starting with the Brighton Writing Adult Literacy Collective in the 1970s, and subsequently editing the memoirs of several musicians, including Danny Barker, Doc Cheatham and George Shearing. His most recent oral histories are the autobiographies of jazz trombonist Chris Barber and the 1960s pop singer Billy J. Kramer.
His first biography was of Fats Waller (1988), which has scarcely been out of print since. His life of Bud Powell (written with Alan Groves) was the first English language biography of the pianist, and his book Groovin' High, portraying the life of Dizzy Gillespie, won the 1999 ARSC award for the best research of the year. His monumental New History of Jazz, published in 2001 (and revised into a second edition in 2007), was the Jazz Journalists Association Book of the Year, and won Alyn the Jazz Writer of the Year title in the British Jazz Awards. From 1992-2012 he was the jazz critic of The Times. Having also written for the Guardian, the Daily Telegraph and Gramophone, he currently has a monthly column in Jazzwise magazine.
After taking a PhD in music at Oxford Brookes, he is now Lecturer in Jazz History at the Royal Academy of Music, where he holds a research fellowship. A talented jazz bassist himself, he leads the Buck Clayton Legacy Band, playing music bequeathed to him by the famous American trumpeter. Alyn can be heard each week on Radio 3 presenting Jazz Record Requests, and he is also the executive producer of the Sunday Morning classical music programme as well as the weekly late-night show Jazz Now.
His recent literary work has been a return to biography, with lives of the songwriter Jimmy McHugh (2009), the entertainer Cab Calloway (2010) and the first ever biography of the singer Harry Nilsson (2013), which won the 2014 Association for Recorded Sound Collections Award for Excellence in Historical Recorded Sound Research on Popular Music; and a Deems Taylor ASCAP award as best pop biography of 2013. He is currently working on a history of the connections between visual art and jazz.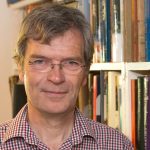 Alyn Shipton
1972, English
Broadcaster and Writer