Anya Saunders (1997, English) is a writer, producer and director at the BBC.
I remember driving into Queen's Lane on a cold autumn morning feeling incredibly apprehensive. How would I fit into this illustrious place? How would I cope with the academic pressure? Did one of the tutors who interviewed me let me in by mistake? Would I make friends? Within hours, I was drinking coffee – followed shortly by cheap wine – with the other new arrivals on my floor in Whitehall, and I soon ended up with the rest of the English freshers in the college bar. I fell completely in love with Oxford and the Hall and ended up staying for five years, taking an M.Phil in Romantic Studies after my undergraduate degree.
For those five years I threw myself into everything I could – working in the college bar, organising balls and cocktail parties, coxing the women's rowing eight and, of course, academia, which I later used as a springboard for my career. And while at the Hall I surprised everyone who knew me (as well as myself) by taking up rugby and going on to win seven consecutive Cuppers tournaments for the Hall, and a Blue for Oxford in the Varsity match of 2000, where we beat Cambridge 62-0.
Since Oxford I've gone on to a career in television, working my way up at the BBC from runner to producer and director, making mainly arts documentaries. My MPhil from Teddy Hall helped me secure my first major career break, researching for Peter Ackroyd on a BBC series on Romantic poetry. And I've been lucky enough throughout my career to continue to share my love of literature and the arts with some incredibly inspiring people. Highlights include bonding with Andrew Motion, Jane Campion and Ben Whishaw over a shared love of John Keats; exploring Picasso's relationship with the old master painters with Andrew Graham Dixon; and discussing family bust-ups with Noel Gallagher. Recently I've begun to specialise in producing innovative digital content and was in charge of editorial for the BBC's Make it Digital campaign, a nationwide campaign helping millions of people across the UK develop computing and coding skills.
It was also at Teddy Hall that I met my wonderful husband Olly. We've now been together for over 17 years and have two beautiful children whose godparents were also at the Hall. It's clear that both professionally and personally my life would have been very different if I hadn't gone to Teddy Hall.
Should I have been nervous driving up to Oxford as a fresher on that cold day in 1997, worried that Teddy Hall might not be the place for me? Probably – it still amazes me sometimes to think that I got accepted into the college alongside so many talented people. But my time at the Hall made me realise that a bit of courage, determination and application go a long way and that new challenges can be more rewarding than you might ever have dreamed.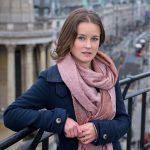 Anya Saunders