Bruce Mitchell (1920-2010) was an outstandingly distinguished and famous scholar, whose text-books on Old English are classics in the field. He was a Fellow and a Tutor at St Edmund Hall from 1955 to 1987, and after his retirement was elected an Emeritus Fellow.
Born in Queensland, Bruce Mitchell left school at 16, later enrolling for an arts degree at the University of Melbourne, which he completed whilst working part-time as a student teacher. After five years of military service in the Australian army, he became co-manager of a printing company and then returned to university in 1947, gaining a First in English Language and Literature. On completing his MA in 1952, Bruce was awarded a scholarship for study abroad. He moved to Oxford, where he entered Merton College, embarking on a D. Phil under the supervision of Tolkien. He successfully completed his doctorate in 1959 with a thesis entitled Subordinate Clauses in Old English Poetry.
Bruce's academic career began with lectureships at Merton and St Edmund Hall. These were followed in due course by a University Lectureship in English Language and a Hall Fellowship, both of which he held until his retirement in 1987. Bruce's speciality was Old English language and literature, a field in which he achieved international renown. Amongst his many indispensable contributions were an edition of Beowulf which he published with Fred C. Robinson, and his monumental two-volume study of Old English syntax (1985), the definitive reference work on this subject. With immense enthusiasm for making his erudition widely accessible, Bruce introduced countless students to Anglo-Saxon through A Guide to Old English (1965), now in its seventh edition. His later book, An Invitation to Old English and Anglo-Saxon England (1995) has also proved immensely popular with undergraduates and non-specialist readers.
In 1986 Bruce gained the degree of D.Litt (Oxon) for his contribution to Old English studies. His books have been translated into several languages.
A selection of Bruce Mitchell's wise sayings
"I am more concerned with helping those who do not know Old English than with pleasing those who do. I see no point in making things seem harder than they are; the virtues of simplicity, even of stating what may seem obvious, in expositions intended for the often hard-pressed beginner, should not need defending."
"Today, in this nuclear age, with man's inhumanity to man daily more apparent on all levels and the powers of darkness in seeming ascendancy throughout the world, we may see Beowulf as a triumphant affirmation of the value of a good life: as the poet himself says, Bruc ealles well 'Make good use of everything.' But I make no claim to be 'right'.. To vary a sentence of Dr Johnson in the preface to his Dictionary: 'To enchain poetry, and to lash the wind, are equally the undertakings of pride, unwilling to measure its desires by its strength."
"My aim throughout has been clarity and ease of reading. […] My concern has been to describe and to appreciate the tomato rather than to label it 'fruit' or 'vegetable'."
"As the time draws near for me to write Finis, I am more conscious of the work that I have not done than of the work that I have done. Even in those areas into which I have ventured, I have often left tracks — stige nearwe, enge anpaðas — rather than signposted highways. But it is not given to human beings to achieve perfection."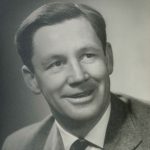 Dr Bruce Mitchell