David Clarke (1958, English) had a long and distinguished career in teaching before he became a published poet.
After graduating from the Hall, he taught at several schools in Manchester. He was Head of English at Sharston Secondary School , 1965-7; and at Parrs Wood High School, 1967-72. He was appointed as Headmaster at Sandbach School, Cheshire, in 1972, remaining there until his retirement in 1993. For many years, he served as Chairman of the JMB Examining Board for English.
He has published three collections of poetry with Hippapotamus Press: A Late Flowering (1997), The Bright Ring of Time (1998), and Touching on Love (2002). A further volume, Reflections: Poems from Two Collections was published by Pikestaff Press in 2000.
He has also published a children's play, The River-Witch (New York and London: French, 1992).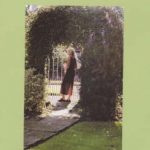 David Clarke