Eliane Glaser (1992, English) is a BBC radio producer, a Senior Lecturer in English and Creative Writing at Bath Spa University, and an Honorary Research Fellow in the Department of English and Humanities at Birkbeck, University of London. She writes for a number of publications including the Guardian, New Statesman, and the Independent.
Her book Get Real: How to See Through the Hype, Spin and Lies of Modern Life was published by Fourth Estate in 2012. Her forthcoming book, Anti-Politics: On the Demonization of Ideology, Authority and the State will be published in 2018.
Eliane on polemical writing:
"I felt I'd become a writer when I realised I was allowed to use my own voice; that is, my speaking voice. I edit by reading (or mouthing) my work out aloud and making sure it scans. Maybe I do it that way because I'm trained as a radio producer. But I think it's also because writing is very strongly about expressing what I want to say; about making a critical intervention in public debate….
"I'm a polemical writer and my work exposes other people's polemical strategies, particularly when they are concealed or disavowed as polemic; presented as self-evident fact. For me, criticism isn't negative; it's a way of identifying how certain agendas are promoted, and it's a way of promoting what I think is a better agenda in an explicit way."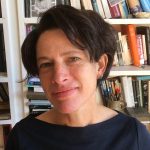 Eliane Glaser