Eloise Stonborough (2007, English) is an accomplished poet and scholar. While she was an undergraduate, she regularly attended the College's Creative Writing Workshops; and in 2008 she won the Graham Midgley poetry prize.
She was Secretary of the Oxford University Poetry Society, arranging numerous memorable readings at the Hall. In the crisis which surrounded Derek Walcott's candidacy for the Oxford Professorship of Poetry in 2009, she organised an open letter which went to The Times, calling for Ruth Padel's withdrawal and the reopening of nominations.
Eloise graduated with a First, staying on to achieve a Distinction in her Masters on Twentieth Century Literature. She held the Violet Vaughan-Morgan Studentship in English, and received a Gibbs Prize for her Special Author Essay on Derek Walcott's use of conceptual rhyme in the long poems Omeros and Tiepolo's Hound.
In 2011, she co-edited The Salt Book of Younger Poets with Roddy Lumsden, a widely-praised anthology which showcases a new generation of British poets born since the mid-80s. Her poems have been published in The Oxonion Review, Penning Perfumes, and Birdbook: Saltwater and Shore.
She currently lives in Brooklyn and works as a strategy consultant.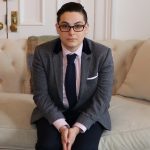 Eloise Stonborough