Professor Erica McAlpine
A C Cooper Fellow and Tutor in English Language & Literature
Erica McAlpine teaches 19th-, 20th- and 21st- century literature in English at St Edmund Hall; she has particular interests in Romantic and American poetry. Her research focuses on lyric poetry from Romanticism onwards. She has recently written a book called The Poet's Mistake, which addresses the various kinds of errors poets make in poems (grammatical, factual, and otherwise) as well as critics' responses to such mistakes over time. She is also interested the ways that poetry and its forms correspond to aspects of the unconscious mind.
In addition to teaching and writing academic work, Erica is also a practising poet and translator. The Country Gambler, her collection of original poems and translations from Horace, was published by Shearsman Books in 2016. Her poems have appeared in magazines including the Times Literary Supplement, the Spectator, and Parnassus.
Erica runs, with her colleague Matthew Bevis at Keble, a bi-weekly poetry reading group called Salutation and Cat. She also organises a reading series at St Edmund Hall called Meet the Poet.
Born and raised in Atlanta, Georgia, Erica earned her BA at Harvard, her MPhil at Cambridge, and her PhD at Yale. She briefly taught creative writing at the University of Exeter before coming to Oxford as a Career Development Fellow at Keble in 2012. She took up her faculty position and fellowship at St Edmund Hall at the beginning of 2017.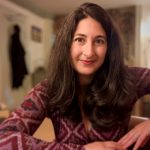 Professor Erica McAlpine
BA (Harvard); MPhil (Camb); PhD (Yale)
A C Cooper Fellow and Tutor in English Language & Literature
Associate Professor
Governing Body Fellow
Aularian Newsletter Editor
Archive Fellow