Dr Francis Pocock
St Edmund Fellow
Francis John Pocock went to Reading School before coming up to the Hall in 1960 to read Chemistry. After graduating he worked in Dr Rossotti's research group and was awarded a DPhil in 1967. He rowed and played hockey for the Hall.
Francis' career in logistics and manufacturing began at Boots in Nottingham where he became Tablet Manufacturing Manager and produced the very first batch of Nurofen to go on sale. Moving to Gosport in 1971 he was appointed Materials Manager for American Cyanamid. Subsequently he spent 10 years in the brewing industry, initially as Logistics Director for Courage Ltd and later as Operations Director for Watney, Mann & Truman.
In 1987 he moved across to the Food Division to become Technical Director of Grand Metropolitan Foods Europe. From 1992 he ran his own company specialising in the recruitment of senior manufacturing managers, until retiring in 2006.
In 2002 Francis was elected President of the St Edmund Hall Association. Together with sculptor Rodney Munday (1967, English Language and Literature) and Domestic Bursar Ernest Parkin he helped manage the project to create and install the commemorative statue of St Edmund. In recognition of his contributions to the College and the St Edmund Hall Association, the Governing Body elected Francis to a St Edmund Fellowship in July 2007.
Michael Cansdale and Francis created the concept of the Hall Masterclass Awards to provide students with advanced coaching in extra-curricular activities which will facilitate their achieving high standards of excellence in a specific field such as sports, theatre and dance, writing and journalism, music. Awards are made each year and financed by Aularians contributing to the Annual Fund.
Happily married to Elizabeth since 1968, they live near Epsom but spend several weeks a year in Australia where their daughter, Helen, now lives with her young family. Their son Tom and his wife live somewhat nearer in Datchet.
Francis' interests include gardening, walking, and music – in particular playing the clarinet.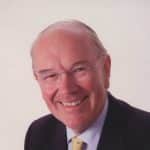 Dr Francis Pocock
MA, DPhil