Geoffrey Grigson (1905-1985; matriculated 1923) was one of the Hall's most distinguished alumni. A Cornish poet, critic, and naturalist, he was an impressive polymath throughout his life – writing about travel, art, literature, the English countryside and botany.
In the 1930s he emerged first as a poet, then as the founder-editor (with his first wife Frances Galt) of the avant garde poetry magazine New Verse. He soon established a reputation for his intolerance of imprecision, bombast and cant. He claimed that New Verse was not an organ for left-wing politics, but he famously championed Auden and MacNeice. Lambasting members of the literary establishment such as Edith Sitwell, he made many enemies. Some of Grigson's most interesting journalism was collected in volumes whose titles announced his adversarial persona: The Contrary View (1974) and Blessings, Kicks and Curses (1982).
Although he became (like Richard Jefferies) a Wiltshire man, he never  forgot his upbringing in rural Cornwall, and his best book about English country life – in the tradition of Edward Thomas – was Freedom of the Parish, a study of the village of Pelynt where he grew up.
He remained a keen naturalist throughout his career, publishing observations of flora and fauna in collections such as the Shell Country Book, The Englishman's Flora, and the Shell Country Alphabet. He also published 13 collections of poetry, including Several Observations (1939), Under the Cliff (1943), The Isles of Scilly (1946), and History of Him (1980).
Grigson's impressions of St Edmund Hall during the 1920s feature in The Crest on the Silver: An Autobiography (Cresset Press, 1950). A centenary conference in his honour was held at the Hall in 2005, and in the same year Cedric Barfoot and Robin Healey published My Rebellious and Imperfect Eye: Observing Geoffrey Grigson. The 19 distinguished contributors to this collection of essays include Aularian poet Kevin Crossley-Holland, who is a great admirer of Grigson's work.
Geoffrey Grigson was married to the famous cookery expert Jane Grigson – their daughter is the equally celebrated Sophie Grigson.
Grigson's Critical Judgements
"The scarcest quality among young English writers is integrity."
"I find [in English writers] only a jelly of mythomania, or self-deception, careerism, dishonesty, and ineptitude."
"I attempt to be rude from a moral basis, a basis of differentiating between the fraudulent and inert and the active, genuine, and desirable."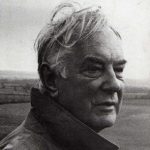 Geoffrey Grigson