The Revd Graham Midgley (1923-1999, matriculated 1941) was a distinguished scholar who specialised in eighteenth-century literature.
After reading English at the Hall he was appointed as a lecturer at Bedford College London where he worked from 1949 to 1951. He returned to Oxford in 1951, where he was appointed Fellow and Tutor in English at the Hall and a lecturer in the Oxford English Faculty. He was then ordained as a deacon in 1956, and a priest in 1957.
Graham's first published article was on the Old English poem The Wanderer. His seminal article on The Merchant Of Venice, published in 1960, has been reprinted several times. In 1973, he produced a study of Orator Henley, the eccentric clergyman satirised in Pope's mock-epic The Dunciad. He edited three volumes in the Oxford edition of The Miscellaneous Works of John Bunyan (1980, 1986 and 1989); these were followed by his University Life in Eighteenth-Century Oxford (1996).
During his long career at the Hall he served as Dean from 1956 to 1978, as Vice-Principal from 1969 to 1978 and as Chaplain from 1978 to 1985. On retirement as Tutor in English in 1984, he became an Emeritus Fellow.
Graham was a gifted sculptor as well as an eminent scholar. Some of his beautiful abstract carvings in wood, stone, and marble are owned by the Hall and exhibited in various prominent positions on site.
After his death in 1999, the College received a generous donation to fund the annual Graham Midgley Memorial Prize for poetry. The prize, worth £100, is awarded to an undergraduate for a single outstanding poem in English of no more than 25 lines. It has been won by a series of gifted students, several of whom have gone on to become published poets.
Since 2002, the Graham Midgley prize-winning poems have been published each year in the College Magazine.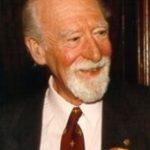 Revd Graham Midgley