Since leaving the Hall in 2011 I have been working in the television drama industry on a range of different projects.
Most recently I executive produced the 20th anniversary series of long-running detective series Midsomer Murders, and before that I worked as Script Editor on the final series of Lewis, the spin-off for Inspector Morse, which involved a welcome return to Oxford for the summer! I'm currently producing an original 6-part crime thriller in Dublin called Blood, which will be on screen in early 2019.
I read Russian at the Hall, with a particular focus on literature. Whilst my language skills may not be called into action on the day job (notwithstanding several foiled attempts to get a contemporary adaptation of Crime and Punishment off the ground), the skills I learnt during the course have stood me in good stead for a career in the creative sector.
I was lucky to be part of a thriving student drama scene in Oxford, serving on the OUDS committee and producing the New Writing Festival. I also took the opportunity to perform in numerous productions, including a UK tour of She Stoops To Conquer, culminating in a fortnight's run at the Edinburgh Fringe. It was at Oxford that I developed a real passion for drama, and I look back on my years at the Hall with great fondness.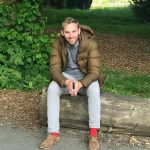 Jonathan Fisher
2007, Modern Languages (Russian)
Executive Producer, Company Pictures
Related Links