Sir Keir Starmer
Honorary Fellow
Sir Keir Starmer (1985, BCL) is a barrister and the leader of the Labour party.
Sir Keir was called to the Bar in 1987 and appointed Queen's Counsel in 2002. He practised from Doughty Street Chambers since its inception in 1990 and was appointed Head of Chambers in 2007. His main areas of practice were human rights, international law, judicial review and criminal law and he has conducted cases at the highest level – and all over the world – in those fields. He is the author of several leading text books on human rights and criminal law.
He was named as QC of the Year in the field of human rights and public law in 2007 by the Chambers & Partners directory and in 2005 he won the Bar Council's Sydney Elland Goldsmith award for his outstanding contribution to pro bono work in challenging the death penalty throughout the Caribbean and also in Uganda, Kenya and Malawi.
From 2003-2008, Keir Starmer was the human rights advisor to the Policing Board in Northern Ireland. In that capacity he worked with the Policing Board to ensure that the Police Service of Northern Ireland fully complied with its obligations under the Human Rights act 1998.
He served as Director of Public Prosecutions and head of the Crown Prosecution Service from 2008 to 2013.As Director of Public Prosecutions, Sir Keir introduced Core Quality Standards within the CPS and a robust quality assurance framework to ensure that all prosecutors provide a high quality service to the public. Keir also oversaw the merger of the Crown Prosecution Service and the Revenue and Customs Prosecutions Office in 2009/10. A specialist revenue and customs division now operates successfully within the CPS, and significant savings have been made as a result.
As DPP, Sir Keir had to handle a number of complex and sensitive cases including a series of cases about assisted suicide, leading to the DPP's guidelines on Assisted Suicide issued in February 2010; and the various cases in which members of the House of Commons and the House of Lords have been charged with criminal offences.
On 6 October 2016, Starmer was appointed by Labour leader Jeremy Corbyn as Shadow Secretary of State for Exiting the European Union, replacing Emily Thornberry. He has, in this high-profile role, questioned the government's "destination" for Britain outside the European Union.
Starmer was elected as leader of the Labour party on 4 April 2020. He won on the first round of voting, with more than 50% of ballots cast.
When I arrived at St Edmund Hall, I had a first class degree from Leeds University behind me. But I was still not clear what path I should take next. My time at St Edmund Hall – an intense year studying for the BCL – confirmed me in my choice of pursuing a career as a human rights advocate, both here in the UK and abroad. From then on, I did not look back!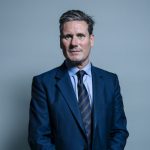 Sir Keir Starmer
KCB, BCL, QC
Honorary Fellow
1985, BCL
Labour MP for Holborn and St Pancras and leader of the Labour party
Related Links