Michael Erkelenz (1983, DPhil in English) is an editor, researcher and writing consultant.
While at the Hall, he wrote his DPhil thesis on Percy Bysshe Shelley's poem Mont Blanc, and since then he has published numerous scholarly articles on Shelley and Romantic poetry.
After competing his DPhil, he went on to become a lecturer at the University of Toronto, where he specialised in English Romanticism. In 1992 he published an edited facsimile of Shelley's 'The Geneva Notebook', an important manuscript held in the Bodleian Library.
He now runs his own writing consultancy, Fine Line Writers, which is based in Toronto.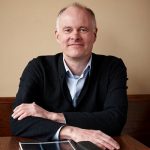 Michael Erkelenz