Michael Spilberg (1968, English) is a retired teacher. He lived until recently in Hampshire, close to Steep of Edward Thomas fame, not far from the birthplace of Edward Gibbon, and the homes of Gilbert White, Jane Austen, Flora Thomson, Conan-Doyle and Neville Shute – a bewildering not to say humbling array of literary antecedents, from whom he is now escaping to Woodstock.
He was born in East London and lived for much of his childhood in West Africa and at times in Italy before being sent to school in Essex. After St Edmund Hall, Mike spent his working life teaching in Surrey and London. Since retirement he has resumed a long-standing intention to write and has published through Nick Moll Designs and the The Ludo Press four slim volumes of 'interactive' poetry, Like Don't Like Share (2012), Open Save As Delete (2013), Add To Cart (2014) and FAQs (2015). Lines from the poem 'Icarus' in his first collection were used as an inscription on the pedestal of a sculpture of the same name by Nicola Godden for the Olympic Park in 2012. The poem 'At Night in the Living Room' in the same volume won a prize from the Literary Review where it was first published. His work has appeared quite regularly in The Salopeot.
Mike has also published a prose booklet, My Great Trek, about a walk taken in June 2017 from Hampshire to the Peak District. Mike is a much-valued member of the Hall Writers' Forum.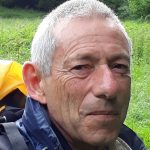 Michael Spilberg