Rebecca Connell (1998, English) had her first novel, The Art of Losing (Europa), published in 2009; and Told in Silence (Fourth Estate) was her second. She is currently writing a literary detective novel.
Rebecca worked in television for several years, devising and researching factual entertainment programming. She then moved to market research in 2005. She has worked as a researcher and writer of articles and reports dealing with aspects of youth culture and lifestyle.
Recently she has been a tutor for The Writers' Workshop, giving advice on how to write a novel in ten weeks. "Like it or not," she says, "writing a novel is a business."
Click here for an interview with Rebecca Connell in Write Words.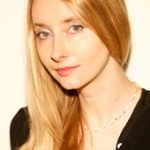 Rebecca Connell