Samira Ahmed
Honorary Fellow
Samira Ahmed (1986, English) is an award-winning journalist, writer and broadcaster, with over 20 years of experience in the field. She is also a Visiting Professor of Media at Kingston University, and lectures regularly on journalism at many universities.
Samira presents BBC Radio 4's flagship arts programme Front Row and the weekly BBC One programme Newswatch. She presents The Proms on BBC4. She is also an experienced documentary-maker for the likes of Radio 3, Radio 4 and Channel 4. Her documentaries on such subjects as Oliver Cromwell's wife, Elizabeth, David Bowie, and HG Wells and the invention of the atomic bomb, explore her fascination with the intersection of culture, science, politics and social change. She is on the advisory board of the National Science and Media Museum in Bradford.
In 2016 Samira won runner up Interview of the Year at the 2017 Sandford St Martin Awards for her World Service Heart and Soul interview with Terry Waite, who discussed his time in Beirut and his deeply-held faith.
Samira began her career as a BBC graduate news trainee. She was a News Correspondent, a reporter on the Today programme and uncovered a major charity fraud and carried out one of the first major investigations into radical Islamists operating on British university campuses while a reporter at Newsnight. As Los Angeles Correspondent in 1995-6 she covered the OJ Simpson civil trial. Samira was a presenter and news anchor at Channel 4 News for 11 years where won the 2009 Stonewall Broadcast of the Year award for her film about so called "corrective" rape of lesbian women in South Africa. She has been a news anchor at BBC World, the BBC Newschannel and for Deutsche Welle TV in Berlin.
Samira won Celebrity Mastermind with the specialist subject of author Laura Ingalls Wilder.
As a seasoned print journalist, Samira has written for the likes of The Guardian, The New Statesman, and The New Humanist including features, interviews and analysis.
She is a trustee of several charities, including Action for Stammering Children, UK Feminista and the Centre for Women's Justice.
What influence did studying at Oxford have on you?
It wasn't till about 10 years after I left the Hall that I realised how practically vocational my English degree had been. My critical thinking, which developed when studying Shakespeare, Anglo-Saxon and Philip Larkin, was later refined by years of news reporting… Every day in courtrooms I took down criminal proceedings in shorthand, and then looked for the 'real' story hidden in the testimony. The more I read and reported, the more depth I had in approaching a new story, or recognising when history was repeating itself.
What do you recall about the English course at Oxford that helped you to become a writer?
As a young student, you assume you know nothing, or that your reactions to literature are trite and superficial and could even be 'wrong'. My tutors at the Hall taught me to build my critical faculties and, with experience, to trust my instincts. I never thought I'd feel I was actually using my degree nearly 30 years on, but I'm conscious I draw on it every day, sometimes finding a more significant story than the rest of the hack pack, at the same trial or news event.
You refer to your degree in English as "practically vocational". What are the practical skills you have in mind?
Distilling this huge range of sources and opinions down to required length and form whether for radio, TV or print, requires a love of word play and compressed thought, something I started to deal with in my first Anglo Saxon classes and studying the formality of forms such as the Petrarchan sonnet. Eventually I found myself able to conduct interviews while simultaneously editing them in my head for broadcast.
What advice would you give to young people who want to become journalists?
I now tell school students at every opportunity that there is no substitute for reading as much as you can, and that English comprehension, critical appreciation and precis are the most valuable things you will ever learn.
A Celebration of Writing at the Hall
At this event in 2013, Samira spoke about 'The world in words: the art of news-writing' (introduced by Professor Lucy Newlyn) and then answered questions from the floor. You can read her blogpost about the Hall Writers' day and listen to the podcasts of her talk below: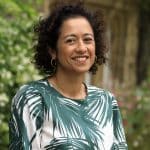 Samira Ahmed
Honorary Fellow
1986, English
Journalist, Writer and Broadcaster
Related Links