Stewart Lee
Honorary Fellow
Stewart Lee (1986, English) is a stand-up comedian, writer and director. He has been active on the UK circuit since 1989, and is consistently amongst the most critically acclaimed comedians in Britain.
Stewart won the Hackney Empire New Act of The Year in 1990, and throughout the decade contributed to the BBC radio shows Weekending, Lionel Nimrod's Inexplicable World and On The Hour, and the TV shows Fist of Fun and This Morning With Richard Not Judy. From 2001 to 2005, he co-wrote and co-directed the critically acclaimed stage show Jerry Springer – The Opera.
In December 2011, he won the award for Best Male Television Comic for his series Stewart Lee's Comedy Vehicle, which also won in the Best Comedy Entertainment Programme category at the 2011 British Comedy Awards. He was awarded a BAFTA that same year and is currently in managed decline.
On becoming an Honorary Fellow of the Hall in June 2012, Stewart observed:
"I need to be able to justify the pursuit and study of the arts, above and beyond financial validation, and I feel two way dialogues between a writer/performer working near the thin end of an admittedly fat commercial wedge, and young people who have chosen to study writing, might certainly teach me something, and perhaps give them confidence to face the questions they are sure to be asked in the future."
"On Not Writing" – Stewart discusses the fantasy that stand-up comedy is spontaneous rather than written, and describes the evolution of stand-up over the last few decades. His talk takes in a wide range of subjects from the first app he ever came across to a discussion of the value of culture in society.
Stewart originally gave this talk at the 2013 'Celebration of Writing at the Hall' event, but then revisited it – with much ad-libbing – a couple of months later, in May 2013, for current students.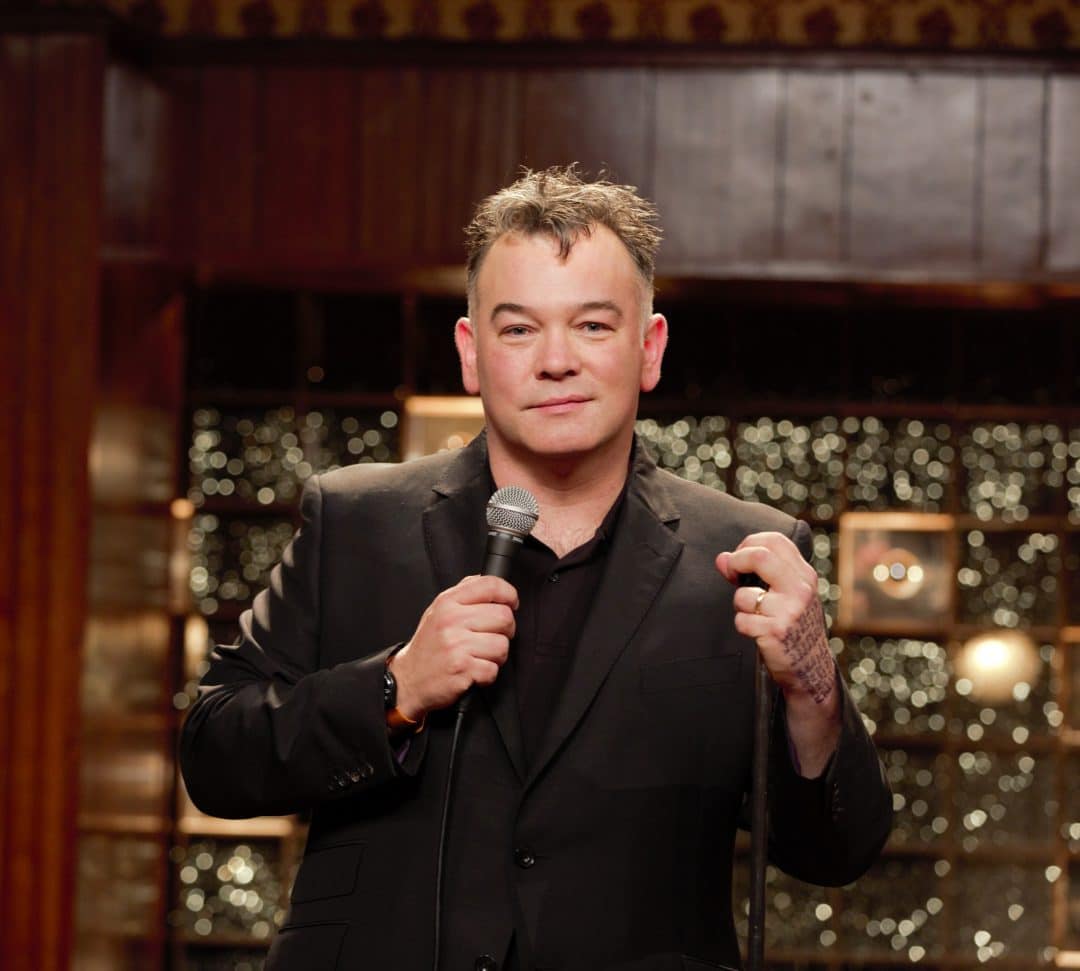 What influence did studying at Oxford have on you?
As the years go by I find I'm increasingly able to bring to bear ideas and techniques I studied on my course on the comedy and theatre I write. Being at Oxford in the late eighties provided a creative safe space for experimenting with ideas which, for many of us, later bore fruit.
What do you recall about the English course at Oxford that helped you to become a writer?
The course guided me through the works of people I should have known about. It taught me the discipline to research, write and complete projects. It taught me to trust, evaluate and explain my responses to works, and showed me the guts under the bonnet of a story. The course was populated by a surprisingly varied array of people. It was inspiring to move through places and spaces that subsequently significant artists had also moved through.
Should there be a creative writing component on the syllabus, or is creative writing best done in the interstices and from the margins?
I think it should be an option, but not a key element. Music critics are not always musicians, for example.
Is creative writing empowered or tamed by being part of a syllabus?
I suspect it is empowered. But evaluating it is necessarily subjective.
What encouragement would you give to young writers?
Always carry a notebook. Read the classics. Read apparent rubbish too.
Which writers, musicians, painters, sculptors, landscapes or cities inspired or inspire you?
As a child: Robert E Howard, Stan Lee, Roald Dahl, Jack Kirby the cartoonist, Monty Python, The Goodies
As a teenager: Ray Bradbury, Golding, Camus, Beckett, Larkin, Shakespeare, Stoppard, Robert Frost, David Jones, The Fall, 2-tone, REM, Dick Gaughan, June Tabor, Nic Jones, Richard Long, Fernand Leger, Monet, Anthony Howell, Oscar Mclennan, Sergio Leone, Wim Wenders, Peckinpah, North Wales
As a student: William Blake, Thomas Hardy, Virginia Woolf, Lawrence, Thomas Wyatt, Kundera, Milton, The Fall, The Blue Aeroplanes, Richard Long, William Blake, Vorticists, Richard Wilson, Spinal Tap, North Wales, Oxford, Edinburgh, Avebury, Rollright Stones, Port Meadow
In my twenties: Alan Moore, Bukowski (yuk!), Peter Bagge, Daniel Clowes, Joan Didion, Kevin McAleer, Derevo, The Fall, Miles Davis/John Coltrane, Bob Dylan, Dave Graney, Howe Gelb, Eliza Carthy, Uncle Tupelo, Richard Long, William Blake, Andy Goldsworthy, Eric Gill, Hal Hartley, North Wales, Edinburgh, Tucson Arizona, Avebury
In my thirties: Dan Rhodes, Camden Joy, Charles Burns, Arthur Machen, Eric Linklater, Neil Gunn, Alasdair Gray, Daniel Kitson, Wil Adamsdale, Derevo, Mary Butts, Ben Moor, The Fall, Derek Bailey/Evan Parker, Guided by Voices, John Lee Hooker, Nick Pynn, Neko Case, Richard Long, William Blake, Florence frescoes, Andrew Kotting, Tarantino, North Wales, Edinburgh, Orkney, Cornwall, Walpi Arizona, Taos pueblo, Cathar lands, Florence
Currently: Don Patterson, Iain Sinclair, Patti Smith, David Rees, The Fall, Derek Bailey, old dub reggae, Jane Bom Bane, Howe Gelb, Richard Long, William Blake, Anthony Frost, Wile E Coyote, North Wales, Edinburgh, Orkney, Oxford, Walpi, Taos Pueblo, Cornwall, Florence, Cathar lands