Dr Tom Clucas (2006) read English at St Edmund Hall and subsequently completed his D.Phil. on 'Romantic Reclusion in the Works of Cowper and Wordsworth'. Upon completion, he moved to Germany, where he worked as a researcher and Deputy Professor of English and American Literature and Culture.
During his time at Oxford, he won the Graham Midgley, Eugene Lee Hamilton, Lord Alfred Douglas, and English Poem on a Sacred Subject prizes for poetry. In 2016, he was shortlisted for the Melita Hume Poetry Prize.
He has published articles on Romantic Poetry in journals including Notes and Queries, The Wordsworth Circle, The Cowper and Newton Journal, Textual Cultures, The Review of English Studies, European Romantic Review, and The Coleridge Bulletin.
In addition to his interests in English Literature and poetry, he also has a passion for practising law and finance.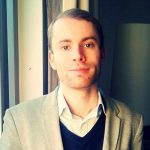 Tom Clucas