Tom Moyser (2008) is a film producer, radio presenter, English teacher and arts reviewer.
As an undergraduate he was editor of Oxford University Poetry Society's magazine, Ash, which featured many poets from the Hall. He was also an active participant in the Hall's Creative Writing workshops.
In 2012 he produced a film version of As You Like It, adapted by fellow aularian Jack Hackett. Whilst at the Hall, Tom and Jack worked frequently on theatre productions together and were joint recipients of the George Barner prize in 2010 for their role as co-presidents of the John Oldham Society.
On radio, Tom has presented arts features for BBC Oxford, written and co-produced the radio play 'Amphibians', and composed competition clues for XFM London. He has reviewed comedy, theatre and children's theatre at the Edinburgh Fringe. (Click here for his reviews in 2013.) He also regularly reviews folk music for the webzine For Folk's Sake; and he irregularly writes about other kinds of music and poetry for other outlets including The Oxonian Review.
A budding educator, Tom is starting a PGCE in Secondary English this September. He continues to attend Writing Workshops at the Hall, and he is an active participant in the Hall Writers' Forum.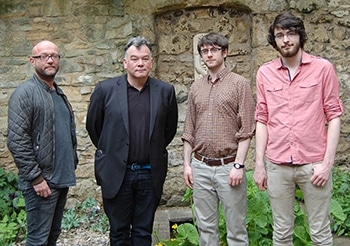 Tom returned to a recent event at the Hall, with Jack Hackett, to talk about the filming of As You Like It after a special screening for Hall members. They are pictured below, alongside fellow Hall Writers Dan Abnett and Stewart Lee, who also gave talks that evening. (Left to right: Dan Abnett, Stewart Lee, Tom Mpyser, Jack Hackett. In the background, just behind Tom, you can see a portion of Graham Midgley's sculpture, 'The Green Man', a gift to the college.)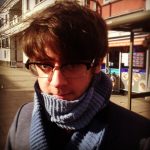 Tom Moyser