Professor Wei Huang
Fellow by Special Election in Synthetic Biology
Professor Wei Huang is a Professor of Biological Engineering at the University of Oxford, working on synthetic biology and Raman single cell biotechnology. He is an EPSRC fellow in Synthetic Biology.
Professor Huang's current research includes:
Development of SimCells (Simple Cells) as a platform for synthetic biology (EPSRC).
Engineering SimCells for green biochemical engineering, making products by extracting energy from organic waste and sunlight, and using building molecules from air (e.g. CO2) and water (EPSRC and BBSRC).
Engineering SimCells for diagnosis and treatment (EPSRC).
Development of Raman activated cell sorting (NERC).
Previously he has developed various biosensors for the detection of environment pollution. He is also one of the pioneers of single cell Raman biotechnology and develops Raman activated cell sorting for single cell -omics, which will reveal phenotypic change of single cells and enable understanding of ecological functions of unculturable bacteria (> 90% bacteria in nature) and the discovery of novel genes.
Song, Y., Kaster, A., Vollmers, J., Song, Y., Davison, P.A., Frentrup, M., Preston, G.M., Thompson, I.P., Murrell, J.C., Yin, H., Hunter, C.N., Huang, W.E.* (2016) Single cell genomics based on Raman sorting reveals novel carotenoid-containing bacteria in the Red Sea. Microbial Biotechnology. doi: 10.1111/1751-7915.12420.
Wang, Y., Song, Y., Tao, Y., Muhamadali, H., Goodacre, R., Zhou, N.Y., Preston, G.M., Xu, J., Huang, W.E.* (2016) Reverse and multiple stable isotope probing to study bacterial metabolism and interactions at the single cell level. Analytical Chemistry. 88: 9443-9450
Berry, D., Mader, E., Woebken, D., Wang, Y., Zhu, D., Lee, T.K. Palatinszky, M., Schintlmeister, A., Schmid, M., Shterzer, N., Mizrahi, I., Rauch, I., Decker, T., Bocklitzg, T., Popp, J., Gibson, C.M., Fowler, P.W., Huang, W.E., Wagner, M. (2015) Tracking heavy water (D2O) incorporation for identifying and sorting active microbial cells. Proceedings of the National Academy of Sciences of the United States of America 112:E194-203.
Zhang, D., Berry, J.P., Zhu, D., Wang, Y., Chen, Y., Jiang, B., Huang, S., Langford, H., Li, G., Xu, J., Aries, E., and Huang, W.E.* (2015) Magnetic nanoparticle-mediated isolation of functional bacteria in a complex microbial community. ISME Journal 9:603-614.
Li, M., Canniffe, D.P., Jackson, P.J., Davison, P.A., FitzGerald, S., Dickman, M.J., Burgess, J.G., Hunter, C.N., Huang, W.E.* (2012) Rapid Resonance Raman micro-spectroscopy to probe carbon dioxide fixation by single cells in microbial communities. ISME Journal 6:875-885.
Yizhi Song, Guanghe Li, Steven F. Thornton, Ian P. Thompson, Steven A. Banwart, David N. Lerner and Huang, W.E.* (2009) Optimization of Bacterial Whole Cell Bioreporters for Toxicity Assay of Environmental Samples. Environmental Science & Technology 43: 7931-7938.
Huang, W.E.*, Ferguson, A., Singer, A.C., Lawson, K., Thompson, I.P., Kalin, R.M. et al. (2009) Resolving Genetic Functions within Microbial Populations: In Situ Analyses Using rRNA and mRNA Stable Isotope Probing Coupled with Single-Cell Raman-Fluorescence In Situ Hybridization. Applied and Environmental Microbiology 75: 234-241.
Song, Y.Z., Hahn, T., Thompson, I.P., Mason, T.J., Preston, G.M., Li, G.H. Paniwnyk, L. and Huang, W.E.*. (2007) Ultrasound-mediated DNA transfer for bacteria. Nucleic Acids Research 35: e129.
Huang, W.E., Stoecker, K., Griffiths, R., Newbold, L., Daims, H., Whiteley, A.S., and Wagner, M. (2007) Raman-FISH: Combining stable-isotope Raman spectroscopy and fluorescence in situ hybridization for the single cell analysis of identity and function. Environmental Microbiology 9: 1878-1889.
Huang, W.E.*, Griffiths, R.I., Thompson, I.P., Bailey, M.J., and Whiteley, A.S. (2004) Raman microscopic analysis of single microbial cells. Analytical Chemistry 76: 4452-4458.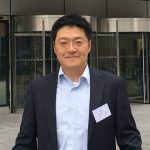 Professor Wei Huang
BA (Qingdao); MSc (Tsinghua); PhD (Sheffield)
Fellow by Special Election in Synthetic Biology
Professor of Biological Engineering
Related Links