Why Geography at St Edmund Hall?
St Edmund Hall typically admits 6 Geography students each year, and they benefit from a well-stocked college library and a dedicated team of tutors. Our Geographers are a very social and friendly group, and the College's Geography Society is one way in which undergraduates are also able to get to know our Geography Masters and Doctoral students.
Teddy Hall offers some annual prizes and small bursaries to Geographers, including the Hughes book prize and the Cox award to assist with a dissertation project. Our Geography students also often take advantage of the College's travel awards.
Most of the in-house tutorial teaching and supervision is provided by our two Geography Fellows, Professor Robert Whittaker and Dr Lorraine Wild (see below for more details about them) while option teaching is organised departmentally and provided by the relevant subject specialists.
"Tutorials are my favourite part of the Oxford teaching style. They allow students to thoroughly engage with what has been taught in the lectures, enabling us to develop on areas of knowledge which we are perhaps less confident in. What I love best about studying Geography at Teddy Hall is most definitely the number of students studying the subject alongside me at the College. You have a great support network behind you, both socially and academically." – Molly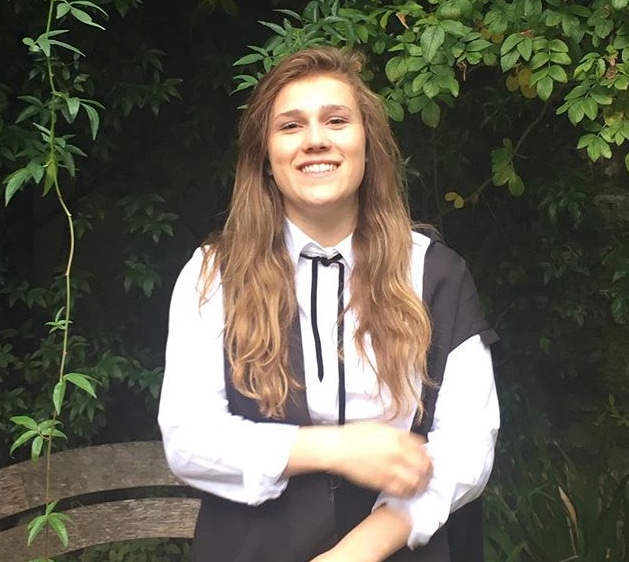 The college's geography society (the Cosmographers), holds a number of events through the year, open to undergraduate and postgraduate geographers in the college. One of the highlights is an annual geography dinner.
In the 2021/22 academic year we are launching a new initiative, in combination with the Earth Scientists in the College, in the shape of an Earth and Environmental Science Forum. This will be a twice termly evening gathering, providing an informal setting for short presentations and lively discussion focussed on geo-environmental science issues of interest to geography and earth science students within the college.
In addition to 18 undergraduate geographers (6 per year), we tend to have around 6 or 7 postgraduate Geographers each year on one of the four MSc / MPhil courses offered by the School of Geography and the Environment (Biodiversity, Conservation and Management; Environmental Change and Management; Nature, Society and Environmental Governance; and Water Science, Policy and Management), plus about 15 studying for a doctorate and a couple of PGCE geographers. A number of our undergraduates have proceeded to take a further degree in Oxford, remaining part of our community beyond the initial three years of their undergraduate degree.
In addition to the dedicated tutor team, Professor Cameron Hepburn, the Director of the Smith School of Enterprise and the Environment, is also a Fellow of St Edmund Hall and a member of our geography community.
Oxford's Geography graduates have a broad set of transferable skills including literacy, numeracy and graphicacy, along with their experience of research projects and working in groups. St Edmund Hall has a long tradition as a Geography college and our former students have taken diverse career paths.
Around a quarter of our students in the last five years have continued to postgraduate study.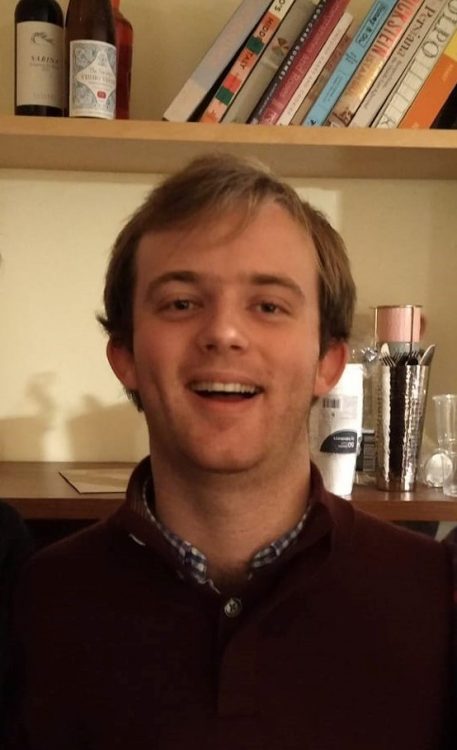 "I chose to study Geography at the Hall because I was interested in climate change from both a scientific and a social perspective. The tutorials I had during the undergraduate course sparked an interest in climate modelling which I was keen to take further. After graduating I studied for a DPhil (PhD) in Geography and the Environment at Oxford, researching the mechanisms controlling rainfall change in East Africa and how to improve future projections in a region reliant on rain for agriculture. I now work at the University of Sheffield, where I focus on climate change mitigation and how agriculture and tree planting can draw carbon dioxide out of the atmosphere – work that all stems from tutorials in climate and biogeography at Teddy Hall."
James King (graduated 2016)
"What I loved about Geography, aside from the quality of the tutors, was learning about the interaction between the human and physical environments. This, particularly the human and 'economic geography' modules, have been helpful to me indirectly in my career since leaving, including six years in finance in London followed by ten years running my own online bookings business, SpeedyBooker. Geography and Teddy Hall both attract well rounded and outgoing people, and the combination was a wonderful experience."
Charlie Ramsay (graduated 2003)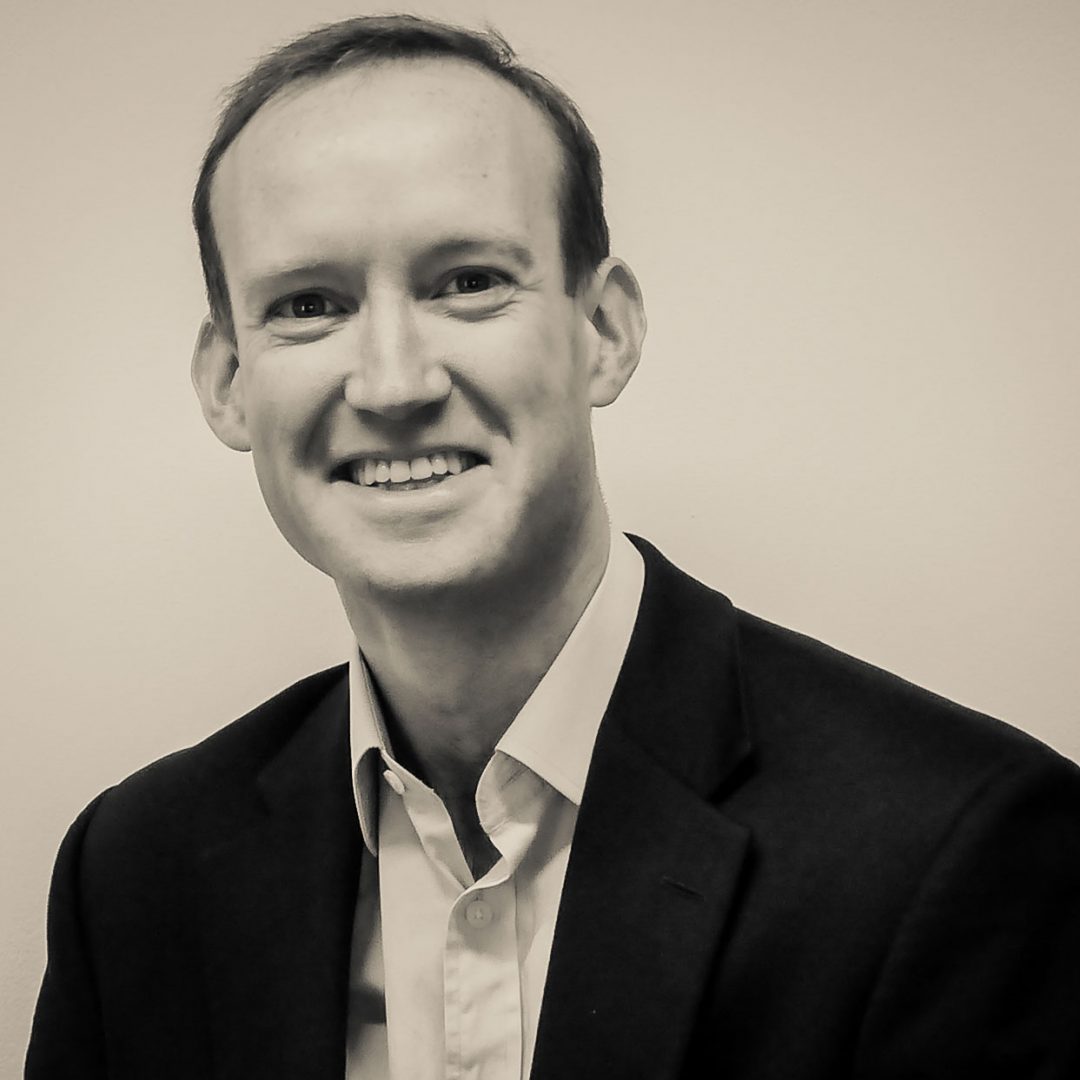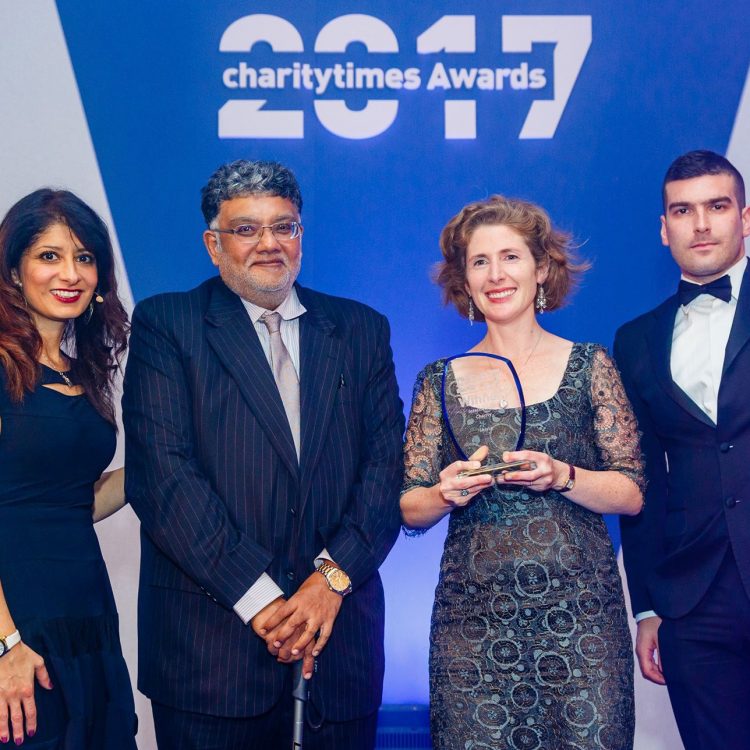 Olly Belcher (née Donnelly) graduated with first class honours in 2002 and then stayed on to do the MSc in Nature, Society and the Environment. She began a three-year stint as President of the St Edmund Hall Association in February 2020. In 2007, she founded the charity Shivia – which empowers the poorest in India to create livelihoods, boost income and inspire permanent change – and became its Chief Executive in 2010. Shivia was named International Charity of the Year in 2017 in the annual Charity Times awards.
"I loved my course and my tutor at Teddy Hall; Geography gave me the opportunity to get back out to India [where Olly spent her gap year before university] to research and write a thesis on issues affecting the poor of West Bengal. I took the research to the next stage for my Master's thesis, another crucial step for gaining knowledge and valuable contacts for Shivia.
"I look back at my time at Teddy Hall and know it gave me the confidence to 'get out there' and achieve my burning desire to start Shivia and build an organisation that has since trained over 38,000 of the world's poorest people in back yard poultry farming and enterprise development. That feeling of 'home' when I walked through the Front Quad created the backdrop of inspiration and security that any entrepreneur or social entrepreneur needs to succeed. My Hall friends and contacts have been pillars of strength and support along the way."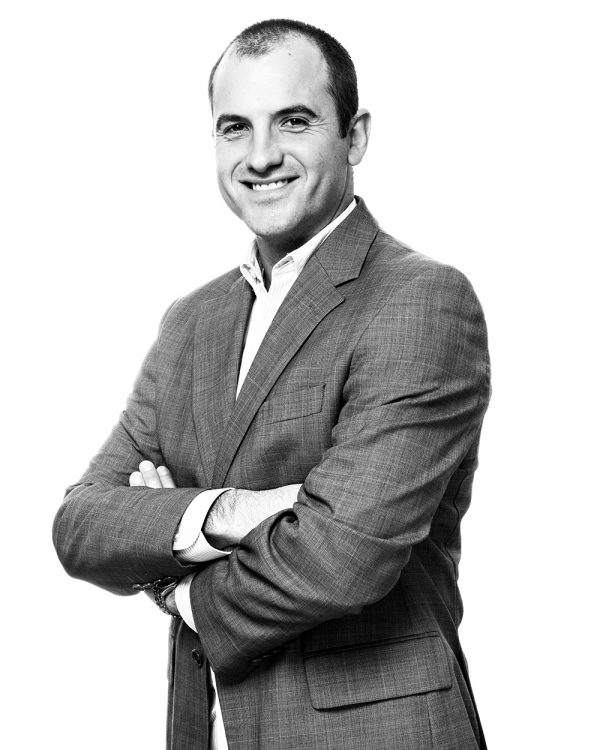 "Geography provides an excellent foundation for a career in business. Its huge breadth and diversity gives Geographers an invaluable understanding of many of the factors at play in our volatile, complex and ambiguous world. In an era of unprecedented global change, Geographers will be at the forefront of those providing solutions to the challenges we face. I started my career at Procter & Gamble, where I applied skills such as demographic and socio-cultural analysis to help me design and market perfume brands such as Lacoste and Gucci around the world. I've subsequently developed business and brand strategies for some of the worlds leading businesses across beauty, energy, food, media, retail, and telecoms to name a few. In 2012, I co-founded Reluctantly Brave – the group that navigates unchartered territory to get to the right answer.
"I loved my time as a Teddy Hall Geographer. The Geographers were a diverse bunch and always pulled together to help each other out. This atmosphere was fostered by Professor Whittaker and Dr Wild who ensured we were stretched and supported in equal measure!"
James Pattinson (graduated 2002)
Geography is a wide-ranging discipline which acts as a bridge between the natural sciences and social sciences. It is also a subject that has great relevance to many of the problems of the contemporary world, and students reading it examine issues that range in scale from the local to global environmental change. The Oxford geography course provides opportunity to specialize in physical geography, or in human and environmental geography, during the second and third years, as set out below in more detail.
The first year of the Oxford degree consists of four compulsory courses, to introduce key concepts, ideas and approaches to both physical and human geography. In the second and third year, there is the opportunity to tailor your degree to suit your interests, something that the St Edmund Hall tutors encourage. All students have to take the 'Geographical Thought' core subject, plus their choice of two foundational subjects, three optional subjects, a dissertation and a fieldwork report.
For further detail on about how you can shape the degree to meet your interests, click the button immediately below:
Geography Pathways at St Edmund Hall
Geography at Oxford involves a number of field trips (the costs of which are included in course fees) including residential trips in first and second year. A number of students also typically travel overseas for their final-year dissertations.
Some examples of recent dissertation topics undertaken by our undergraduates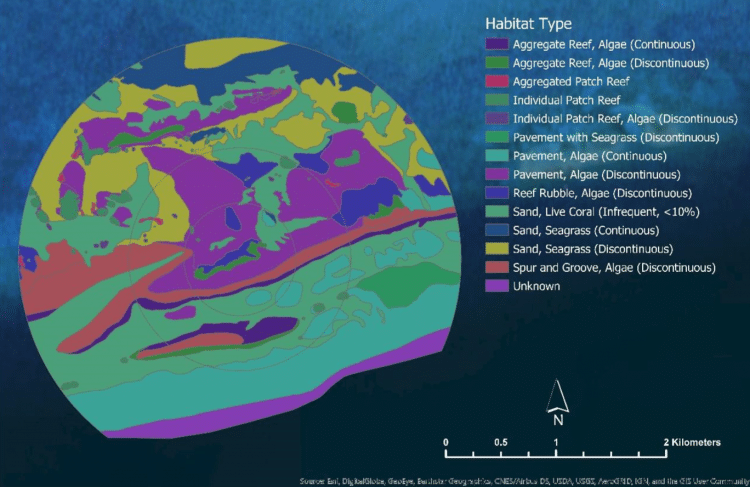 Emily Thwaites (graduated 2020): I wanted my dissertation to reflect my interest in current environmental issues, and specifically ocean biodiversity loss due to ocean warming and acidification. I chose to focus on the Florida Keys, where there has been significant coral reef degradation. Several sites in the Florida Keys are currently being planted with juvenile corals to promote recovery of the damaged reef. My dissertation used seascape ecology theory and GIS (geographic information system) mapping to conduct a seascape analysis of several reef sites in the Florida Reef Tract. It used simple quantifiable metrics such as how close a site was to other patches of coral reef, the amount of living coral at a site, and how many different habitat types a site contained in order to differentiate between sites and indicate which might be the most efficient sites to focus restorative planting efforts in. Below you can see an example of one of the maps I produced. My dissertation wasn't directly related to a specific area of the Geography course, but shows how the Geography course and the support of the tutors (who specialise in a wide range of disciplines) provide the scope for you to research anything that interests you!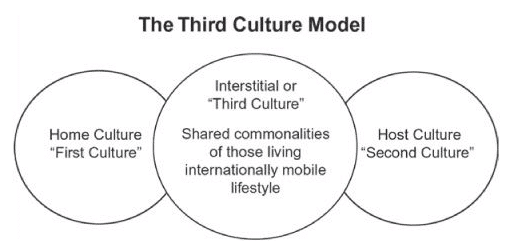 Ed Vyvan (graduated 2017): "In summary, my dissertation focused on how the 'Third Culture Model' [based on Homi Bhabha's (1995) concept of 'third space'] might apply to 'TCKs' who have studied at International Schools. TCKs are people who have 'spent a significant part of their developmental years outside their parents' culture' (Pollock & Van Reken, 2009:13). They are at home 'everywhere and nowhere' and, thus, they offer a unique and valuable insight into the effects that a globalised world may have on issues of culture and identity."
The David J Cox Award is given annually to the Geography student with the most worthwhile dissertation proposal, as judged by the College's Geography tutors. The intention is that the money (around £200) be used towards the expenses involved in researching and writing the dissertation.
Oliver Shasha won the award in 2018, and he spent a month in Istanbul undertaking his dissertation research: "My dissertation was centred around the Turkish Jewish community and how Turkish Jews negotiate their sense of identity and belonging in contemporary Turkish Society. Over the course of the month, I interviewed 50 members of the community in Istanbul providing insight into the pressures faced both in terms of assimilation and exclusion as a small minority. In addition, the current political transition in Turkey into a more religious state has evidently left many disillusioned and pessimistic about their future in the country. The entire experience of the dissertation, which allowed me to meet so many people in a different cultural setting, was extremely rewarding."
Geography students are also eligible to apply for a range of academic grants (book grants, vacation grants, travel awards) and may be awarded scholarships for academic attainment. The college also has hardship funds available for students who find themselves in unexpected financial difficulties.
Our Tutors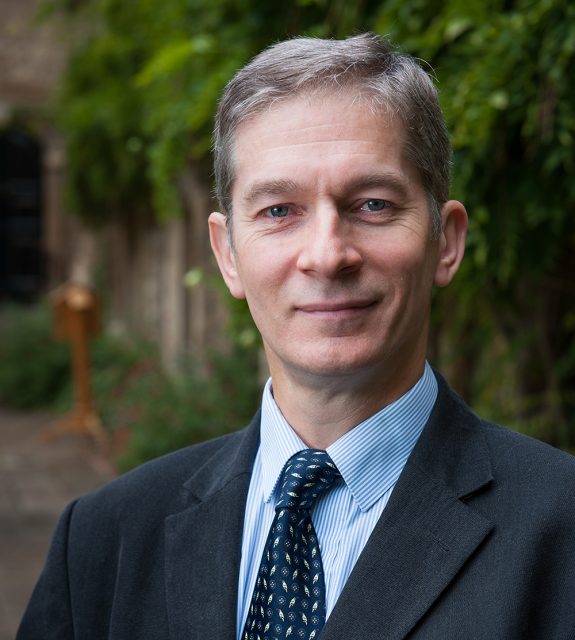 Robert
Whittaker
Professor of Biogeography and Tutor in Geography
Professor Rob Whittaker is a physical geographer (with a BSc in botany and geography, an MSc in ecology and a PhD in geographical ecology), with expertise in biogeography, the ecology and evolution of islands, and the conservation of biodiversity. He teaches on the first year earth systems processes and geographical controversies papers, second year core courses on environmental geography and earth system dynamics, and offers final honour school option subjects on island life and on biogeography, biodiversity and conservation. He also teaches on the MSc in Biodiversity, Conservation and Management,.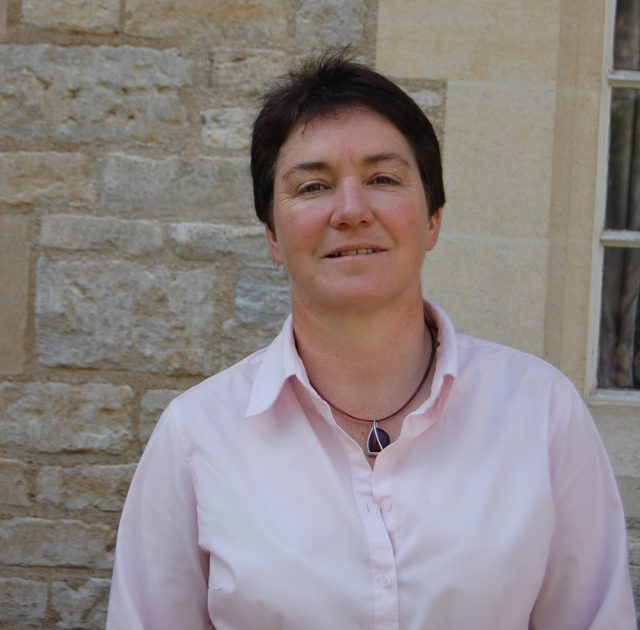 Lorraine
Wild
Fellow by Special Election in Geography
Dr Lorraine Wild, who specialises in Human Geography, teaches a third-year option on European Integration which addresses social, political and economic aspects of the European Union from a geographical perspective. She is also the Academic Administrator for the School of Geography and the Environment.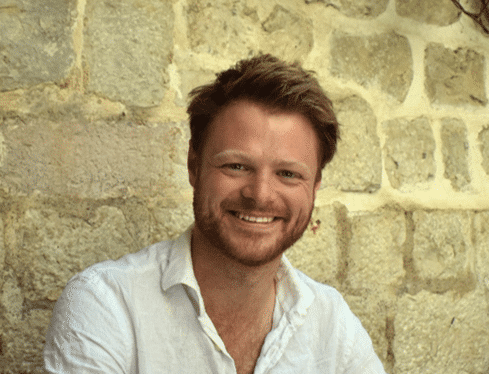 Callum
Munday
Fellow by Special Election in Geography
Callum is a Fellow by Special Election in Geography at St Edmund Hall.