How to Link Palaeontology with… Cosmetics?!
3 Feb 2021|Ricardo Pérez-de la Fuente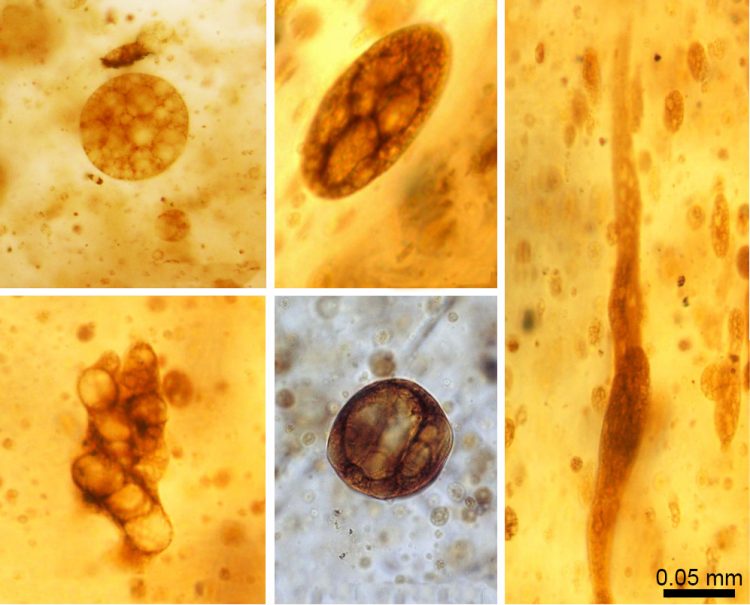 What if I said that it is possible to apply science used in cosmetics to palaeontology? And no, Stan, our T-Rex at the Oxford University Museum of Natural History, has not decided to fight the signs of aging… too late for that. Well, because now I realise that the bold claim above is perfectly able to obliterate my career as a palaeontologist, allow me to provide some background.
The study of amber, fossilised plant resin, usually entails researching on the little creatures that became fatally entombed in the sticky resin, such as insects or spiders. We study the anatomical details of these animals, classify them, and aim to extract information about the ecosystem they inhabited. But there are many other things preserved in amber which hold important information about the past.
Tiny droplet-like structures had long been ignored in amber, simply deemed as debris. Some of them had been interpreted as fossilised microorganisms due to their superficial appearance. Indeed, their minute size, variable shapes, and bubble-like contents often made them resemble unicellular organisms such as protists. Later studies demonstrated that these structures were artefacts resembling organisms by chance. They were named "pseudoinclusions" to distinguish them from "real" inclusions, or the fossilised remains of organisms included within amber. It was hypothesised that the pseudoinclusions were somehow related to the trees that produced the resin. Yet, these peculiar fossils remained a mystery. What were they made of? And how did they originate?
In a recently published paper, my colleagues and I studied these microorganism-like structures in Cretaceous amber from Spain, about 105 million years old. Inside fist-sized amber pieces, we found different densities of pseudoinclusions arranged in distinct flow patterns. But there was something that puzzled us about these inner amber flows. It entailed the fossilised resin-feeding fungi that we often see coating the amber pieces. These crusts formed as the fungi grew from the resin's surface inwards. In our samples, it turns out that the fungi had preferentially grown along the resin flows where the pseudoinclusions were more abundant. That made us think that they had to be particularly nourishing.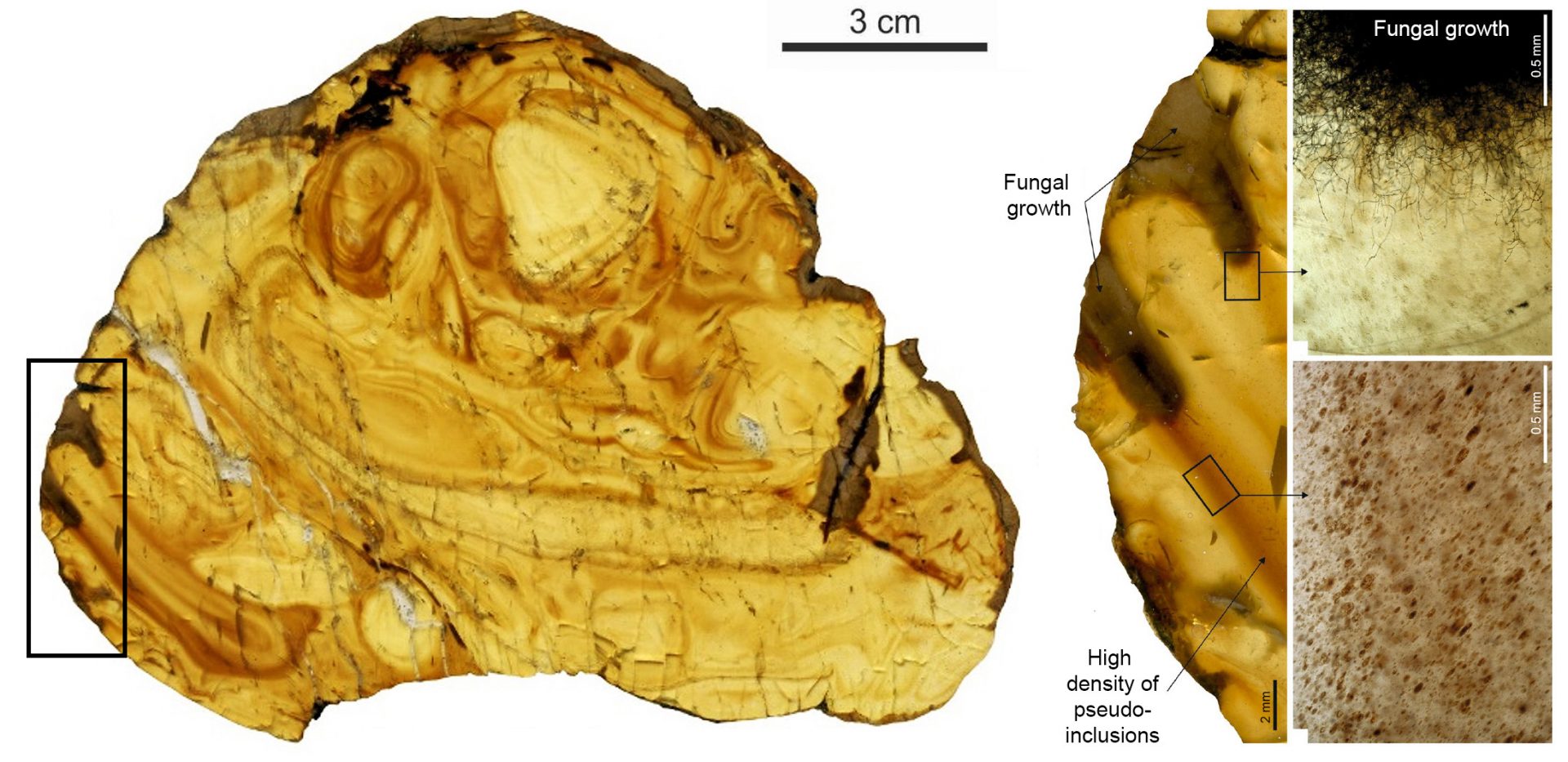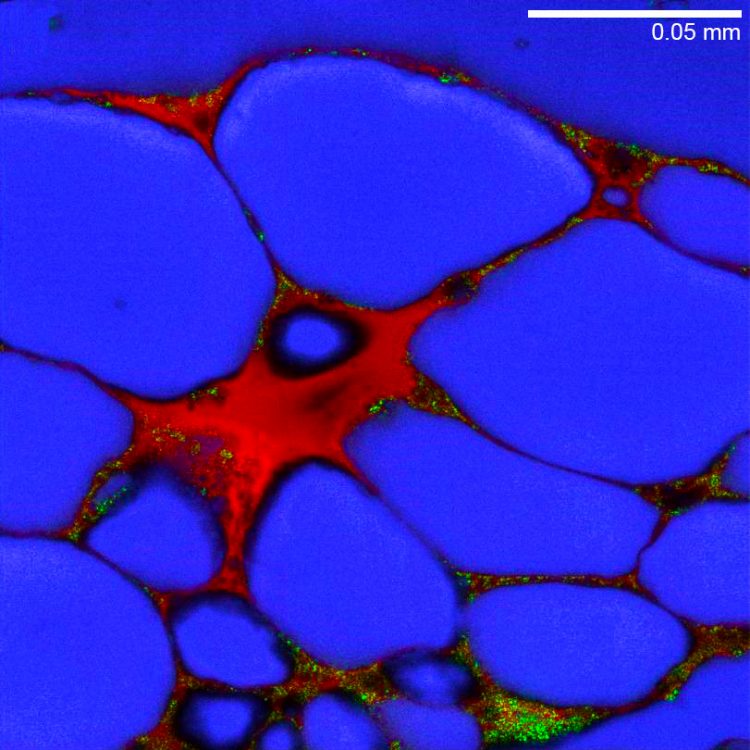 Like a cosmos in stasis for millions of years, hundreds of thousands of pseudoinclusions were present in each of our amber pieces. Two types of substances were apparent from these microorganism-like structures: a light-coloured substance and a dark one. We studied the properties and composition of these two components using different techniques. The light-coloured substance inside the pseudoinclusions turned out to have the same properties than the amber in which they fossilised. In other words: it was amber, too, but scattered, arranged in minuscule droplets. On the other hand, the dark substance was composed of chemical elements and molecules commonly present in plants, such as sugars and pigments. The composition of the dark substance suggested that it was likely processed sap, the sugar-rich liquid that transports nutrients in plants. No wonder why the fungi were feasting on it when the amber was still fresh resin – the pseudoinclusions must have been like irresistible candy bits for them!
Using all that information, and thinking about how modern trees produce resin, we came up with the most likely explanation for how the pseudoinclusions were formed. Resin and small quantities of sap must have mixed as both liquids were pushed out by trees millions of years ago. But, because sap and resin behave like oil and water, they did not fully mix. Instead, their mixture created an emulsion where one liquid –the least abundant one– became finely dispersed in the other. Remarkably, that happened twice and a complex emulsion established. That is, dispersed resin (the amber droplets within the pseudoinclusions) within dispersed sap (the pseudoinclusions) within homogeneous resin (the amber piece). The shape of the two liquids became settled as the resin pieces hardened and eventually turned into amber.
Nowadays, fabricating customised emulsions is vital in order to efficiently store and deliver active ingredients such as medicines. Understanding the behaviour of emulsions also allows to effectively deal with them environmentally, such as in marine oil spills. For that reason emulsions like our fossilised ones have been intensively studied by the pharmaceutical, oil, agricultural, food and, yes, the cosmetic industries! For decades, chemical research has been adjusting the parameters that control the production and the disruption of different types of emulsions, such as temperature or pressure. Now, such knowledge can be brought to the study of amber. It should be possible to determine environmental conditions from the Cretaceous ecosystems based on the shape or abundance of the fossilised resin-sap emulsions in amber. That, however, remains to be explored in future research.
For now, one mystery more has been solved. It is the first time that fossilised sap has been identified. I suspect that this will not be the last time that I get myself in trouble while writing a blog, though.
All images extracted from the an open access publication.
Blog Categories
Author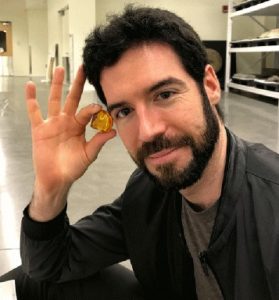 Ricardo
Pérez-de la Fuente
Ricardo Pérez-de la Fuente's research is focused on the palaeobiology of fossil arthropods, namely insects and arachnids. Although founded on morphology and systematics, his works aim at extracting palaeoecological, palaeoethological, palaeobiogeographical, and taphonomic data. Special emphasis is put on the study of amber inclusions, particularly those from the Cretaceous, one of the most important periods for the diversification of terrestrial arthropods linked with the angiosperm radiation.
Share Post