Each Oxford college is like a mini campus, offering its students accommodation, food in the dining hall and sometimes in self-catering kitchens too. Each college also provides a library, study spaces, computing facilities, social spaces such as bars and common rooms, sports facilities, and welfare support to take care of you physically and mentally during your time as a student. Tutorial teaching also happens in colleges, but the college you go to doesn't affect the topics you can study or the tutors you can be taught by.
St Edmund Hall (affectionately known as 'Teddy Hall') offers all of these facilities; including a beautiful library, bar, JCR common room, gym, sports pitches, kitchens, and gardens. We are helpfully located on the quiet Queen's Lane, just off the bustling High Street of Oxford, which means that our students have both a city centre haven and easy access to the numerous shops, supermarkets, pubs, and bars that Oxford has to offer.
The convenience of our small site and the aesthetics of our medieval and modern buildings are not all that set us apart from other colleges. We are one of the oldest academic institutions in the world, being able to trace our roots back to before 1317, and likely all the way back to the 1190s when our namesake, St Edmund of Abingdon, was teaching on this site. We have over 800 years of experience teaching students, and today this is coupled with a modern approach to learning and extra-curricular life that allows our students to achieve highly in a wide variety of fields and enjoy their time here. We are known across the University for the large crowds that turn out to support our sports teams, our friendly choir, our student run musicals and for the way in which we support each other.
Academic Success
We are proud of our friendly and supportive community, made up of our academics, our students and our staff. Teddy Hall tutors want to help you realise your potential and will utilise their experience to guide you through your learning of the content and skills required to succeed both at Oxford and beyond. We have a good track record of academic success in terms of degree results, but also of securing further learning opportunities for our students through our exchange partnership with Lingnan University, China and as hosts of programmes and events including the Centre for the Creative Brain, Access Hall Areas, and the Geddes Lecture.
Many of our academics are actively pursuing world-leading research, which opens up some fantastic opportunities for our students to understand cutting edge ideas, concepts, and phenomena. Current expertise range from the biogeography of islands, to the neurobiology of memory, and the development of superior rechargeable batteries. Here at Teddy Hall we are as keen for you to succeed as you are and will endeavour to support you in every way possible so that you can achieve academically and personally.
Professor Karma Nabulsi, is the Jarvis Doctorow Fellow and Tutor in Politics, won the Guardian Higher Education Network's 2017 Inspiring Leader award for her work protecting the rights and freedoms of all at the University, especially those of students, advancing equality and diversity.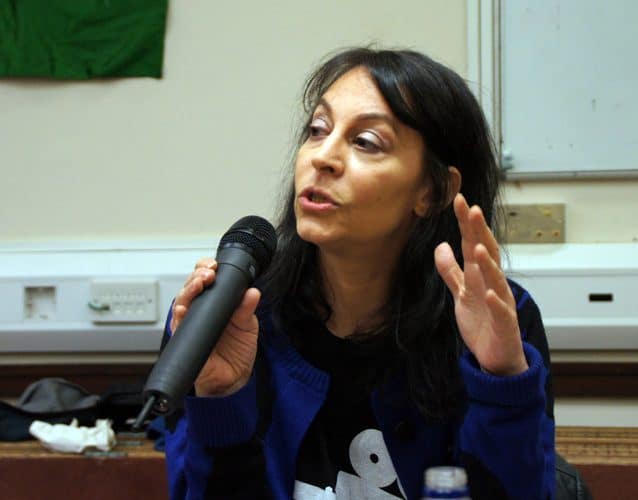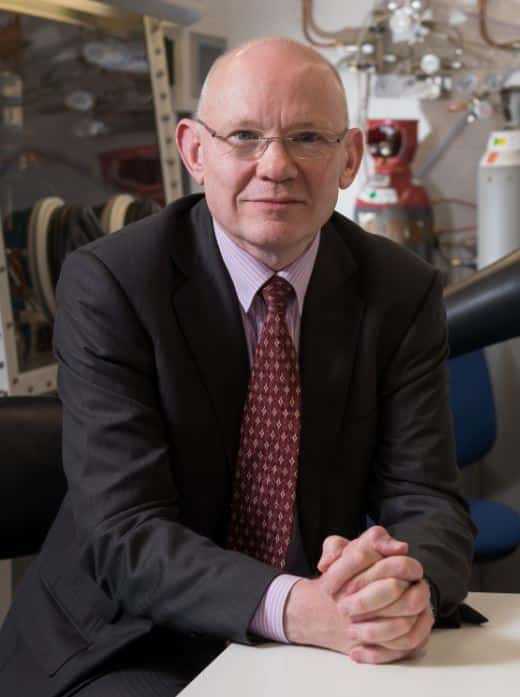 In 2018, Professor Peter Bruce was appointed as Physical Secretary and Vice President of the Royal Society. He was also awarded The Royal Society's Hughes Medal in 2017, for his distinguished work elucidating the fundamental chemistry underpinning energy storage.
In 2020, Professor Eleanor Stride's work developing bubbles to act as transporters for the targeted delivery of cancer drugs to tumour cells won her a prestigious Blavatnik Young Scientist Award. Professor Stride featured in the BBC's Born to Engineer series and was nominated for the 50 Most Influential Women in Engineering list in 2017. She is a fellow of the Royal Academy of Engineering.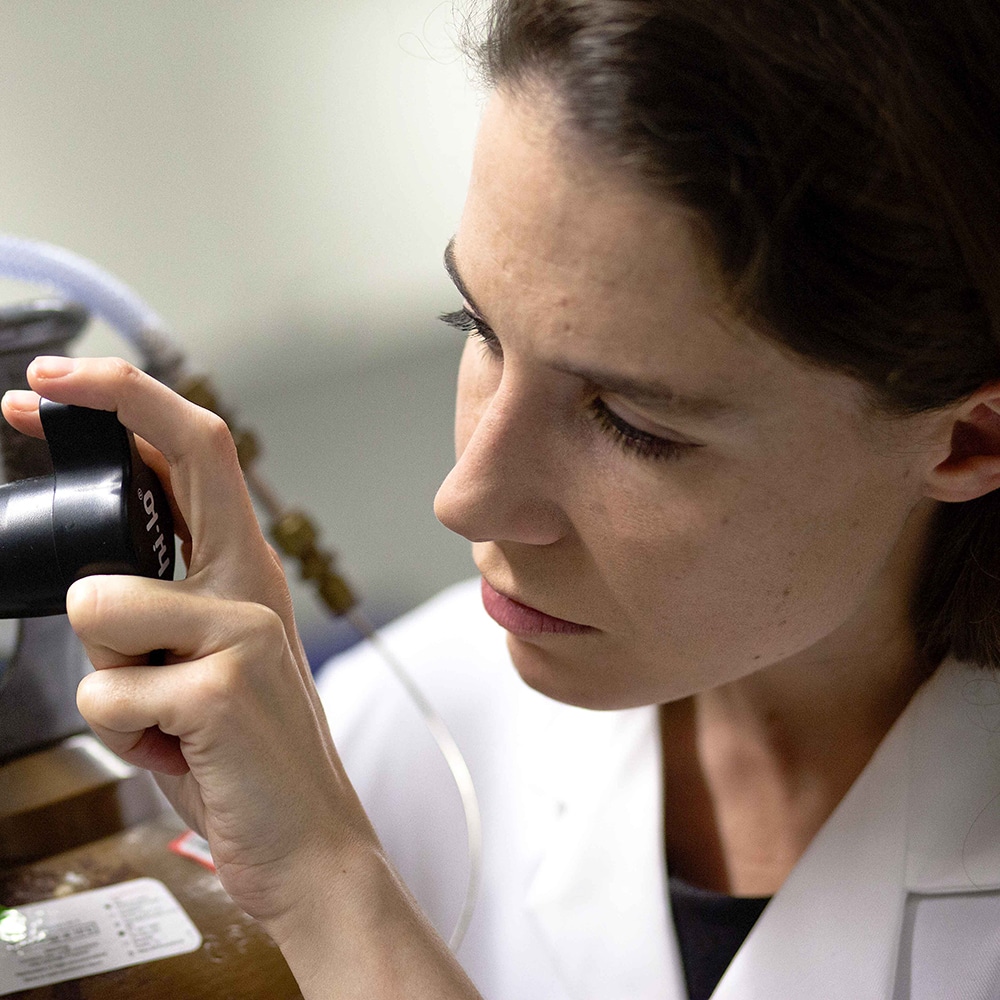 Location
Our main college site is on Queen's Lane, just off Oxford's High Street. This gives our students welcome peace and privacy as well easy access to a variety of shops, pubs, bars, and restaurants, all within walking distance. Our central location is immensely convenient – the Bodleian library is a picturesque five minute walk away, and the science area can be reached in under ten minutes, as can the Iffley Sports Centre, University Parks, and the majority of University departments. The Examination Schools are also just across the road, giving Teddy Hall students that bit longer in bed before exams! Buses for London, the airports, and wider city depart from right outside the College on the High Street. There is also a corner shop next to the High Street Entrance which sells lots of convenient supplies, and the award-winning Ahmed's Kebab Van is just across the road.
We have two accommodation annexes in East Oxford, a popular student area, with interesting shops, restaurants, and cinemas approximately ten minutes from the main site.
Financial Support
We offer a wide range of prizes and scholarships to our students, ranging from travel and volunteering bursaries to academic scholarships. Examples include the Matt Greenwood Travel Scholarship, the College Scholarship for academic performance, Choral Scholarships, and the George Barner Prize for Contribution to Theatre. Every Teddy Hall student can apply for a generous College Grant of £300-£350 each year to help with academic expenses, such as dissertation printing or personal research equipment.
We are also proud to be able to offer Masterclass Awards of up to £1000 per year to support development in extra-curricular activities. These awards can be used to fund advanced coaching or tuition, and have been used in wide variety of ways from saxophone lessons, to cricket coaching, to a wilderness medicine course. This award, unique to Teddy Hall, allows us to offer unrivalled support to those wishing to learn more and excel further in an extra-curricular activity.
Financial Assistance Funding is also available to any student who may need it during their time here.
Library
Our College Library is housed in the impressive surroundings of the converted medieval church of St Peter in the East, complete with stained glass windows and a winding tower full of books. Students are able to work in this light, airy, and atmospheric space 24/7 and generous book borrowing terms are offered. The library holds approximately 40,000 titles, including multiple copies of key textbooks for all of our undergraduate and postgraduate courses. The titles are continually reviewed to make sure we have all the necessary and up-to-date publications, and students' requests for new materials are very welcome – the librarians' record for acquiring a new book needed by a student is a mere 38 minutes! We also have an Old Library containing old and rare books including Holinshed's Chronicle (1577), one signed by Eleanor Roosevelt, and a number donated by alumnus Terry Jones of Monty Python fame.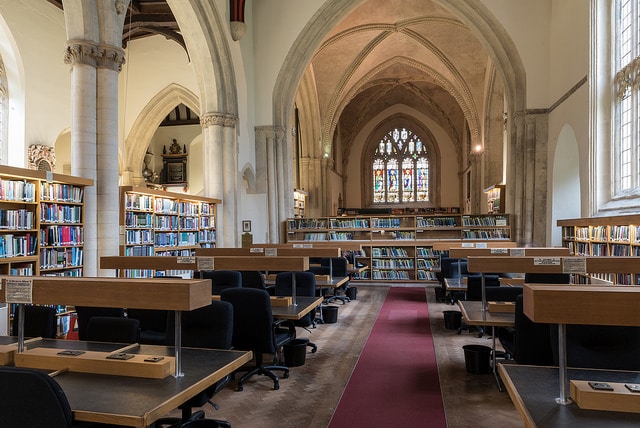 College Bar
The Teddy Hall bar is cosy and inviting – just like the rest of the College. A wide range of drinks (both alcoholic and non-alcoholic) are served at low student-friendly prices, including our own signature cocktail. The Bar is split into two halves. In the Buttery the atmosphere is warm and chatty with groups of friends and the meetings of the Creative Writing Society or particular sports teams. In the Well Bar the atmosphere is livelier with the darts board and TV, the darts team play matches in front of a packed bar here and anyone is welcome to give it a go.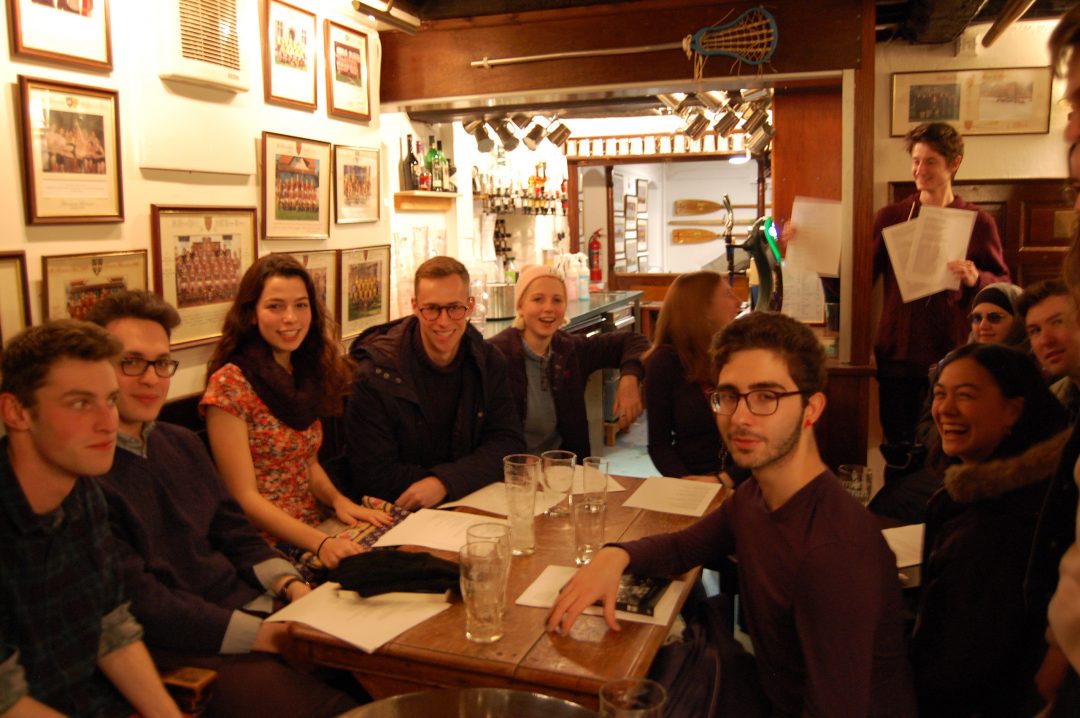 JCR (Junior Common Room)
The JCR is both the term for the collective Undergraduate student body and a physical space for the sole use of the Undergraduate students at Teddy Hall. We have one of the largest JCR TVs of any College and Sky+, on which any student can record programmes or access films and boxsets. Piling in to watch TV shows in the JCR is a particular favourite activity of Teddy Hall students, with events like the final of The Great British Bake Off and the Superbowl attracting over 150 students to watch together. The JCR also houses a free 24-hour tea, coffee, and hot chocolate machine, runs weekly 'JCR Teas' of free food, and offers games including pool and table football.
The JCR is run by a committee of students who have responsibility for promoting the interests of the student body in the College and organising events. For instance, the Arts and Culture Reps organise an annual talent show and termly jazz and open mic nights, and the Gender and Sexual Diversity Rep organises a Queer Arts night amongst other activities. Members of the JCR are very much encouraged to try new things and support their peers' endeavours, and as a result Teddy Hall sports teams routinely attract the largest crowds seen at the University for their matches, and plays or concerts featuring Teddy Hall students usually sell out. Whatever your interests, you will find a supportive community here.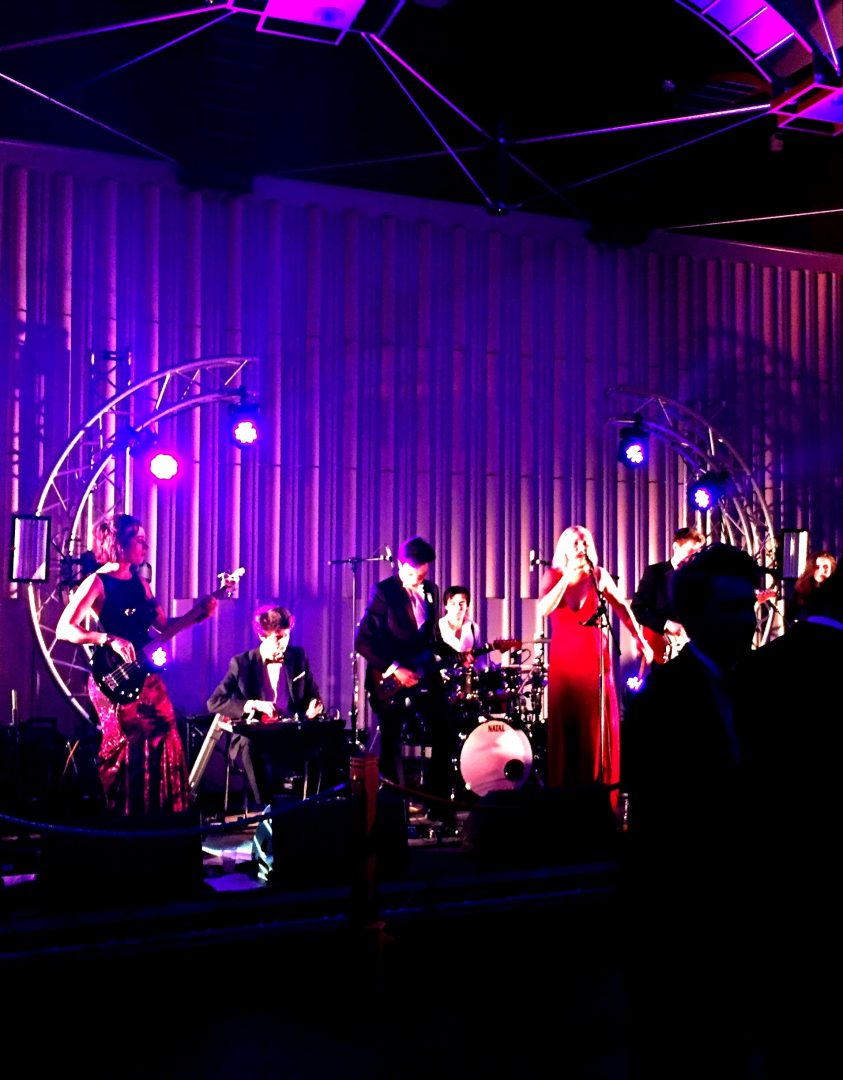 Gym and Sports Pitches
St Edmund Hall has a small but well equipped gym on the Norham Gardens site next door to University Parks which is open to all College members free of charge. We also have a boat house with its own gym on the banks of the River Thames in Central Oxford which is used by the Boat Club. The College shares pitches and a clubhouse with Queen's College across the river where football, rounders, tennis, and cricket are played. Students may also choose to use the Iffley Pool and Gym which is a ten minute walk from the main site, and opposite our East Oxford annexes.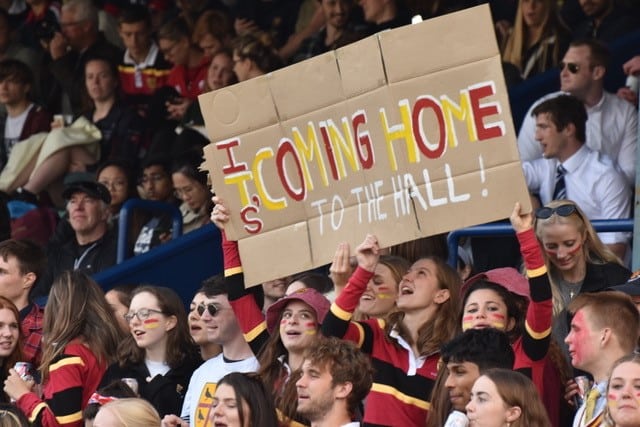 Dining Hall
Breakfast, lunch, dinner, and a weekend brunch are all available in the Wolfson Dining Hall. The large, modern space can seat 270 which means that there is always room to sit with your friends and no need to book in for meal times in advance. At Teddy Hall we are known for generous portions and high quality food, often ranking in the top five colleges of the University by student rankings. Our head chef previously worked in a Michelin starred London Hotel and so meals are both tasty and varied, particularly the twice weekly formal dinners, which are offered in addition to the normal serving of dinner.
Kitchens
Three meals a day are available in the Wolfson Dining Hall, but cooking facilities are nonetheless provided so that students can cook for themselves if they wish too. Each floor of accommodation has its own kitchen with a hob, fridge/freezer, kettle, and microwave. Ovens can also be found on some floors.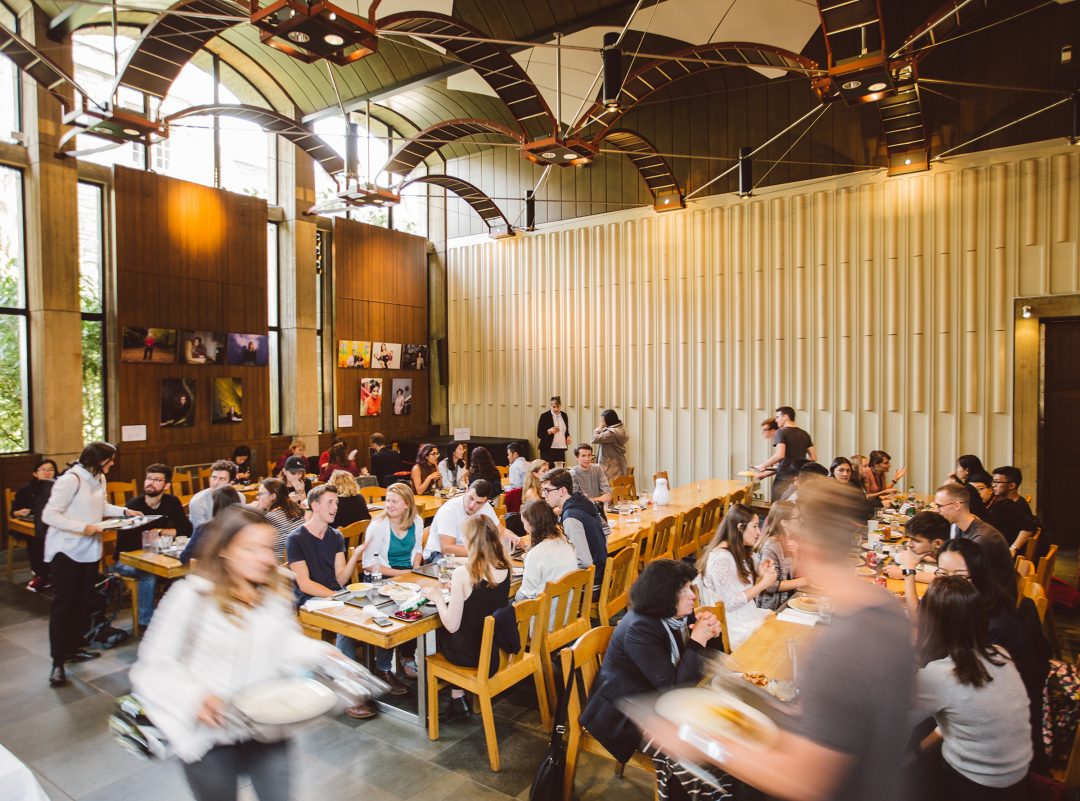 Music Room
We have a fully sound proofed music room and rehearsal space which individuals and student bands can book to use for free. The room is well equipped with a Yamaha piano, drum kit, a series of guitar amplifies and speakers, and a new PA system, with a state-of-the-art digital mixing desk. This equipment is also used for student parties held in the Wolfson Dining Hall.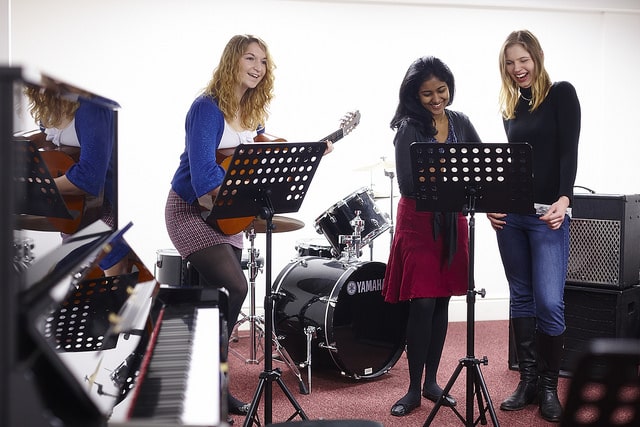 Gardens
Although we enjoy an enviable city centre location we still have some lovely pockets of green space around the College. Our recently installed 39m2 Living Wall is complemented by the tranquil Broadbent Garden. We also have a graveyard full of seasonal snowdrops, crocuses, and mature trees. Whilst it might seem somewhat unusual to have a graveyard, we have it because the College Library is housed in the old parish church, and with our acquisition of the church came the graveyard. The space, which has been de-consecrated for some 100 years, is peaceful and well used by relaxing students in the summer weather.
There is strong evidence that green spaces improve both mental and physical well-being, and as a result we are committed to making the most of our site and 'greening' it as much as possible.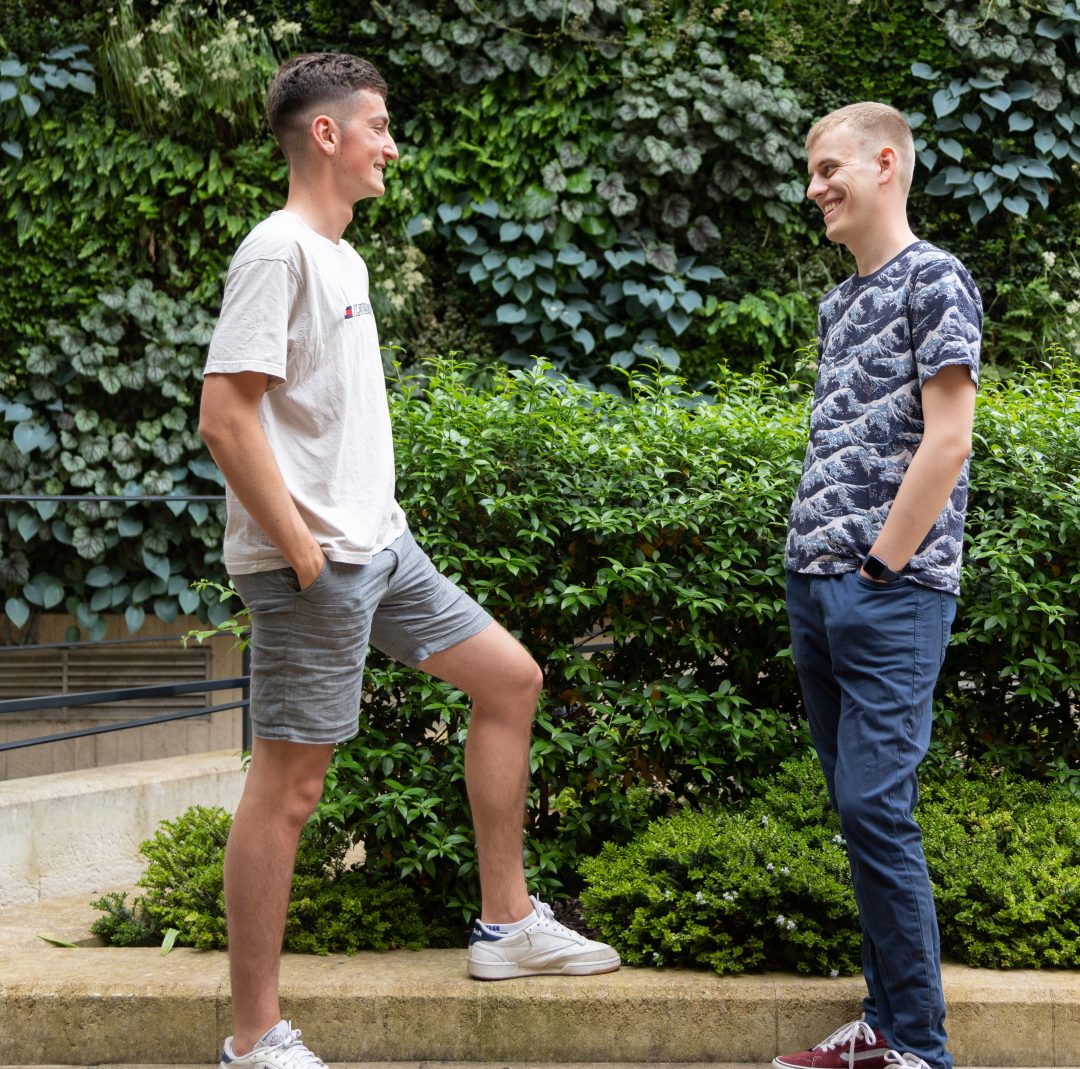 Other College Facilities
There are always plenty of events going on in and around Teddy Hall – including talks, film screenings, sports, creative writing workshops and music. The common rooms provide a comfortable social space, plus there is a cosy bar. Many of our students eat regularly in the large dining hall, where we serve some of the best food in Oxford, thanks to our award-winning Head Chef.
Tucked away from the busy High Street, Teddy Hall is the perfect mixture of a beautiful quad, central location and some of the friendliest students around. I think it has a very homely feel and sociable atmosphere which really makes you want to get stuck in to college life – perfect for making the most of your time at Oxford.
Ellie, undergraduate studying Psychology, Philosophy and Linguistics