An update from our Writer in Residence, Linda Davies
5 Nov 2018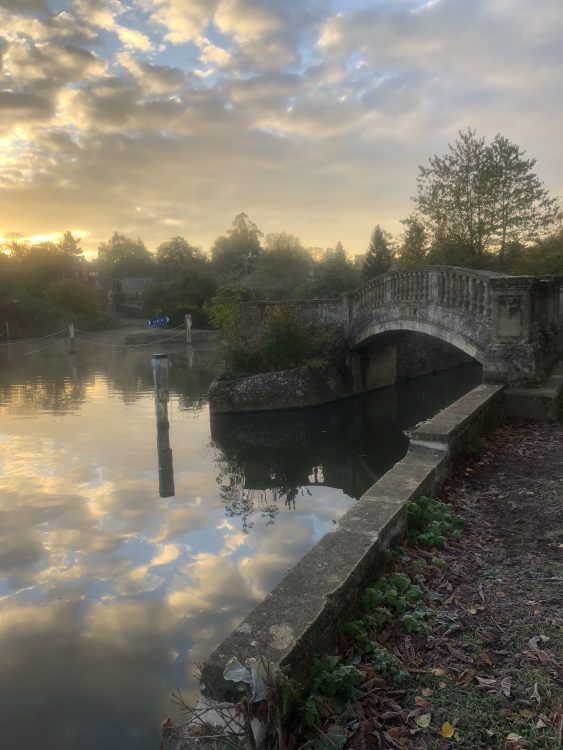 Halfway through my time here as Writer in Residence I'd like to reflect on what I have done and what I would still like to do.
As a writer, one needs to refill the creative tank from time to time. A Room of One's Own is a wonderful thing, as is conversation, ideas, beauty, novelty and history you can almost breathe. Living in Teddy Hall, lunching and dining with various members of the Senior Common Room, experts in a dizzying array of subjects from what can go wrong in nuclear reactors to the passionate poetry of medieval German nuns (with numerous digressions along the way) has been enlivening and stimulating. I have also been catching up with some of the now Emeritus Professors who taught me while I was here as an undergraduate reading PPE so there has been much happy reminiscing too.
I've had fascinating conversations with a range of students and have relished reading their writing across a range of genres and styles. I have met with them to offer encouragement, technical observations on their writing and also to discuss the broader business world of writing and beyond.
I know that in my own life having someone to read and critique my work, pointing out both what works and what doesn't has been immensely helpful. I am here, ready and available to do the same for more students so I encourage you to get in touch. My period as Writer in Residence comes to an end as the term ends and I will head back home to Suffolk, lunching with my dogs and conversing with them about walkies, so if you'd like to talk about writing, please drop me an email soonest (linda.davies@seh.ox.ac.uk).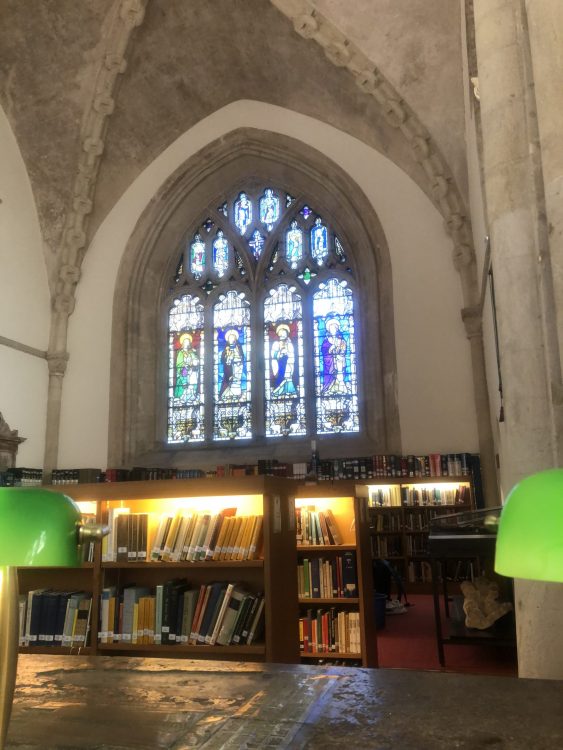 As the name suggests, being a Writer in Residence means actually writing as well as talking about writing and I'm delighted to have been inspired to both continue the work on my non-fiction book about money but also to start a new work of fiction that is set here in Teddy Hall, in our time, and also in Magdalen during the Restoration period. I have written 6000 words and counting. I'm delighted to report there is much to inspire me in Oxford… and in Teddy Hall…
Whilst here I have been to an informal evening discussing poetry with a group of undergraduate poets and also with an alumnus, Chris Mann (1971, English), who together with his artist wife Julia gave a fascinating evening's entertainment focused on his latest book of poems Epiphanies which featured recitations, singing and art.
I've also enjoyed a tour of the library and crypt with medievalist Henrike Lähnemann and a group of travelling medievalists.
I had a beguiling evening at Hertford care of my longbow which secured me an invitation to attend the celebration of the life and last work of Dr Roger Pensom. My longbow was wielded by medievalist Helen Swift playing the part of Tristan.
I'm looking forward to future events such as the annual PPEists dinner at which I will be speaking as guest of honour and also to Carols in the Quad where I will be joining in with the singing and giving the reading.
I shall also be taking part in an event on the evening of Friday 23 November discussing writing and the creative brain with Charlotte Stagg and Paul Matthews. More details can be found here. Do come along and join us if you are interested in the subject of inspiration both artistically and neuro-scientifically.
In the meantime, I would just like to say to the whole Hall community, thank you for making me feel so welcome back here again. And for providing inspiration…
A selection of photos by Linda
Related News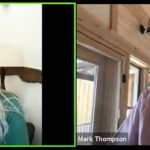 Mark Thompson gives 2021 Geddes Lecture
Mark Thompson, former CEO of The New York Times Company and Director-General of the BBC and current Chairman of Ancestry.com, delivered the 2021 Philip Geddes Memorial Lecture on Friday 5 March.
9 Mar 2021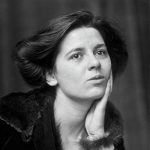 Winner of the 2020 writing prize honouring suffragette journalist Rebecca West
Fourth Rebecca West Prize for Writing awarded in June 2020
23 Jun 2020