Besse Building Refurbishment Underway
16 Nov 2020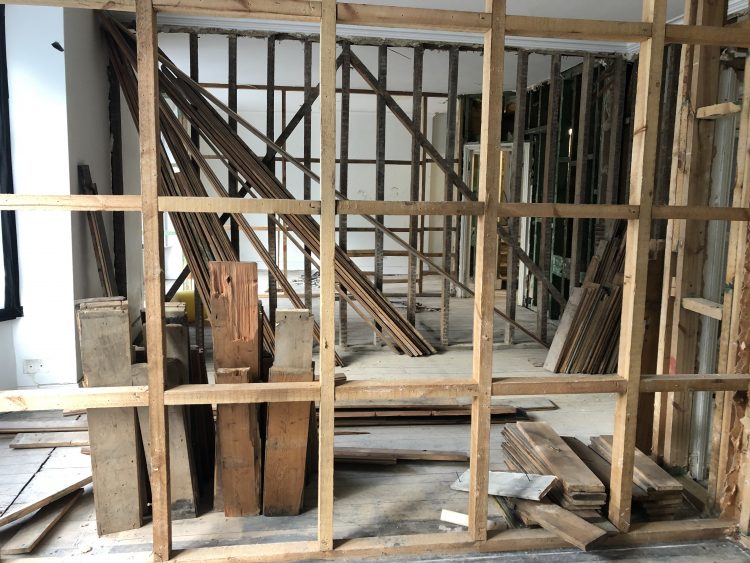 Thanks to the generous support of Aularians, in the Spring of 2020, St Edmund Hall started the refurbishment of 49-56 High Street (Besse Building). This is part of the Hall's plan to improve the quality of all College student accommodation over the coming nine years. The refurbishment includes rewiring the building, installing en-suite bathrooms to the bulk of the rooms and improving the sustainability credentials of the old Grade II listed building by improving insulation, adding double glazing and heat extraction from waste water. By September 2021, it will house six self-contained student apartments, and some offices and teaching rooms.
If you would like to support this project to improve the quality of accommodation on Queen's Lane please donate online here or contact the Development Office: aularianconnect@seh.ox.ac.uk
Below is a report from the Hall's Estate's team on the latest developments.
"Works are well underway and we are on schedule to have the building back in time for occupation in October 2021.
The main contractor has created an office and compound within No. 52 High St which with a new door created in the rear wall of the shop, affording them direct access to Besse without the need to use the Forum tunnel.
We have seen a "soft strip" along with the removal of redundant mechanical and electrical items, the demolition and strip out of No. 50 High St, preparation for steelwork installation, removal of some internal walls and old bathroom areas as well as investigations into new electric and plumbing service runs.
No. 50 High St is to become general office space but it first needs a complete refurbishment. The includes the damp proofing of the entire basement floor, a full re-wire, flooring, decoration, lighting and a rear door so that access can be afforded to users without having to go out on the High St.
The JCR Computer room was based on the first floor of Besse and over the summer the College's maintenance team cleared out and built a new IT Suite in No 55. High Street. This space is now accessible from the rear of Besse via a corridor that was once used as the Fellow's Cycle Store. A new entrance for kitchen deliveries was also created here.
As the term draws on we will begin to see scaffold going up on the High St façade of Besse as well as a continuation of the "stripping out" of the building."
Keep an eye out for more updates on the Besse Project in the future.