Music in the Hall Series: Piano Vocal Qualities
9 Jun 2020
St Edmund Hall is pleased to be bringing to you a new video series called 'Music in the Hall: a musical performance series from Teddy Hall students in isolation'. Over the coming weeks, you will hear from singer/songwriters, pianists, the Teddy Hall Chapel Choir and much more!
This week's music explores the piano's vocal qualities. Gavin Bala (2019, Mathematics) plays Barcarolle by the nineteenth-century French composer Charles-Valentin Alkan while Zhuo Guan (2018, Economics & Management) plays Franz Liszt's piano transcription of his own song O lieb, so lang du lieben kannst! which, as Liebesträume (S.541) has become one of the most popular within the Hungarian composer's canon of piano works.
As the piano developed in the nineteenth century, it became capable of portraying romantic, song-like melodies and many composers began to draw on its expressive possibilities. It was Mendelssohn who coined the term 'song without words' a phrase we first hear in 1828, when his sister Fanny wrote of receiving one piece from her brother so titled for her birthday. Mendelssohn went on to write eight volumes of these 'songs without words', continuing to do so until almost the end of his life. The French composer Charles-Valentin Alkan was just four years younger than Mendelssohn and Alkan's own five volumes of piano works, each described as a 'book of songs', seem to follow Mendelssohn's model. A barcarolle is a traditional folk song sung by Venetian gondoliers, a characteristic vocal melody which appealed to composers such as Alkan, Mendelssohn and Chopin, all of whom wrote piano works styled on this song type. It is interesting to compare two beautiful barcarolles: Alkin's 1864 Barcarolle from his Troisième recueil de chants, Op 65, wonderfully played by Gavin Bala, and Mendelssohn's Gondola Song from his Lieder ohne Worte, Op. 19 written in the same key of G minor and played here by Jan Lisiecki:
Liszt, who spent some years in Paris, and Alkan were friends, Lizst describing Alkan's works in generous and complimentary terms and Alkan dedicating some of his music to Liszt. Unlike Alkan's and Mendelssohn's works, Lizst's Liebesträume started life as a song with words. In the original version, sung here by Dame Margaret Price, the melody is in the voice while the piano plays a rippling accompaniment. Liszt's transcription of the song into a piano piece, beautifully played in our series by Zhuo Guan, overtook the popularity of the original song and the music is now known primarily as a piano piece. The original words speak of the need to love before the opportunity to love is taken by death and thus never the need to regret a lack of love.
Next week: for the final week of term, pianist Hudson Hovil plays Schubert and Teddy Hall Choir sings Elgar.
To be notified of future performances, please subscribe to the St Edmund Hall YouTube Channel.
The series is curated by Dr James Whitbourn, Director of Music, who can be contacted at james.whitbourn@seh.ox.ac.uk.
Related News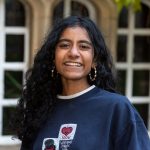 New JCR President elected: Brittany Perera
Brittany was elected by the St Edmund Hall undergraduate students to become their next president.
12 Jan 2022