Caleb Klaces (2003, English) twice featured in the UK's Foyle National Young Poets of the Year before taking up his place at St Edmund Hall.
While an undergraduate, he won the Graham Midgley Poetry Prize three years running and contributed to the second volume of Synergies: Creative Writing in Academic Practice. After graduating with a First, he was based for a while in Austin, Texas where he was editor-in-chief of the Bat City Review.
His first poetry collection, Bottled Air (Eyewear, 2013), won the Melita Hume Prize. In 2012, he won an Eric Gregory award, and was named a Granta 'New Poet'. He has published two pamphlets: All Safe All Well (Flarestack, 2011) and Modern Version (If a leaf falls, 2017).
Caleb's poetry, fiction, non-fiction and essays appear in journals including Poetry, Granta, The White Review, Poetry London, Conjunctions, The Threepenny Review and The Poetry Review. He is a Lecturer at York St John University. He lives in York with the scholar and novelist Daisy Hildyard, also a Hall Writer, and their daughter.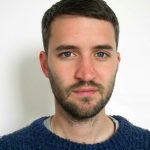 Caleb Klaces