Remote Resources
For Schools, Colleges and Prospective Students
We've been busy producing a wide range of remote reources to go alongside our Virtual Visits and remote sessions.
Student Q&A Videos
The best way to find out what it's like studying at Oxford is to hear from current students! This series of videos gives an insight into a wide range of subjects at Oxford, and will increase over time as we add more.
Applying to Oxford Videos
Our Access and Outreach Officer Lizzie has put together a series of videos covering each aspect of the Oxford Application Process in detail. These bitesize videos can be used as a starting point for sixth form students looking to make an application to Oxford in the future, and can be coupled with a Remote Application Session where students can ask questions and tackle interview-style questions.
Virtual Tour of St Edmund Hall
If you're not able to visit us in person, why not take a virtual tour with our Access and Outreach Officer? Lizzie's comprehensive tour covers all the main areas of the college site, and sits aside a number of other tours we have produced:
College Prospectus
Our prospectus is a great place to find out everything you need to know about the college as a prospective student. It has information on accommodation, bursaries, the community, financial support, societies as well as a summary for each subject.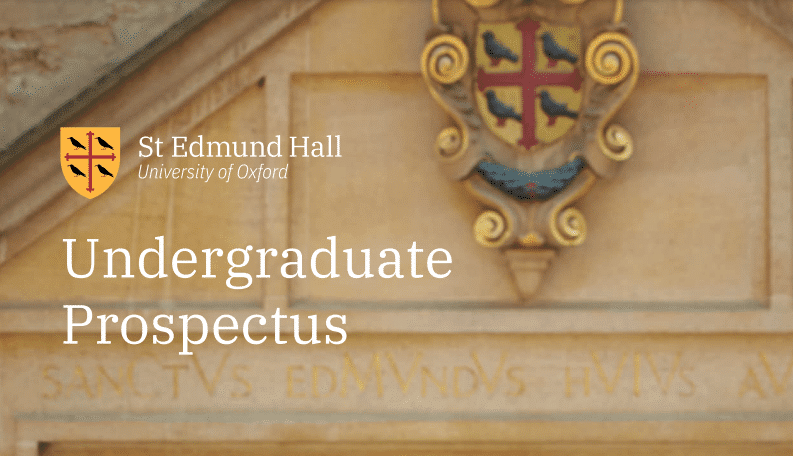 Alternative Prospectus
Completely redesigned by our fantastic JCR Access Officers in 2020, the Alternative Prospectus is a completely student-written publication, and so it gives a unique perspective on life at St Edmund Hall. It covers the common room and student community, accommodation, welfare, financial support, societies, sports, music, drama, awards, prizes and everything in between.