Due to the ongoing developments regarding COVID-19, we have made the decision to pause all face-to-face enagement with schools and colleges until further notice.
We welcome visits from school groups to St Edmund Hall throughout the year, and regularly host visits for students in Year 10 and above.
The University has established a programme of regionalisation, under which each Local Education Authority is linked to a particular college. This scheme has no bearing on the Oxford admissions process and is not intended to replace any existing contact between a school and the University, but provides a named first point of contact at Oxford for schools to approach.
Hampshire
Isle of Wight
Leicester
Leicestershire
Peterborough
Portsmouth
Rutland
Southampton
School Visits to St Edmund Hall
If you are a teacher from a school or college in one of our link regions, then we would love to hear from you and would be delighted to host a visit to St Edmund Hall. We are also keen to hear from teachers in any other region who might be interested in finding out more about the College, and any of our alumni who now work in schools.
What will a visit involve?
Visits can range from a quick tour of St Edmund Hall to a full-day event, and can be tailored to fit the age group of the students and particular needs of the school. A sample timetable is included below:
Sample Timetable
10:30am: Arrival at St Edmund Hall
10:40am: Welcome and Introductions
10:45am: Introduction to Oxford (talk)
11:30am: Tour of St Edmund Hall
12:00pm: Q&A Session with Student Ambassadors
12:15pm: Lunch (free of charge)
1:15pm: Afternoon Session
2:30pm: Depart
Afternoon sessions can be chosen from a list of activities including a trip to a University museum, a tour of a department, a talk with a tutor at St Edmund Hall and additional application talks.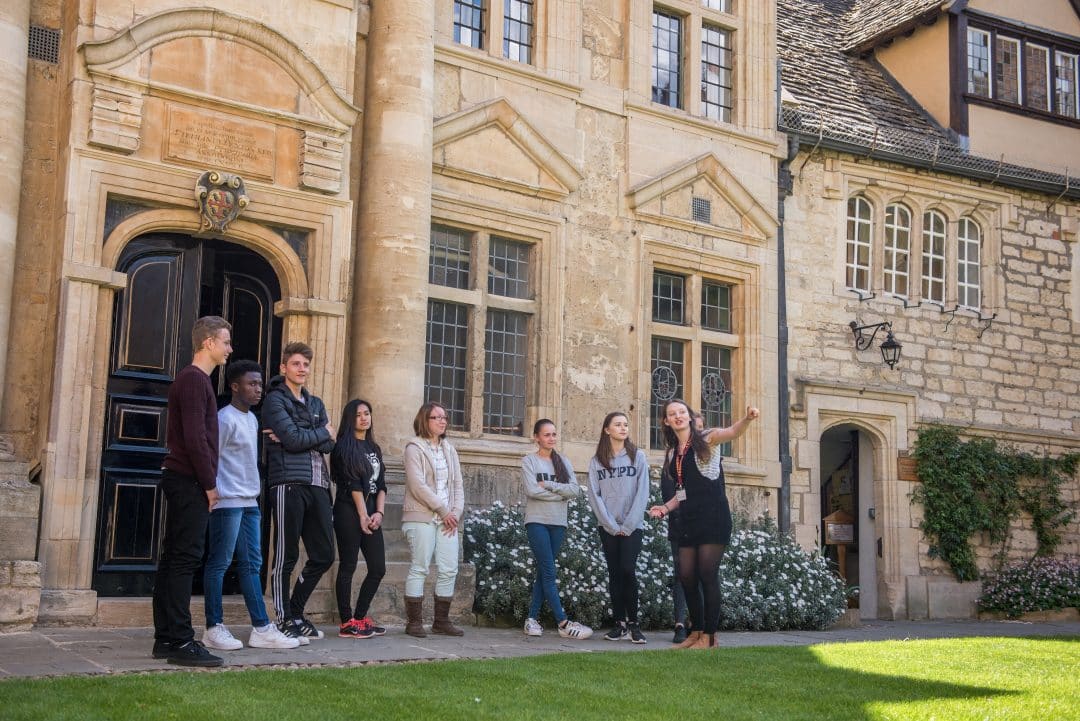 Hosting a visit at your school or college
Our Schools Liaison Officer also travels to visit schools and colleges in our link regions. We are happy to talk to students, staff or parents about the University, and can also deliver Application and/or Interview Workshop sessions in the autumn term.
Talks Available
This presentation gives an overview of studying at Oxford including information about the city, the university; the colleges, courses, and tutorials, as well as advice on applications, personal statements and interviews.
The talk lasts approximately 45 minutes.
There are lots of myths about interviews at Oxford, but really they are just conversations about your chosen subject – like a short tutorial. This workshop dispels some of the myths around Oxford Interviews and gives students the opportunity to try sample interview questions with each other.
The workshop duration is flexible and can last between 30 and 90 minutes depending on requirement.
People sometimes think that there is a trick to writing a personal statement for Oxford, or that we are looking for some special secret formula, but this is not the case. However, it is important to remember that tutors at Oxford are only interested in applicants' academic ability and potential. This workshop aims to reinforce the fact that academic ability and potential should be the mainstay of a personal statement, as well as providing some advice on things to avoid!
The workshop duration is flexible and can last between 30 and 60 minutes depending on requirement.
It is really important to make sure that teachers are passing the right information about making an application to university on to their students, particularly so with the many myths and preconceptions that surround applying to Oxbridge. This presentation aims to put teachers in the best possible position to help their students make a strong application to a top university, as well as opening up a channel of communication with the Schools Liaison Officer which can be used from then onwards for help and advice.
The talk lasts approximately 45 minutes, plus 15 minutes for questions.
At times it seems that parents can have the most perceptive and insightful questions to ask when it comes to university, and whilst it should always remain the decision of the prospective student, it can be really useful as a parent to have extra information when it comes to supporting your son, daughter or ward with their future decisions.
The talk lasts approximately 45 minutes, plus 15 minutes for questions.
Further Information
We are always happy to hear from teachers, and will try wherever possible to help answer questions about our application processes, and advise on how you can best support and inform your students. Please contact Lizzie Fry, our Access and Outreach Coordinator by email or by telephone on 01865 279022.
Please note that due to limited resources we may only be able to offer a partial programme to schools and colleges with a strong history of sending successful applicants to Oxford.
GDPR
As part of an outreach event, we may collect personal information about participants to help organise the event and/or to help evaluate the event. The following form is an example of the type of form we use to collect information about participants: Sample Outreach Event Participant Form.
The following University of Oxford HEAT Privacy Notice applies to all data collected in this way: University of Oxford HEAT Privacy Notice.