Lizzie's Guide to Open Days
Before I joined the Access and Outreach team at St Edmund Hall I was a student here, and before that I was a fresh faced sixth former going on Open Days all around the country, trying to figure out what I wanted to study and where. That included coming to an Oxford Open Day to look at first studying the History course, and then, following an epiphany where I realised I wanted to somehow study history, zoology, biology, and environmental science all at once, for the Geography course.
Since then, I've given tours and answered questions as a Student Ambassador at eight open days, and now I'm part of my College's organising team. So, having done probably too many Open Days, I thought I'd share with you the strategy I've refined to get the most out of coming to an Open Day.
So here are my 5 top tips: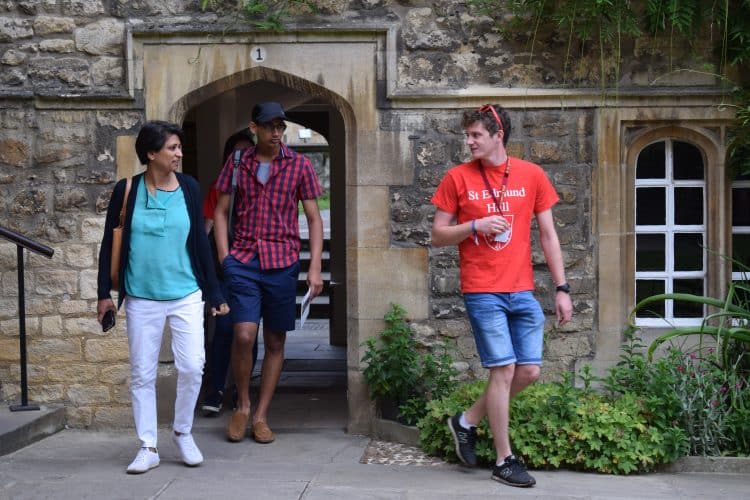 Don't worry if you come on your own. Of course it's nice to have a second, or even third, opinion on the sometimes overwhelming range of university options, but it's important to remember that you are the one who'll be spending three or four years as a student, and it's you who needs to make the judgement. You needn't be daunted; student helpers and staff will be very happy to talk to you, give you a tour, and give you directions around the city if you need them. Coming by yourself means that you are totally in charge of what you do with the day, and it may help you to pick up on the indefinable vibe of a place that will make a lasting impression on you, and maybe even make your decision for you.
Prioritise: there are too many colleges to see them all, and they might not all offer your course anyway, so do a little research beforehand and narrow down your shortlist. I used college websites and alternative prospectuses to choose a couple of colleges that looked like they might suit me and then planned a rough route that enabled me to visit each one, as well as the Geography department either side of lunch, an obvious priority. And that brings me to my next tip…
Food: its hungry work walking around even a compact city centre, and no one can expect you to make thoughtful judgements of any kind on an empty stomach. Equally, having lunch somewhere in the city gives you chance to see what's available in a place you may be calling home for three or four years, as well as having a break to digest what you've seen in the morning. Well located cafes and restaurants can be found along George Street, St Giles, and the Cowley Road, depending on where you are during the day. My personal recommendations are Edamame on Holywell Street, the Oxford Grill and Café Coco on Cowley Road, and Green's Café on St Giles.
Talk to as many people as possible – the open day here will give you the chance to meet both current students from a wide variety of subjects and backgrounds who'll have lots of useful information for you. You can also meet tutors if you'd like to, as several colleges offer tutor panel events in addition to talks and drop-ins hosted by individual departments. Have a look at the University's official Open Days Guide to see what's on and when.
Don't be afraid to ask 'stupid' questions – everyone says this, but it's true! If you, a prospective Oxford student, are having to ask it, then it can't be that obvious, so you needn't worry! If you don't know how the collegiate system fits within your teaching, ask us, and if you don't know whether a college has sports teams or a choir, ask that too. If you hear someone using an abbreviation or jargon to explain something, don't be afraid to ask them what it means, students here often quickly adopt terms like 'Rad Cam' for the Radcliffe Camera Library or 'Iffley' for the University's sports centre and pitches and will be happy to explain the lingo to you.
And lastly, I hope you enjoy the day. Making decisions about university can be intimidating, but it's such a wonderful opportunity, and coming on an Open Day will help you see all the exciting things that are available to you.