A very honest, modest, & ingenious Man: Francis White and the Benefactors' Board in St Peter-in-the-East
12 Mar 2019|James Howarth
One of the joys of being a Librarian at Teddy Hall is that we are not just responsible for the bibliographic needs of our current students or the treasures of the Old Library but also for looking after the church of St Peter-in-the-East which houses our new Library (only in Oxford could a 1000 year old building be described as new). The large benefaction board which hangs above the entrance to the Library and records donations made by members of the church to support the poor of the parish is a constant reminder of the congregation, made up of both members of the University and townspeople, who once worshipped here.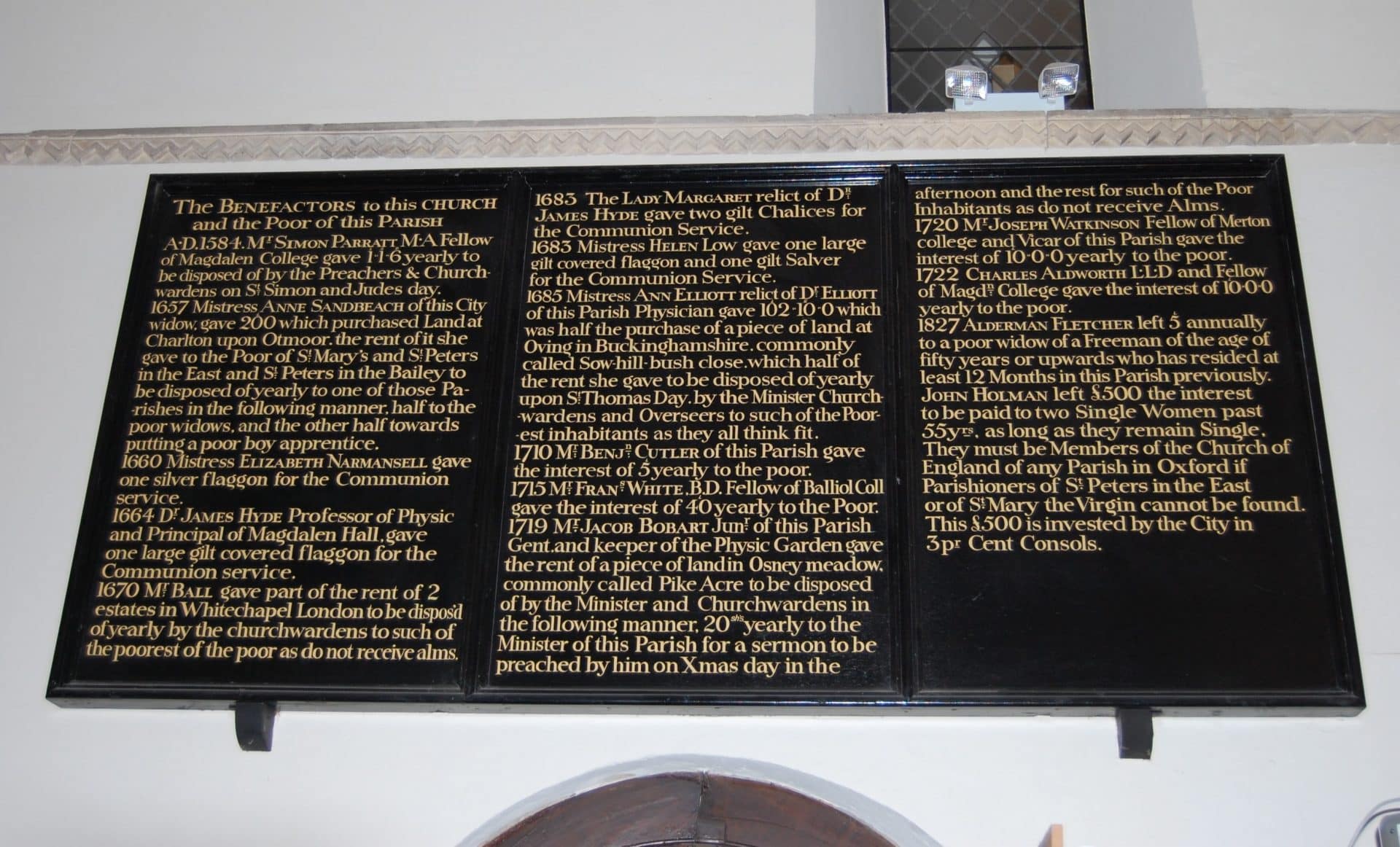 When I arrived at Teddy Hall from Balliol last June, I was glad to be welcomed by a familiar name on the board: one entry records that in 1715 "Mr: Frans White, B.D. Fellow of Balliol Coll gave the interest of [£]40 yearly to the Poor." Francis White was a fellow of Balliol from 1672 until his death in 1715 and I knew I had seen his name a number of times on documents in the College Library and archives, but what else is known about him? As it turns out, we can still find fragmentary and scattered traces of his life across the University and the city.

Early Life and Family: The Mayor's son and the 'little Welsh Hall'
Francis White was born around 1652 in Oxford, one of at least 11 children of Sampson White, who twice served as mayor. A large number of Francis' siblings were baptised at St Peter-in-the-East, and he may also have been.
Despite the traditional tension of 'town and gown' it was not uncommon for local people to enter a college and go on to have university careers. Several of White's near contemporaries in the Balliol fellowship were from the city, including one, John Good, who was also the son of a mayor of Oxford (Richard Good, Mayor in 1628-9).
Sampson White was a prominent local politician and draper who owned several shops and houses on the High Street, including the site currently occupied by the lodgings of the Warden of All Souls. A prominent Royalist, he was expelled from the council under the Commonwealth. In the early 1650s his house in the parish of St Peter-in-the-East was known as 'the little Welsh Hall', because it was used as an underground college for royalist students by Leoline Jenkins, who been ejected from Jesus College by the parliamentary authorities. Sampson's fortunes rose with the restoration of the monarchy; he was elected mayor in September 1660 and led a delegation at the coronation of Charles II where he was knighted and presented with a golden cup which is still in the possession of the town council. He was mayor a second time in the plague year of 1665-6 when the court briefly relocated from London to Oxford.
Henry White, one of Francis' elder brothers, followed his father into both trade and politics. He was elected mayor in 1691, although his attempts to stand as an MP were less successful. He stood three times between 1690 and 1701 without being elected – and on two occasions he received only a single vote!
Another brother, Gilbert, was an Aularian, matriculating as a member of St Edmund Hall in 1668. He transferred to Magdalen before he graduated, where he became a Fellow in the 1670s. He afterwards took the college living of Selborne in Hampshire in 1681. His more famous grandson Gilbert (1720-1793) was the author of the pioneering The Natural History and Antiquities of Selborne.
Arrival at Balliol: a scholarship and some help in high places

Francis was admitted to Balliol as a scholar on 20 December 1667. As a scholar he was already on the fast track to an academic career. By the time he received his BA in 1671 he might well have hoped to soon be elected to a fellowship. However, Balliol in the early 1670s was in dire financial straits and riven by feuds and factional disputes in its governing body; in fact, between 1670 and 1672 it was placed under visitation (a thorough going audit and inspection) by the Bishop of Lincoln, the College's Visitor, and the election of new Fellows was particularly fraught. Amongst the state papers held at the National Archives in Kew are letters which show the differing interests being brought to bear. John Good, Balliol's senior tutor, wrote twice to the diplomat and politician Sir Joseph Williamson, saying that Francis White had missed out on election as fellow in November 1671 because of a letter from the Royal court and that if Williamson could prevent any further letters being sent or, better still, procure one in support of Francis then "this favour will be most gratefully acknowledged by Sir Sampson White." White received his fellowship in 1672.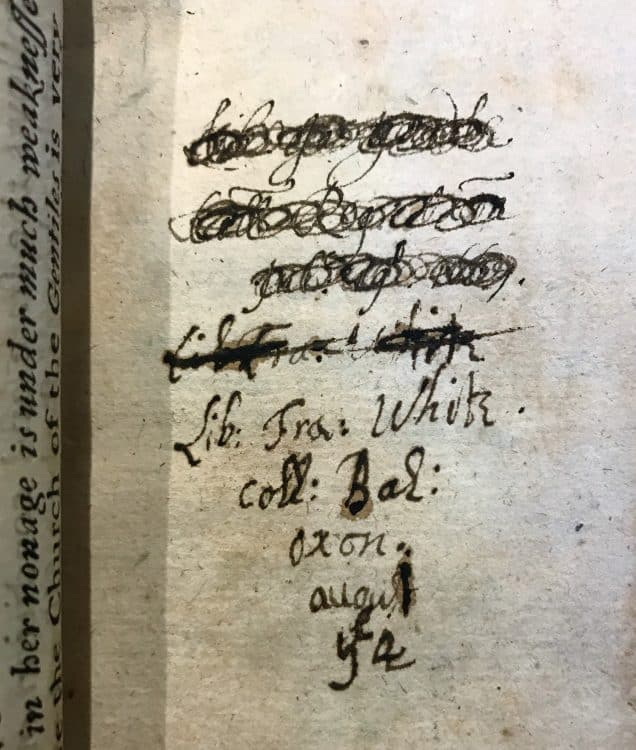 Intellectual life in the Restoration: of folly, insects and the justice of God
Can we say anything of Francis' intellectual life as a Fellow of Balliol? As a Librarian, anything we can discover about the books he owned and read is of particular interest to me.
Merton College holds one of two surviving books owned by Francis White: a 1633 edition of Erasmus' Moriae Enconium (In Praise of Folly), a literary classic of the early 16th century. On one of the front endpapers a previous owner's name has been crossed out and White's name and college neatly written: 'Lib: Fra: White. Coll: Bal.'
Possibly as he doesn't identify himself as a fellow of Balliol, this was a book owned by White as an undergraduate. At the back of the book is a much less formal ownership inscription in pencil: "Francis White his Book" and on the other side of the page a doodle of a head. It is not clear how this book of White's came to be at Merton but it has been in the College's collection since at least the 19th century.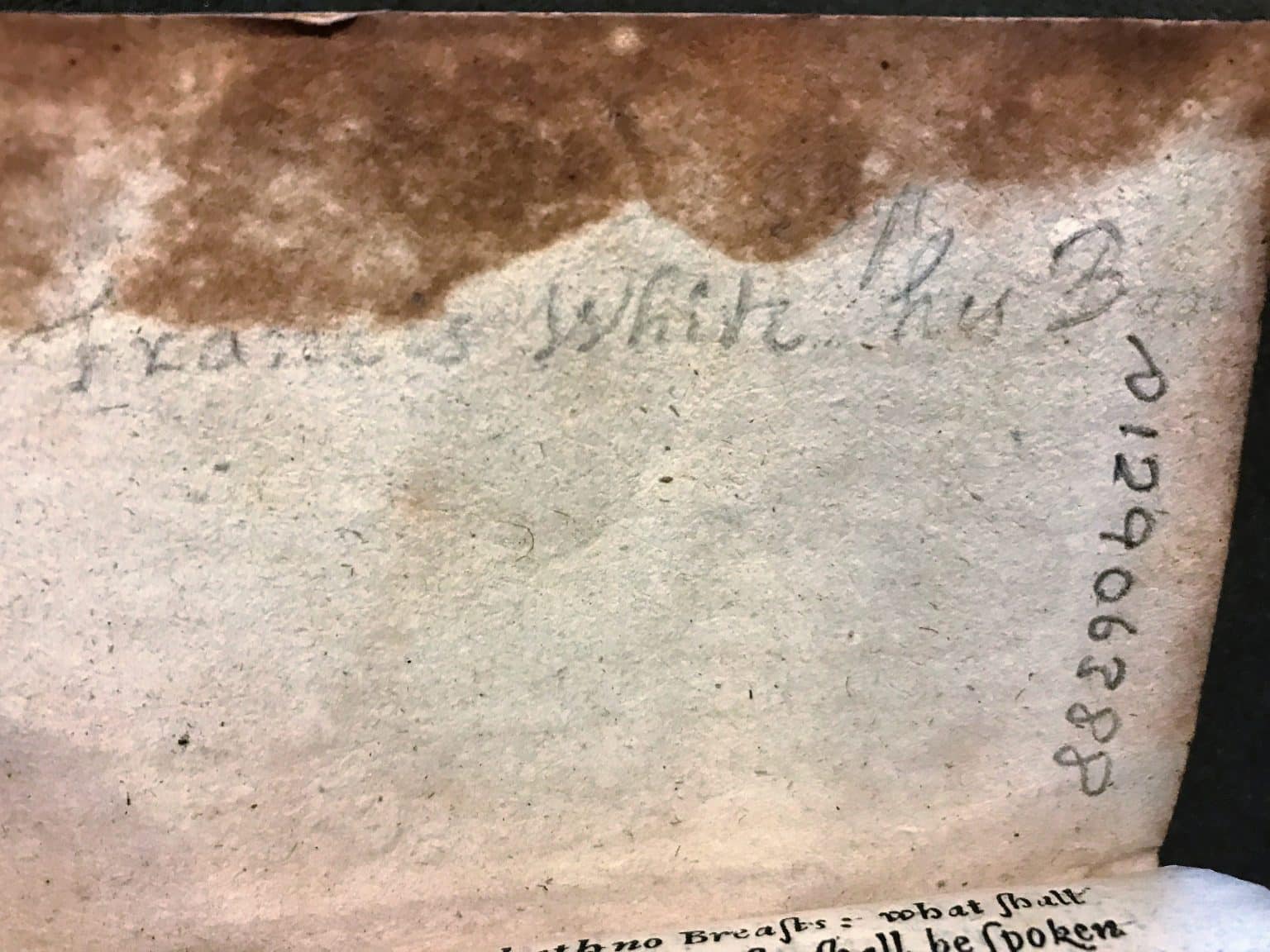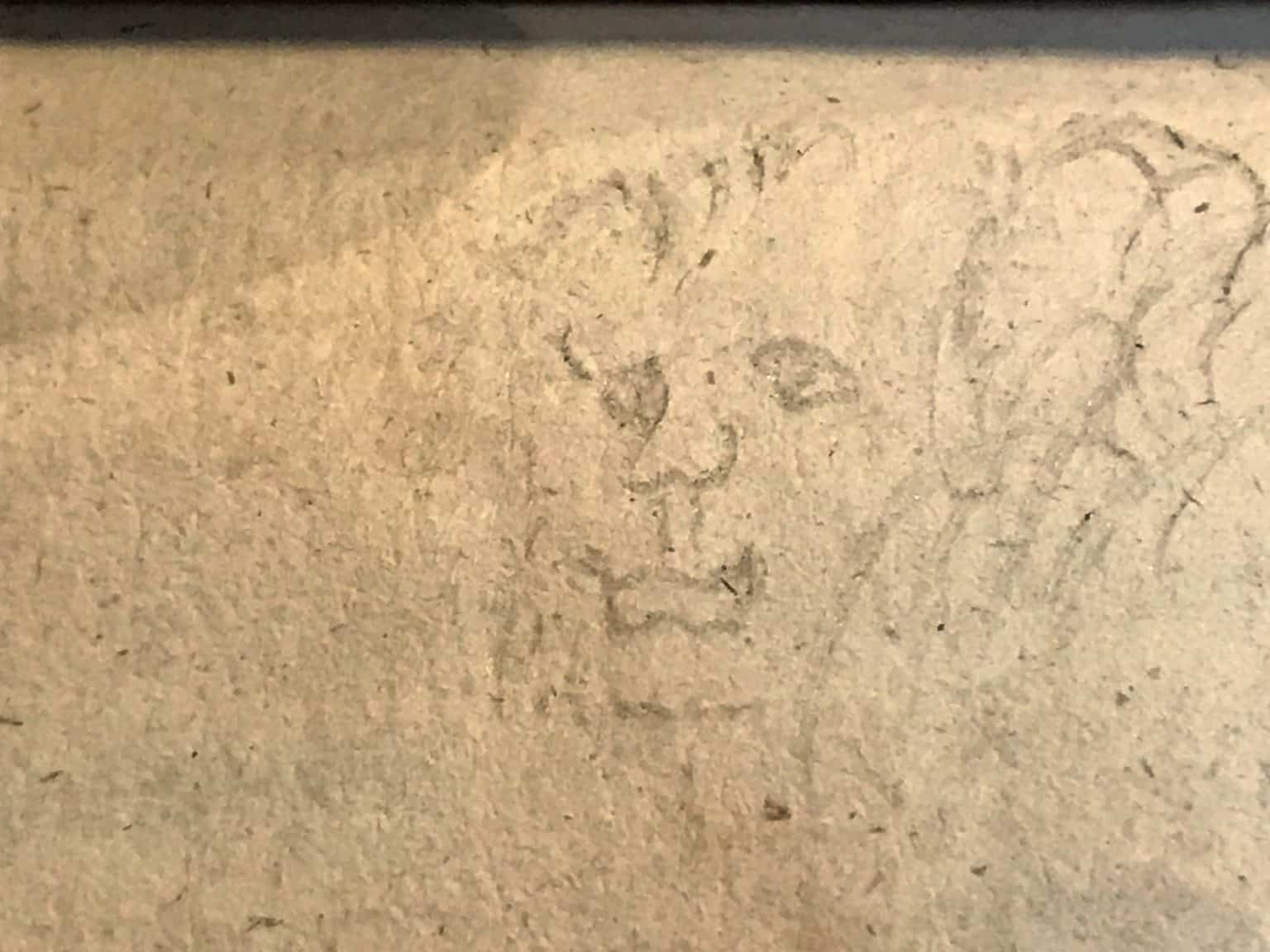 A Bursar's account book from the late 1670s survives in Balliol archives which includes a list of books borrowed from the college library in 1679-80. Several loans by White appear, although only two are legible (titles were crossed out when returned). One is a work on the justice of God written by the 5th century theologian Salvian during the turmoil at the end of the western Roman Empire, while the other, Vindiciae contra tyrannos (Defences against tyrants), is a Huguenot tract from the 16th century debating when and how far it is legitimate to rebel against a tyrannical monarch. It is very tempting to think that White's choice of reading is a response to the fierce political crisis raging at this point at the potential succession to the throne of James, the Catholic brother of Charles II.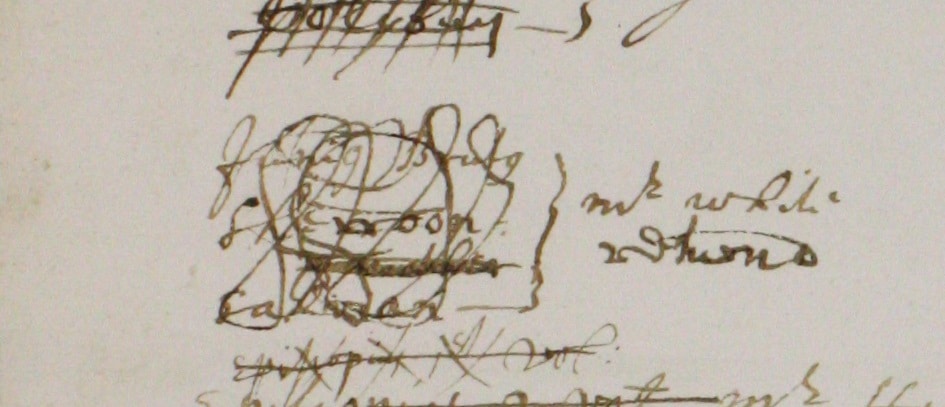 More scientific interests are seen in two books White borrowed from the Balliol Fellow Nicholas Crouch, which are recorded in a detailed list of books lent that Crouch maintained between 1653 and 1688. In July 1674 White borrowed a copy of Francesco Reddi's Experimenta circa generationem insectorum (Experiments on the Generation of Insects), a ground-breaking work which was the first to argue against the idea that insects could spontaneously generate. In March 1683 he borrowed a work of medical botany, the Herbarium Horstianum by Jakob Horst. Characteristically, Crouch's copy is enhanced with his own addition of a table showing which plants grow in which months, with references to the text.


Glimpses of a life: Francis White 1690-1701
On 30 January 1690 we catch a glimpse of White in public in the diary of the Oxford antiquarian Anthony Wood. He preached the sermon for the solemn fast and commemoration of the execution of Charles I in the University Church. He was, Wood records, "very satyricall and bitter against the phanaticks". Francis White evidently held true to his father's political convictions.
The Balliol Library Donation Book records two donations by Francis White in the 1690s as part of what seems to have been a sustained attempt in the period to seek contributions from Fellows to the perennially cash-strapped College's library.
White donated a 7-volume set of biblical commentaries by a Spanish Jesuit called Afonso Salmeron. He may possibly have afterwards regretted the donation, since according to another surviving Balliol Library lending list he borrowed volumes of it in both 1697 and 1698. The other work he donated is still extant in Balliol Library. De triplici minimo et mensural is a mathematical treatise in Latin verse by the radical speculative philosopher and occultist Giordano Bruno. In the Balliol copy, White's donation is recorded in his precise hand on the front end papers.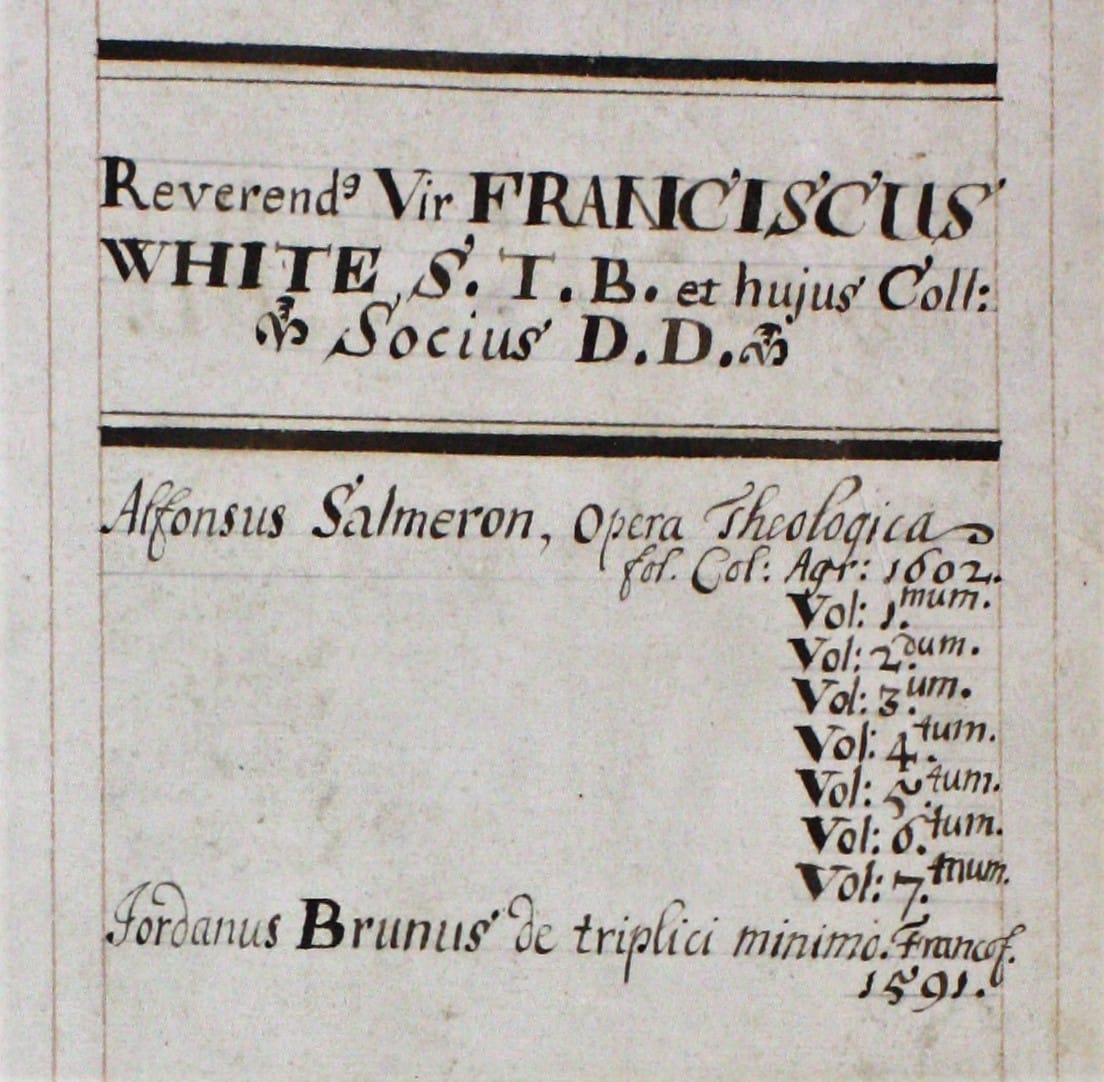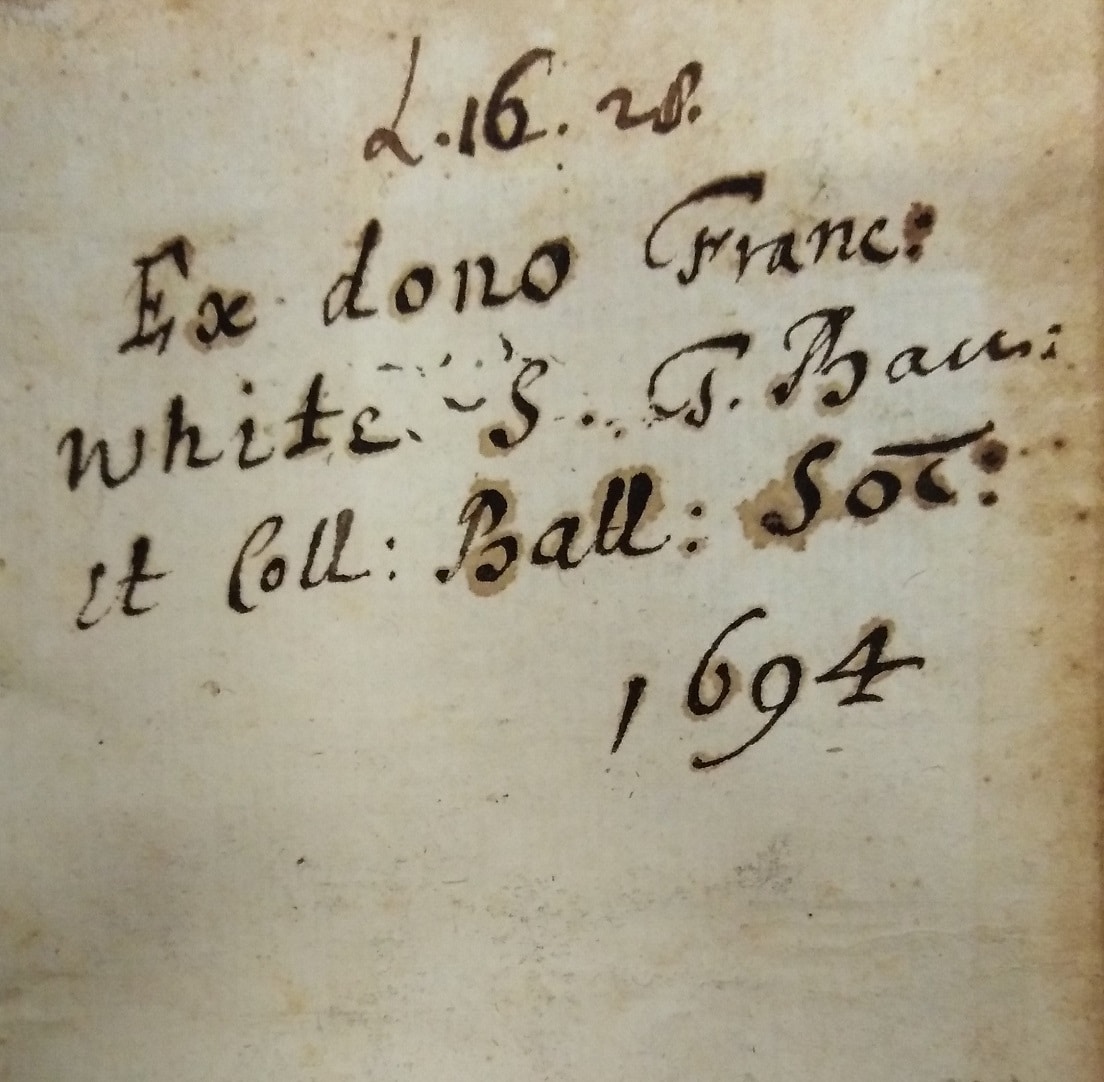 By the turn of the 18th century, after nearly thirty years as a Fellow of Balliol, his health was in decline. The diary of another Balliol fellow, Jeremiah Miles, survives for the years 1701-1704. An entry for the first October 1701 records White "laid up for gout". Miles was also an acquaintance of Francis' brother Henry, and in the same month his diary mentions a number of dinners with 'Alderman White.'

'Yesterday Morning about six Clock dyed Mr. Franc. White': the end and his legacy
White's health may have been uncertain from this point on. He first made a will in July 1708, but amended it later, probably around 1714, as he had already carried out some of its provisions "having by the Blessing of God lived so long". It is in these amendments that the donation to St Peter's first appears. A larger donation of £100 to St Mary Magdalen, his parish church since he arrived at Balliol, is present from start. This was to fund apprenticeships for the poor of the parish.
The diary of Thomas Hearne, perhaps the most famous Aularian of the 18th century – and who was at this point living in rooms in the Hall – provides the only surviving account of Francis White's death on Friday 27 November, 1715:
"Yesterday Morning about six Clock dyed Mr. Franc. White (B.D.) a Fellow of Balliol Coll. being about 62 Years old. He dyed of the Gout in the Head. He was a very honest, modest, & ingenious Man, & was Son of Sir Sampson White, & Brother to Alderman White, now living in Oxford."
What survives of Francis White? The first draft of his will gives Balliol the first refusal of his books and afterwards his family, but in his later revision they are divided between two of his nephews. However, the only surviving books of his library are the single volumes at Balliol and Merton. The money he left St Mary Magdalen was diverted to repair parish property which was subsequently sold and proceeds combined with a separate legacy which together provided £4 a year towards apprenticeships. His legacy to St Peter's was combined with others in the 1720s and the capital used to convert the small vicarage behind the church into a workhouse. The workhouse was in use until 1771 and the building demolished after 1802, at which point the church wardens were able to recover some of the money and interest of £3 a year (equivalent to around £3000 today) was paid to poor widows of the parish throughout the 19th century. He is commemorated along with his father and his brother Henry in a monument in St Mary's, which can now be found above the tills in the gift shop.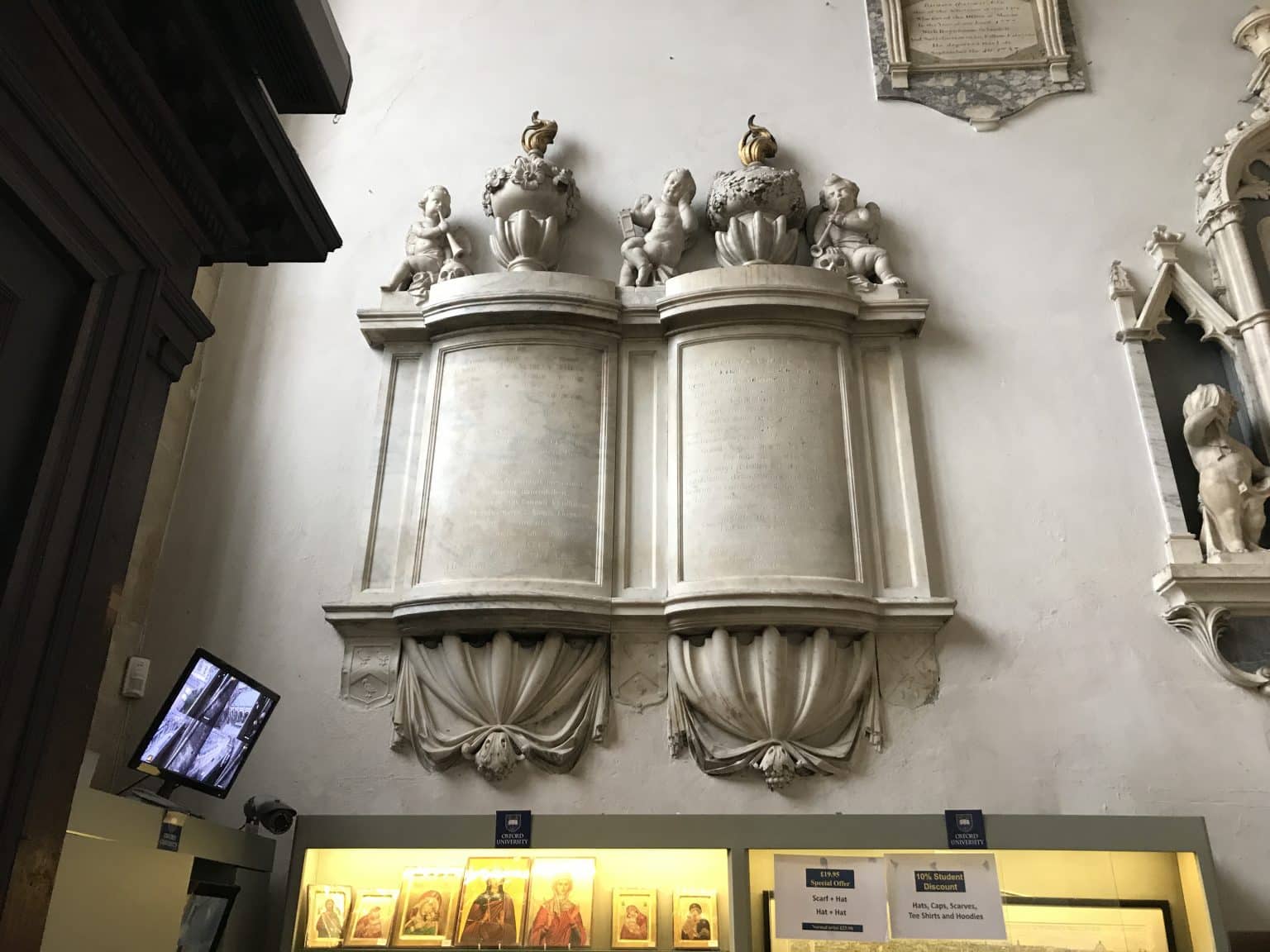 Acknowledgements
Reproduced by kind permission of the Warden and Fellows of Merton College:
Merton College 66 C 2 Desiderius Erasmus, Moriae Encomium , front and rear endpapers
Reproduced by kind permission of the Master and Fellows of Balliol College:
Balliol College First Latin Register p.316
Balliol College Library Records A7 front end p.3 Library lending List
Balliol College 825 e 16 Nicholas Crouch lending list pp.114-115
Balliol College Library Donation Book p.200
Balliol College 700 C 2 Giordano Bruno, De Triplici Minimo front free end paper
Balliol College MS 461 Diary of Jeremiah Miles 1701 p.21 entry for October
Blog Categories
Author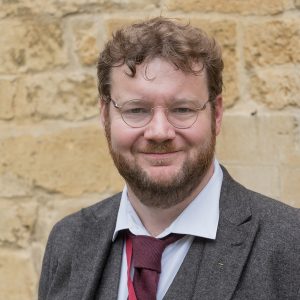 James
Howarth
James has been St Edmund Hall's Librarian since May 2018. He is responsible for maintaining and developing the library's collections – including the historic and special collections that are housed in the seventeenth-century Old Library and is keen to promote their use in research, study and outreach.
Share Post