The First Lady and the Library: Eleanor Roosevelt and St Edmund Hall
9 Apr 2019|James Howarth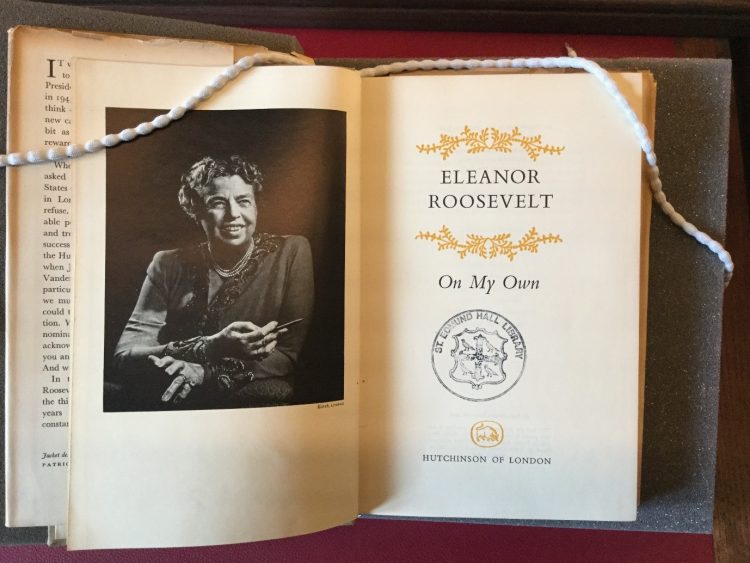 Sixty years ago this week, Teddy Hall played host to a distinguished guest. On Thursday 9 April 1959, Eleanor Roosevelt, the activist, diplomat and former First Lady of the US, visited the Hall for lunch.
She had spent the morning at the Bodleian and was accompanied here by the Keeper of Printed Books, Laurence Hanson. Hanson was himself an Aularian (matriculated 1920) which probably explains the choice of venue.
The event was fully described in that year's St Edmund Hall Magazine (see below).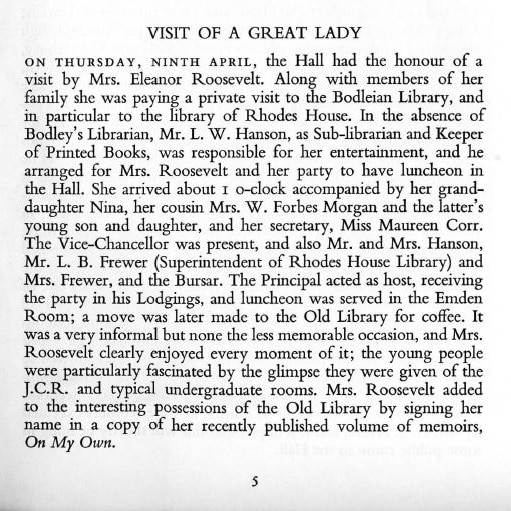 VISIT OF A GREAT LADY
ON THURSDAY, NINTH APRIL, the Hall had the honour of a visit by Mrs. Eleanor Roosevelt. Along with members of her family she was paying a private visit to the Bodleian Library, and in particular to the library of Rhodes House. In the absence of Bodley's Librarian, Mr. L. W. Hanson, as Sub-librarian and Keeper of Printed Books, was responsible for her entertainment, and he arranged for Mrs. Roosevelt and her party to have luncheon in the Hall. She arrived about 1 o-clock accompanied by her granddaughter Nina, her cousin Mrs. W. Forbes Morgan and the latter's young son and daughter, and her secretary, Miss Maureen Corr. The Vice-Chancellor was present, and also Mr. and Mrs. Hanson, Mr. L. B. Frewer (Superintendent of Rhodes House Library) and Mrs. Frewer, and the Bursar. The Principal acted as host, receiving the party in his Lodgings, and luncheon was served in the Emden Room; a move was later made to the Old Library for coffee. It was a very informal but none the less memorable occasion, and Mrs. Roosevelt clearly enjoyed every moment of it; the young people were particularly fascinated by the glimpse they were given of the J.C.R. and typical undergraduate rooms. Mrs. Roosevelt added to the interesting possessions of the Old Library by signing her name in a copy of her recently published volume of memoirs, On My Own.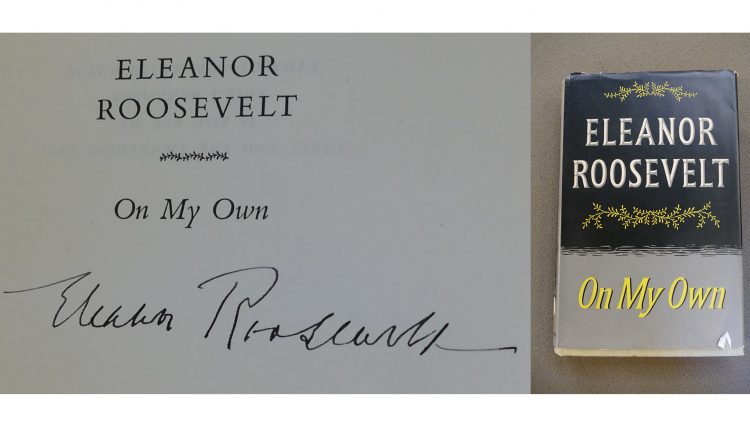 Eleanor was in England to promote On My Own, her account of her life after the death of Franklin D. Roosevelt in 1945. It was part of larger trip including Israel, Iran and France, that she described in her syndicated newspaper column 'My Day' (the entry for 9 April can be read online although sadly she doesn't mention her trip to Oxford). In an interview with the US TV channel PBS, Nina Roosevelt Gibson, who accompanied Eleanor Roosevelt on her trip to Teddy Hall, described her experience of travelling with her grandmother:
"And she took me on trips, and we had a lot of fun together, as well as I learned a tremendous amount on those trips from her. And she took time to teach me. It wasn't that I was learning by osmosis. She took the time to teach me a lot of things."
The signed copy of On My Own is still amongst the 'interesting possessions of the Old Library'. To mark the anniversary of Eleanor Roosevelt's visit we have put the book on display, along with some of our other possessions in the new exhibition case in the Old Library. The Library will be open to visitors this week on Wednesday 10 April and Thursday 11 April from 11:30am to 1:30pm, so please do come and have a look if you can. However, if you can't make it, here's more about what's on display.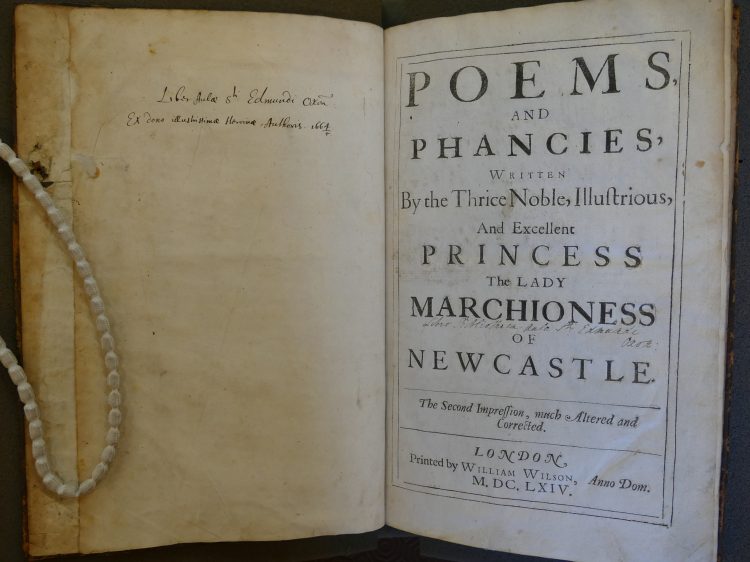 Ex dono illustrissimæ Heroinæ Authoris: another donation from a great lady
Margaret Cavendish, Poems, and Phancies, written by the thrice noble, illustrious, and excellent Princess the Lady Marchioness of Newcastle. (London, 1664) Shelf Mark: Fol. N 1
This book of verse is not only the earliest by a woman in our Old Library collection, but is also one of the first books we know the Hall to have possessed. Donated in 1664 by its author, Margaret Cavendish, a trailblazing writer of poems, plays and even science fiction, the volume has been here longer than the Old Library itself.
Cavendish, the wife of the influential and fabulously wealthy Duke of Newcastle, donated copies of all her works to the colleges of Oxford and Cambridge. Not everyone in the universities was impressed, and satirical annotations are found in some copies. However, a fulsome letter of thanks from the Hall's Principal, Thomas Tully, was later published in A Collection of letters and poems written by several persons of honour and learning, upon divers important subjects, to the late Duke and Duchess of Newcastle (London, 1678).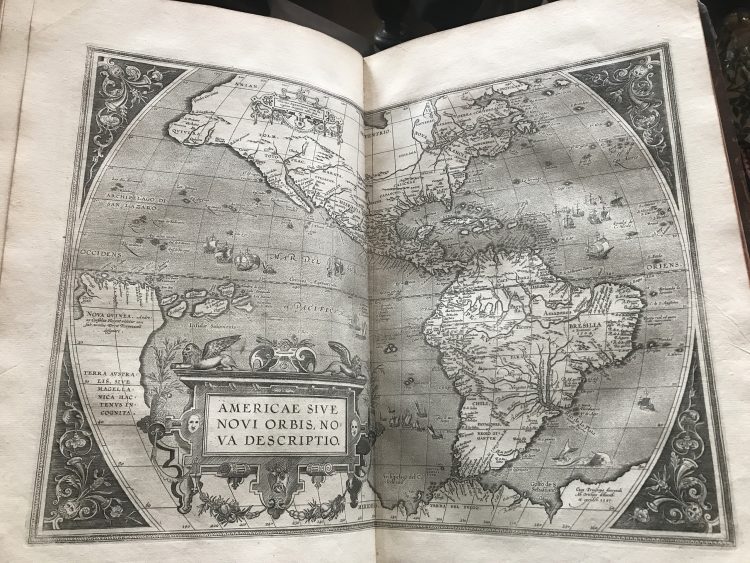 The Theatre of the World: Mapping America
Abraham Ortelius, Theatrum orbis terrarium (Antwerp, 1595), Shelf Mark: AA 38
Amongst the finest works in the Old Library is a collection of atlases including works by Gerardus Mercator, John Speed and a beautifully hand-coloured edition of the Atlas of Frederik de Wit. Perhaps the best of all, however, is this copy of Ortelius' Theatrum orbis terrarium (the theatre of the world). The Theatrum is often considered to be the first modern atlas and was immensely successful, being published in 31 editions between 1570 and 1612.
This map of the New World marks the first appearance on a printed map of Chesapeake Bay, which was to be central to British colonisation of the Americas.
Britain discovers America: White Kennett & Richard Hakluyt
White Kennett, Bibliothecæ Americanæ primordia. An attempt towards laying the foundation of an American Library (London, 1713) Shelf Mark: JJ 79
Richard Hakluyt, Principall navigations, voiages, and discoveries of the English nation (London, 1599) Shelf Mark: Fol. R 7 vol.3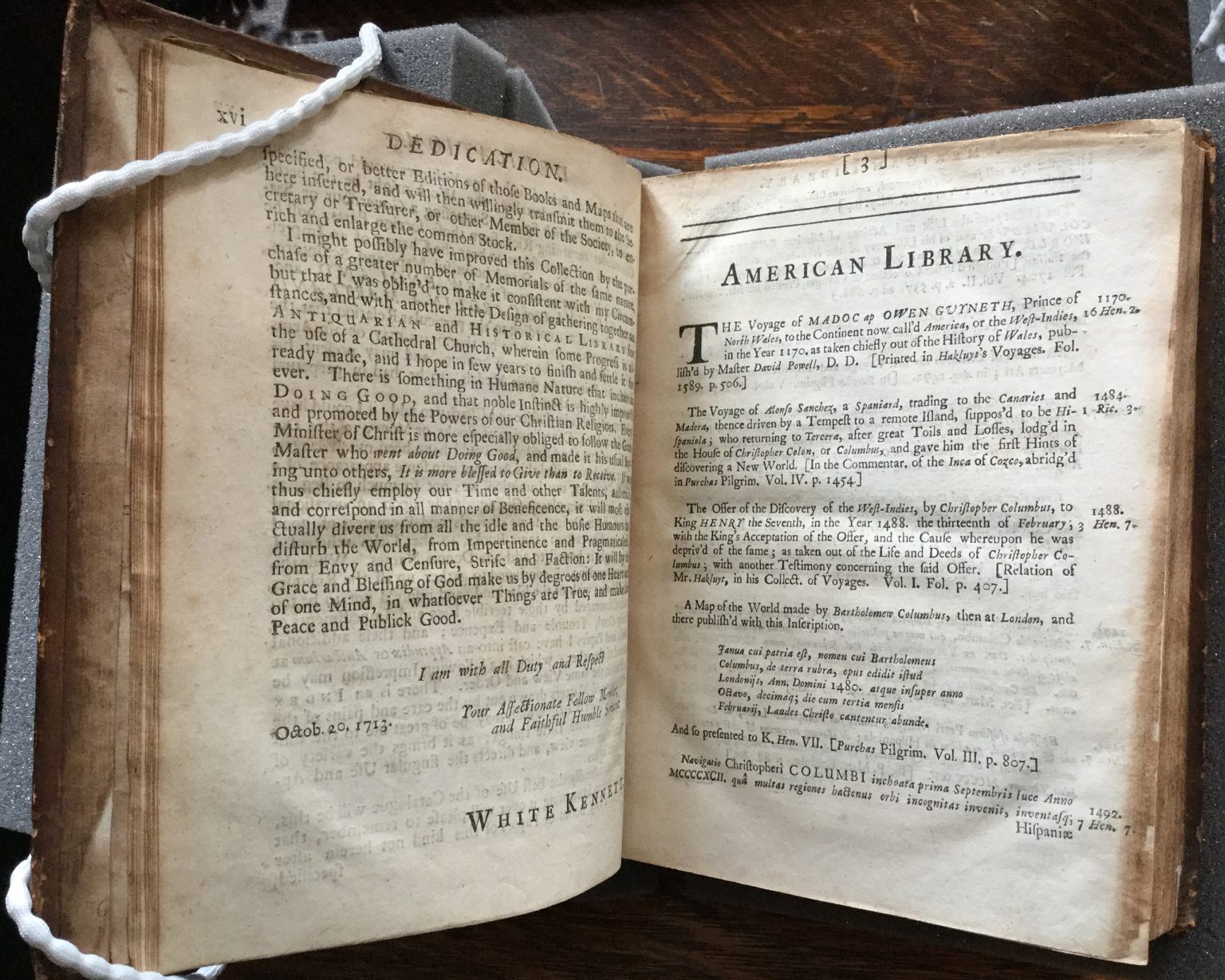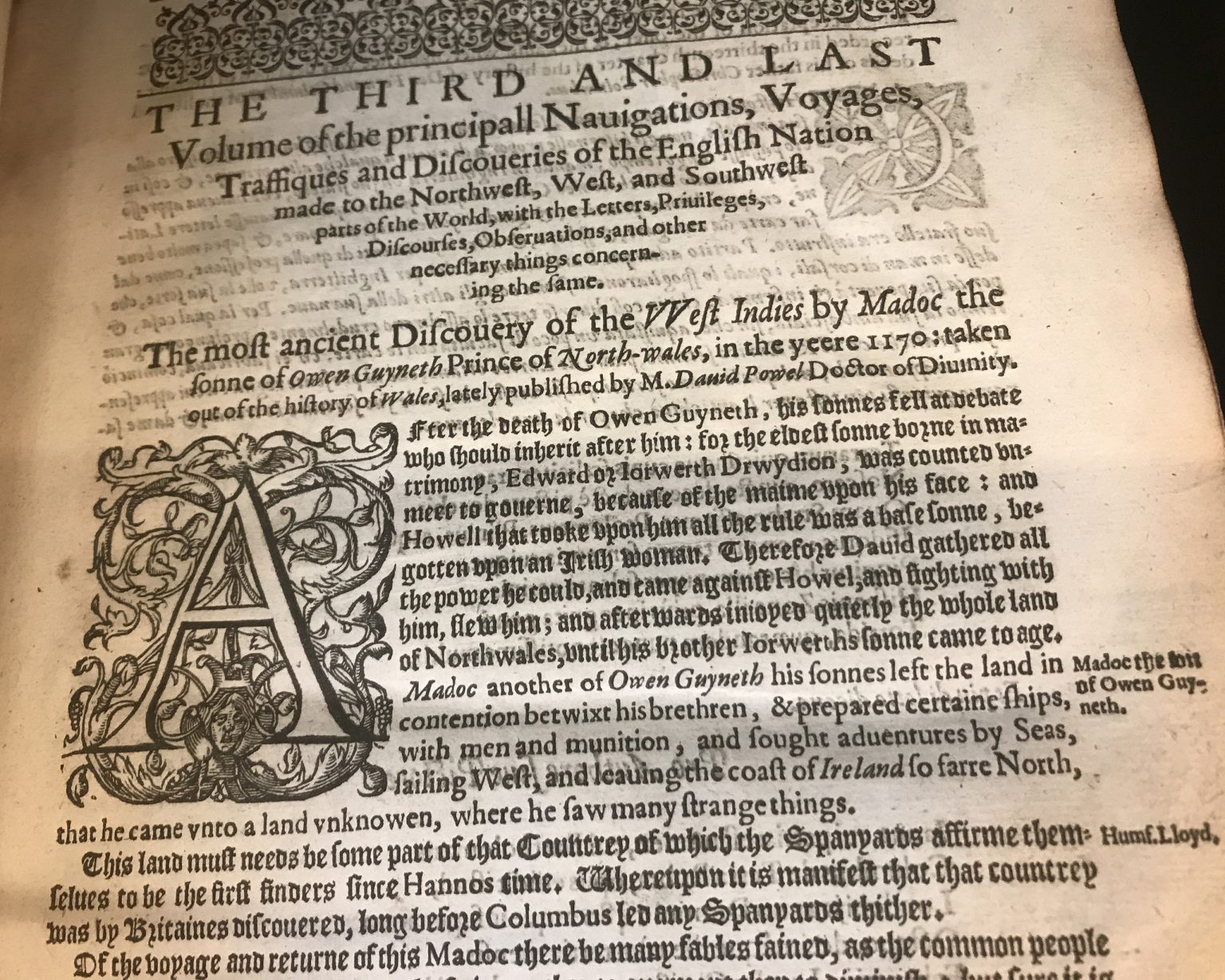 White Kennett, a distinguished former Vice Principal of St Edmund Hall (1691-169?) and subsequently Bishop of Peterborough, accumulated a substantial collection of literature about America for a projected History of the Propagation of Christianity in the English-American Colonies. The project fell through and he donated the books to the Society for the Propagation of the Gospel. The Bibliothecæ Americanæ Primordia is a catalogue of the material.
The first entry in the book is for the fabled discovery of America by a Welsh prince, Madoc ab Owain Gwynedd in 1170. Kennett cites the account in Richard Hakluyt's epic account of English maritime exploration. Both Hakluyt and White wish to place Britain at the heart of European activity in America, before even Columbus.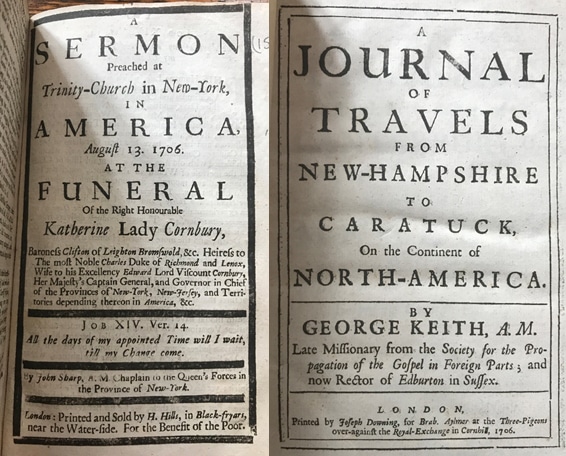 Scenes from Colonial Life: America in 1706
John Sharpe, A sermon preached at Trinity-Church in New-York, in America, August 13 1706 at the funeral of the right honourable Katherine Lady Cornbury… wife to his excellency Edward Lord Viscount Cornbury, Her Majesty's Captain General, and Governor in Chief of the Provinces of New-York, New-Jersey, and territories depending thereon in America (London, 1706) Shelf Mark: JJ 76(15)
George Keith, A journal of travels from New-Hampshire to Caratuck, on the continent of North-America (London, 1706) Self Mark: FF11
Two different lives in pre-revolutionary America are shown in these two religious works. Viscountess Cornbury was born Katherine O'Brien and was descended from Scottish and Irish peers. In 1688 she eloped with Edward Hyde, Viscount Cornbury, the grandson of Charles II's chief minister the Earl of Clarendon.
Cornbury was a glamorous figure; as a dragoon officer he distinguished himself at the battle of Sedgemoor in 1685 and was the first English officer to defect to William of Orange in 1688. He became Governor of New York and New Jersey in 1702, but his time in the post was controversial. He clashed with locals, especially on religious issues and was accused of corruption and even of transvestism. By the time his wife died in 1706 the New Jersey Assembly had written formal letters of complaint to London and he was replaced as governor in 1708.
Our copy is bound with other sermons preached in front of – and for – the great and good of early 18th century English society, including Queen Anne. Several are by White Kennett, and it's this Aularian connection that probably prompted Principal A.B. Emden to acquire the volume and present it to the Library.
George Keith first came to America as a radical Quaker in the 1680s. In 1693 he published one of the first tracts to argue against slavery. He fell out with the Quakers and returned to England where he was ordained as a Church of England Priest. The Journal is an account of his subsequent return to America as a missionary for the Society for Propagation of the Gospel (SPG) seeking to win back dissenters to the Church of England. He frequently clashed with Increase Mather, a powerful puritan minister in Massachusetts.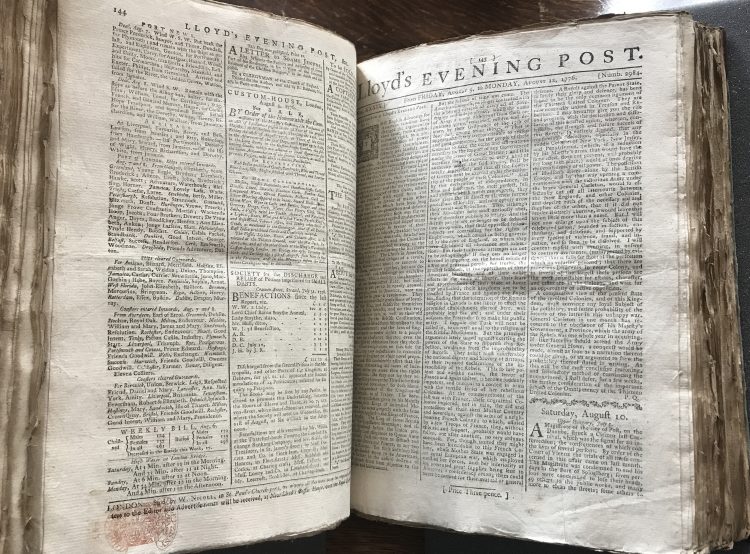 News hot off the press: Independence declared
Lloyds Evening Post, August 1776 (London, 1776) Shelf Mark: 56 no.2966-3045
Lloyds Evening Post was one of two leading London papers of the second half of the 18th century, appearing on Mondays, Wednesdays and Fridays, while the rival London Chronicle appeared on Tuesdays, Thursdays and Saturdays. Our collection of issues from 1766-1778 was donated by Principal George Dixon in 1785.
The lead editorial in the issue for Friday 9 August 1776 is a thunderous denunciation of the rebels in the Colonies and the "intire probability" of their defeat. It is only a breaking news postscript at the end which reveals dramatic news just received by packet ship:


An Englishman abroad: America in the 1940s
Michael Halsted, Princeton University: December 1943; Christmas in New England: 1943; Kentucky; California way (Washington DC, 1944) Shelf Mark: SEH/HAL
Aularian Michael Halsted (matriculated 1938) served on the British Staff in Washington during World War II, and we hold four of these typescript accounts of his travels in the US, presumably written for friends and family at home. He visits Princeton University which he contrasts with Oxford, falls in love with San Francisco and journeys deep into rural Kentucky, all the while contrasting life in America with Britain. His jaunty prose is accompanied by cartoons by a D.J. Hougham (by-lined as 'Don'). After the war Halsted had a distinguished career serving in the British Council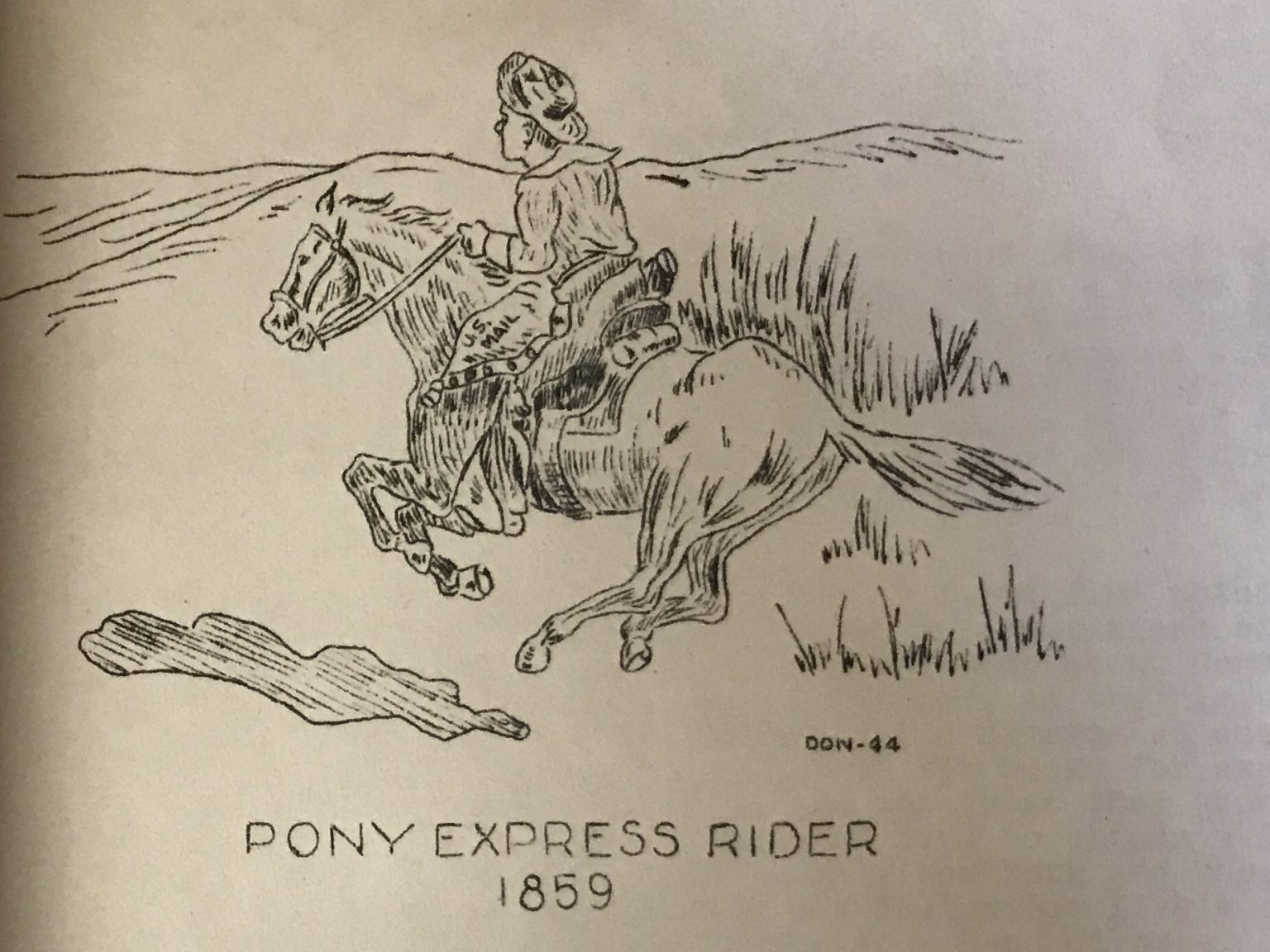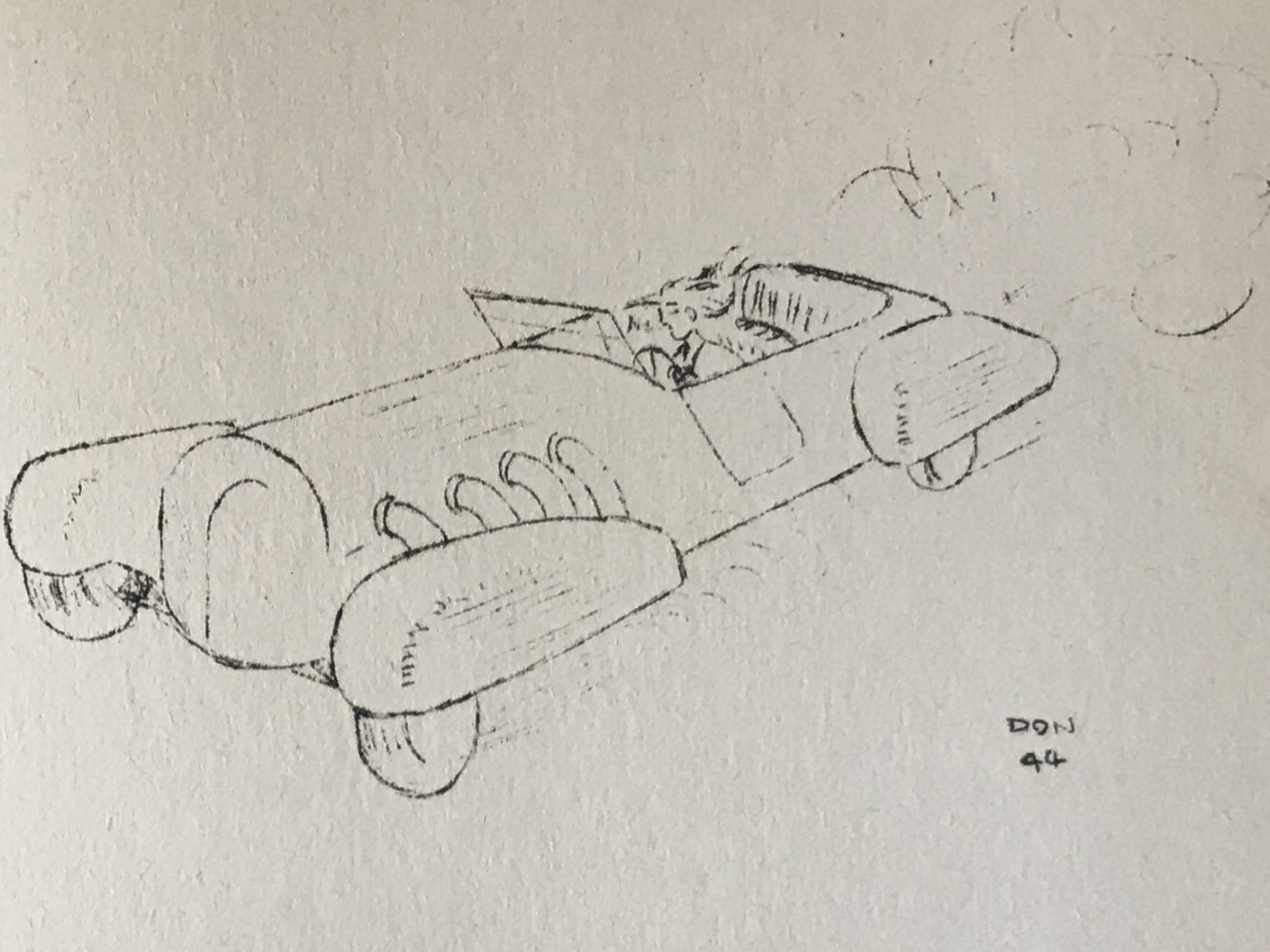 Judging a book by its cover
Johan Huttlich (ed.), Nouus orbis regionum ac insularum ueteribus incognitarum (Basel, 1532) Shelf Mark: BB11
"R.B.", The English empire in America: or, A view of the dominions of the crown of England in the West-Indies (London, 1711) Shelf Mark: i.5.1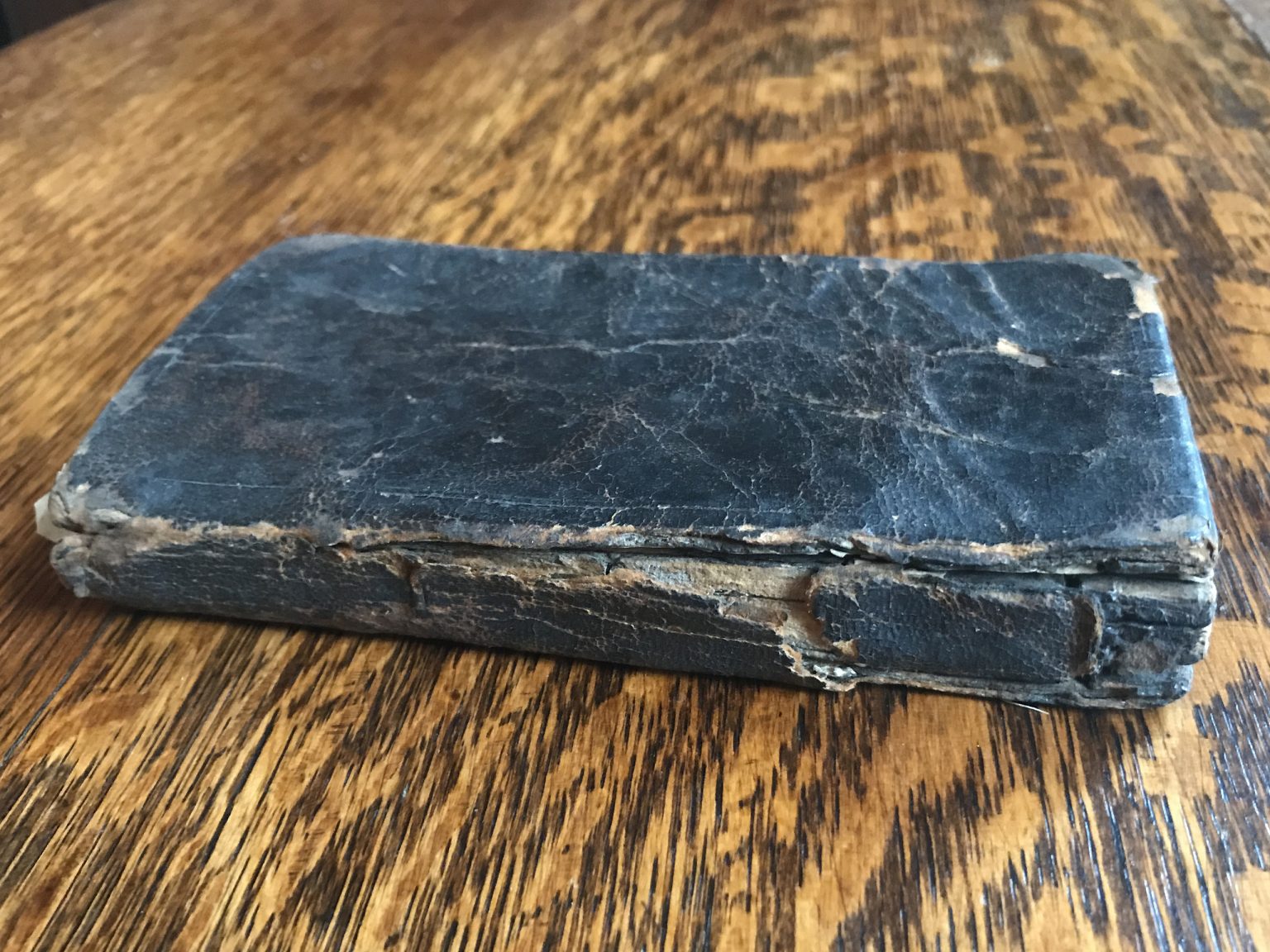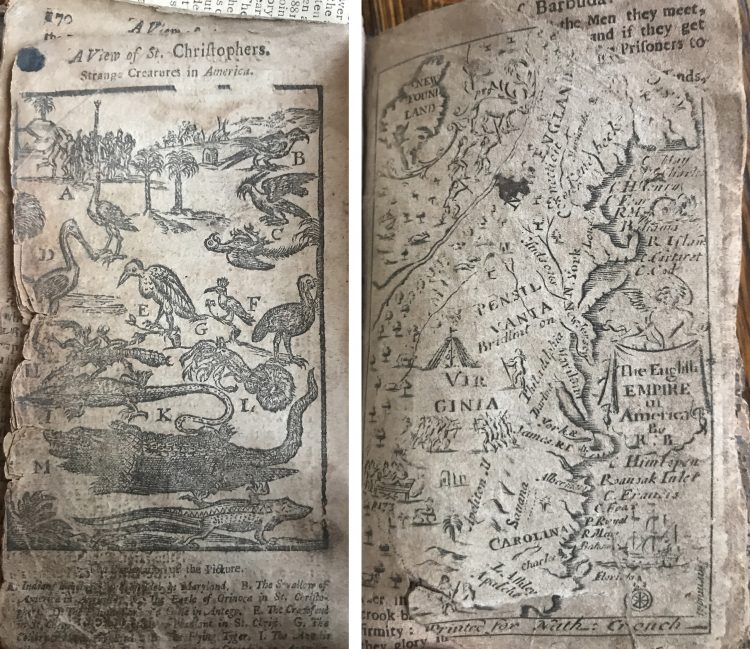 These two volumes containing accounts of America printed 150 years apart have suffered very contrasting fortunes.
The Novus Orbis, which has detailed descriptions of the early voyages of Columbus and Vespucci amongst others, is in a fine binding of pigskin decorated with a blind-tooled thistle pattern and brass clasps. Its condition is also exceptional, as if it "has not been tampered with since it left the binder's workshop shortly after [it was] printed" wrote Dr Paul Nash who catalogued the Old Library.
By contrast this copy of the more populist English Empire in America is in a sorry state. It is too fragile to display its plates of animals of the Americas and map of the English colonies, and if we could they too would should the considerable damage it has sustained. Inserted between its covers, with a rather despairing hopefulness, is a newspaper clipping about old books which turn out to have unexpected worth.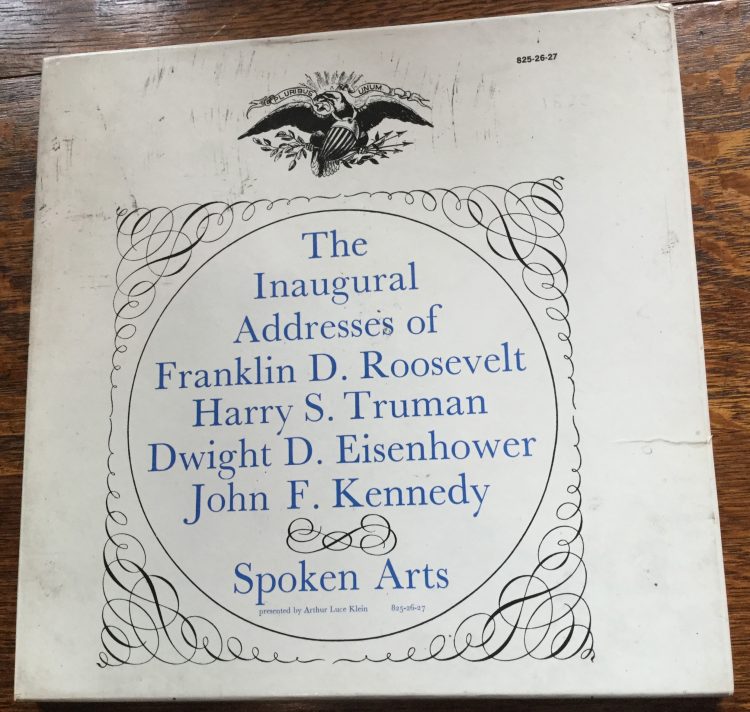 Finally: Voices from the Past
The inaugural addresses of Franklin D. Roosevelt, Harry S. Truman, Dwight D. Eisenhower [and] John F. Kennedy. (New York, 1962) Shelf Mark: Old Library 1820
This is rather an oddity – a three disc set of recordings of the inaugural addresses of four US presidents. It came to the Old Library in 1965, donated by Dr R.T.C. Worsley (matriculated 1939) along with a collection of material relating to Thomas Hearne. The only audio recording in either the Old or the New Library, it is currently shelved between an 1881 edition of the Bible and The annual register, or A view of the history, politicks, and literature, for the year 1758.
Blog Categories
Author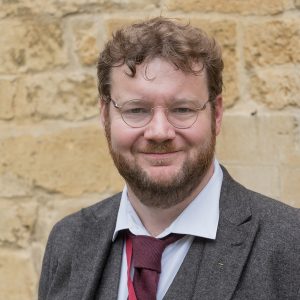 James
Howarth
James has been St Edmund Hall's Librarian since May 2018. He is responsible for maintaining and developing the library's collections – including the historic and special collections that are housed in the seventeenth-century Old Library and is keen to promote their use in research, study and outreach.
Share Post