Where there's a will….
28 Oct 2022|Rob Petre
Late last year I was asked by the Bursary why the Hall received a very small rent charge for property which we do not own in Cassington. The answer lies in the will of Principal John Rawlinson, one of the leading churchmen of his day and Principal of the Hall, 1610-1631.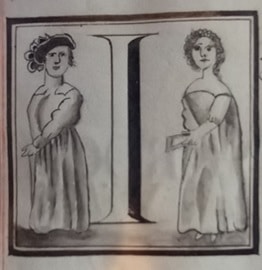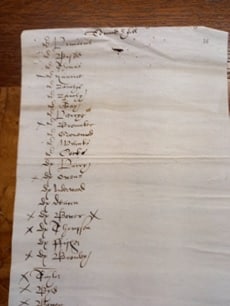 John Rawlinson was one of the leading clergymen of his day and one of the key figures in the religious skirmishes between Calvinists and Arminians in Jacobean Oxford. A Fellow of St John's, he was elected as Principal of the Hall in 1610; in 1611 he was almost elected to the Presidency of St John's but lost in a very close contest to William Laud, later Archbishop of Canterbury. The Hall remained his Oxford base until his death.
St John's loss was Teddy Hall's gain, as Rawlinson settled into a newly built house in the parish of St Peter in the East –his daughters Elizabeth and Dorothy were buried in the churchyard here in 1624 and 1629. His house was so grand that he told William Juxon, Laud's successor as President of St John's, that it was 'well fitted' to be the home of the Bishop of Oxford, for which he proposed himself.
However, his brand of Calvinism was not fashionable in the Caroline church, so episcopal status eluded him. Rawlinson had to make do with the clerical offices he received in the time of King James: rector of Taplow, Bucks (1606-1610), vicar of Asheldam, Essex and canon of Salisbury Cathedral (1609 onwards), rector of Selsey, Sussex from 1613 and Whitchurch in Shropshire from 1614. He was a royal chaplain to King James I and VI, who awarded him with the prebendary of Netherbury, Dorset. (He purchased a house in that part of Dorset, in the hamlet of Limbury in the wonderfully-named Salway Ash.)
Since Principals had such an influence on the numbers and status of admissions to the Hall, I had a look to see if Rawlinson's connections to Salisbury and West Dorset had an effect. I think that 8 men came up to the Hall from that part of the world at the time; one was Morgan Mundyn, a commoner aged 19, matriculated in 1622 from Netherbury itself and another was Henry, son of Dr William Zouch of Salisbury. (Richard Zouch was Regius Professor of Civil Law and became one of Rawlinson's probate executors – but I cannot prove a link between Henry and Richard beyond the coincidence of an uncommon name).
Among the University Archives are two records from Rawlinson's time as Principal; in 1610 the University authorities listed all the members of the University who had taken the oath of allegiance to King James – see image – and in 1614 there was a Visitation (or inspection) of the Hall by the Chancellor to ensure that standards were being maintained [ref. NEP/supra/45]. Sadly Rawlinson did not complete either record in his own hand, and so we do not have a sample of his handwriting.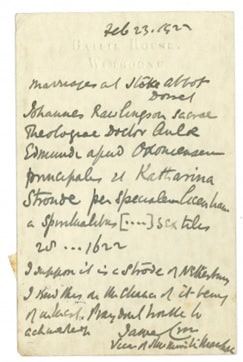 The will that we have for John Rawlinson is the copy made by the Prerogative Court of Canterbury and now kept in the National Archives. It is this document that holds the key to the small rent charge that we still receive for the property in Cassington. In his will (dated 29 Jan 1630/1) he left this property for the remainder of her life to his wife Catherine, with the reversion to his daughter Joyce and son-in-law Richard Alport.
There was a further proviso, that all heirs to the property should pay £6 annually to both St Edmund Hall and St John's College to pay for a divinity lecturer. Both colleges still get this annual rent charge, now £4 per annum, even if inflation means that it can no longer pay the salary of a theology tutor.
In fact, by 1685 we know that the long agricultural depression had reduced the rent charge to £4 from £6; Rawlinson's entry in the benefactions book tells us so -see image.
As a final thought, I wonder if the two ladies in the illustrated J in the benefactors' book represent Catherine and Joyce – it would be nice to think so.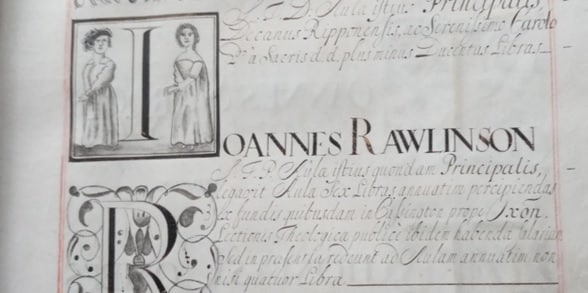 Blog Categories
Author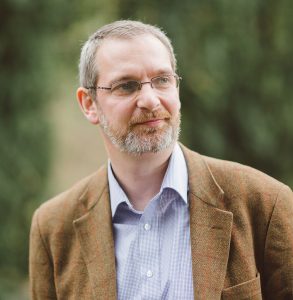 Rob
Petre
Rob is the College Archivist. His role is to preserve the documentary heritage of St Edmund Hall and to try and answer questions on any aspect of the Hall's history with reference to our archive collection.
Share Post