The inaugural St Edmund Hall Research Expo took place on the afternoon of Saturday 28 February 2015. It was a celebration of the great diversity of research currently being undertaken at the College, and was an opportunity for members of the three common rooms and staff to interact and find out more and engage with colleagues across all disciplines.
Keynote Speaker
Terry Jones (Honorary Fellow and alumnus of St Edmund Hall; screenwriter, actor, film director and author) spoke about his research on the Ellesmere Manuscript, a famous fifteenth-century illuminated manuscript of Chaucer's Canterbury Tales. He discussed his findings after studying the manuscript under the microscope and made the claim that it has been censored: "the pilgrims have been tampered with!"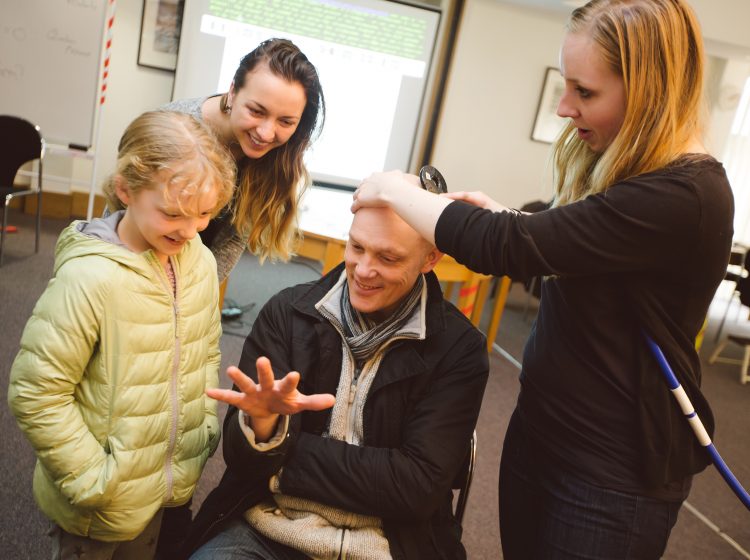 The Doctorow Hall was transformed into the Lab: a fascinating space full of demonstrations, displays and interactive experiments.
Some of the highlights included:
Stimulating Minds: Dr Charlie Stagg
Charlie and her team use non-invasive brain stimulation methods such as magnetic pulses and small electric currents, to drive learning and plasticity in the brain.  They showed the kit they use and explained how these research approaches are beginning to make a real difference for patients, and gave demonstrations of brain stimulation.
Oxford Radiocarbon Accelerator Unit: Dr Mike Dee
An explanation of the Unit's work, which includes providing radiocarbon dating for archaeological and environmental research, and some of their high-profile cases: the Shroud of Turin, Richard III, Neanderthals, mammoths and ancient Egypt.
The study of cancer and bone: Professor Claire Edwards
Assisted by a skeleton, some bones, microscopes and a laptop, the team demonstrated how they study bone cancer.
Brain Plasticity in Action: Professor Heidi Johansen-Berg
Heidi and her colleagues explained the study of brain plasticity to understand how our lifestyle affects our brain, how the brain recovers after stroke, and how the brain changes after amputation. Can you control a ball with your brain waves? Can we retrain attention after stroke? What is a phantom hand? Can physical exercise change your brain?
Exercise, Oxygen and the Heart: Dr Samira Lakhal-Littleton
The team showed how they look at the effects of exercise and hypoxia status on the cardiac function.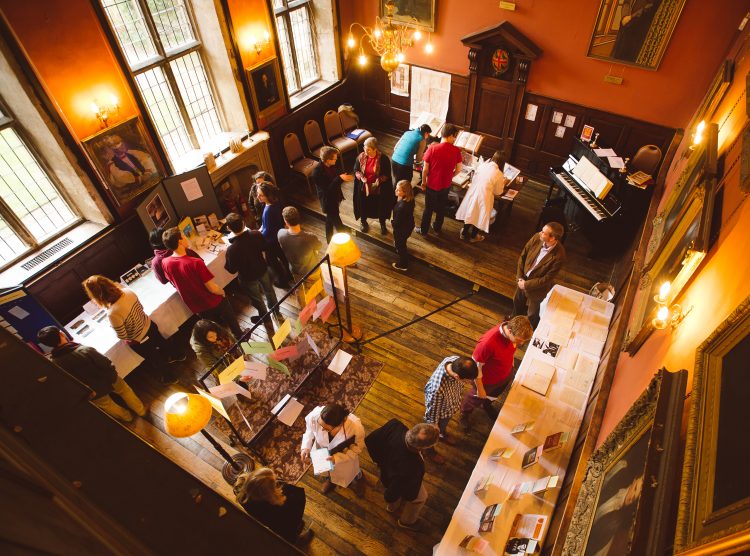 Visitors were invited to enter the Salon (more usually known as the Old Dining Hall…) to explore and take part in a diverse variety of research-related activities from the Humanities and Social Sciences.
Some of the highlights included:
How were manuscripts written and produced in the 15th century? St Edmund Hall's medievalists Professor Henrike Lähnemann, Charlotte Cooper and Gareth Evans showcased the material side of medieval text production and gave visitors the opportunity to try their hand at some Gothic writing.
Book recommendations for your holiday reading
Advice on getting published
A game of 'Guess the Author'
Untranslatable words: to get you thinking in a foreign language
Consultations with our specialist Poetry Doctor, Professor Lucy Newlyn, to have a poem chosen just for you
A fifteenth-century poetic and historical puzzle
Traces in the Archives: Rob Petre, the Hall's Archivist, acted as guide through a small selection of items from college records relating to poetry, plays and prominent Aularians
Displays of research: from the Social Sciences, as well as Hall Humanities research from the Library's Aularian collection.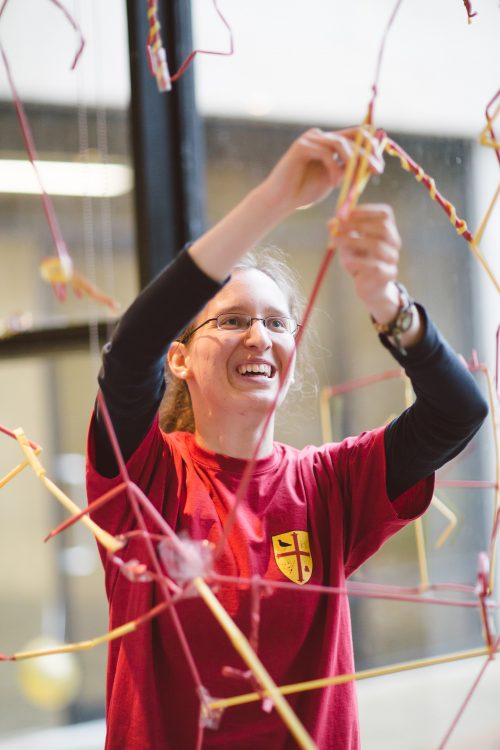 The Pontigny Room was used as an exhibition space to showcase the talents of some of the College's undergraduate Fine Artists. There was a wide range of media on display, including photography, painting and installations.
The following artists took part:
Oliver Bass (2nd year) – painting
Wai Chung (1st year) – photographs
Mayya Gulieva (1st year) – installation
Joseph Mackay (3rd year) – photographs
Ruth Miller (1st year) – painting
Eleanor Minney (2nd year) – installation
Eleanor Pryer (3rd year) – drawing.
Visitors were also invited to contribute to the Expo's own piece of art – an installation made from red and yellow straws that developed over the course of the event.