History of the Junior Common Room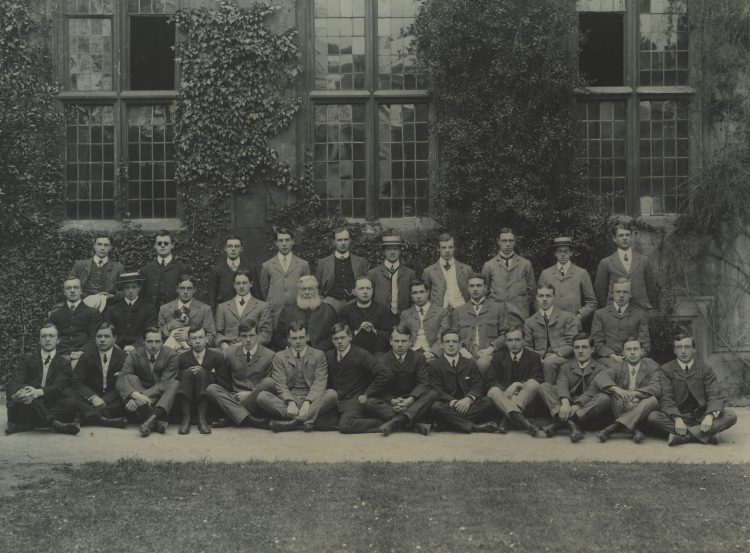 1906
The earliest mention of the Teddy Hall JCR in the Teddy Hall archive is a photograph from 1906, which includes the Principal and Vice-Principal pictured with the student body, described as 'St Edmund Hall Common Room'.
1910
Our oldest JCR Minute Book dates back to spring 1910. General common room meetings appear to have preceded a meeting of the various clubs, and business was sparse! The first recorded meetings tended to deal with just a single issue – such as introducing a members' subscription to buy newspapers in the Common Room.
1911
A proposal was made that the JCR should have a president as well as a steward. A suggestion that the senior man should be ipso facto president led to 'a long and heated discussion' and the first President, Mr Akam was chosen by a ballot. The minutes of the following meeting, however, record that he was not in residence, so C.D. Martyn  was appointed as President in his stead, and it is his name that heads the list of JCR Presidents on the board in the Well Bar.
1915
JCR relocated from the ground floor of the Cottage (now the College Office) to Staircase II.
1921
The Well Bar formed part of the physical Junior Common Room from 1921 until 1970, when the present JCR was completed.
1970
After the JCR moved to its current location in 1970 the Buttery was knocked through into the Well and the two-way bar installed.
1980
The academic year 1980 to 1981 saw the first JCR President's report in the Magazine, written by Jonathan North; previous issues merely list the JCR office-holders. Jonathan remarked on the arrival of women at the College and the following year, JCR President Mark Bishop's report noted the election of the first female JCR official: Judith Beresford as Social Secretary.

1984
David Reed narrowly won the presidency by beating a vacuum cleaner by two votes.
Since then, the Committee has grown considerably, in line with the size of the overall student body, but the spirit of the JCR has remained much the same – sometimes raising some serious issues with the Governing Body but often enacting democracy with tongue firmly in cheek.
"Reflecting on my time as JCR President, alongside all the normal wonderful annual occurrences… the accommodation block in Dawson St was officially opened, a smoking ban was enforced in the JCR (doesn't this feel dated now). We produced a JCR naked calendar for charity featuring all aspects of College life including the croquet team, rugby players posing with their tackle bags, the JCR committee in a pile in front quad and my fellow Geology students  wearing high vis vests, hard hats and not much else.
Cuppers winning dinners were common place, as it was (and always will be) a glorious time for sport at the Hall. Principal Mike Mingos jestingly once commented that we possibly needed to stop winning! From memory we had cuppers success including Men's rugby, 2nd XI football team, Women's badminton, mixed lacrosse and an historic time on the river for our Women's 1st crew, including double blades at Torpids and Summer Eights led by  Rachel Adams."
Ruth Evans (2002, Geology; JCR President 2004)