Professor Nicholas Cronk
Emeritus Fellow
Nicholas Cronk is Professor of French Literature and Director of the Voltaire Foundation in Oxford. He is general editor of the Complete Works of Voltaire, the first ever scholarly publication of the totality of Voltaire's writings, in some 200 volumes. The party to celebrate completion is planned for spring 2020.
Nicholas was Tutorial Fellow in French at the Hall from 1985 to 2002, and has been directing the Voltaire Foundation since 1997. His recent positions include:
Fellow, Institut d'Études Avancées, Paris (2013-2014)
Visiting Professor, ITEM/CNRS, Paris (autumn 2015)
Fellow of Institute in Digital Textual Studies, National Humanities Center, NC, USA (2015-2016).
He wrote the script for this short animated video, School of Life: Voltaire, narrated by philosopher Alain de Botton.
2010: Hervé Deluen Prize, from the Académie française
2014: Leverhulme Trust project grant, 'Voltaire historian: constructing contemporary history in the Enlightenment'
2015-17: Arts and Humanities Research Council Leadership Fellowship, 'Voltaire's radical Enlightenment: editing and re-interpreting the Lettres sur les Anglais'
2023: Honorary Doctorate from McGill University
Recent publications include:
Voltaire, Candide, 3rd edition (Norton Classics, New York, 2016)
Voltaire: A Very Short Introduction (Oxford University Press, 2017)
Voltaire, Choix de lettres (Folio Classique, Gallimard, Paris, 2017)
Voltaire, Nouveaux mélanges (1765) (Voltaire Foundation, Oxford, 2017)
Voltaire, Pensées, remarques et observations (Les Cahiers rouges, Grasset, Paris 2018)
Voltaire, Commentaire historique sur la vie de l'auteur de La Henriade (Voltaire Foundation, Oxford, 2018).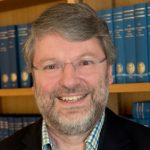 Professor Nicholas Cronk
MA, DPhil
Emeritus Fellow
Professorial Fellow and Director of the Voltaire Foundation
Professor of French Literature
Lecturer in the History of the Book
nicholas.cronk@voltaire.ox.ac.uk
Related Links