Hannah – Biomedical Sciences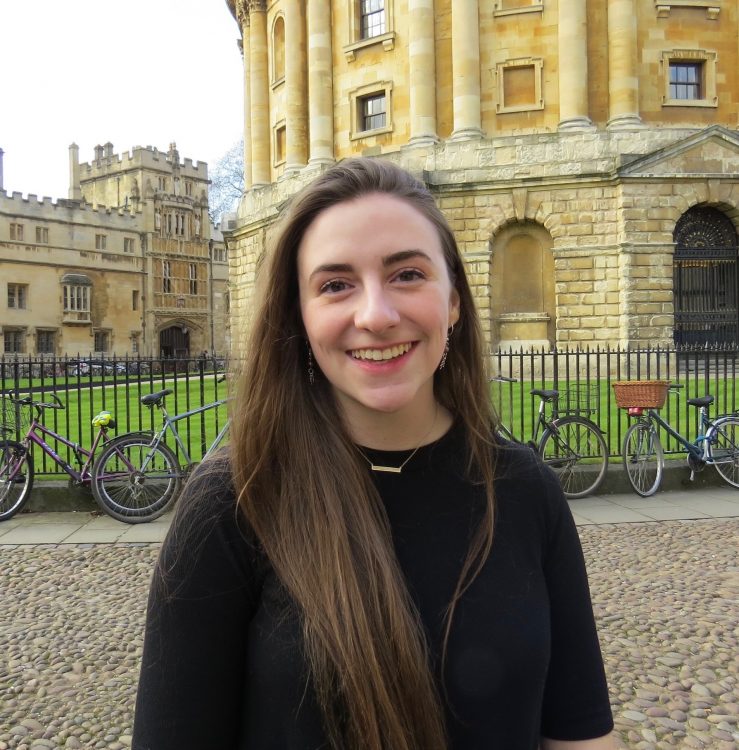 What subject(s) are you studying and how are they taught?
I am studying Biomedical Sciences here at Teddy Hall. At my home university, College of the Holy Cross, I am a Biology major and I am on the pre-med track. The science courses that I have taken here have been taught a lot differently than at my home university. The tutorial system with science courses has been very interesting. There are lectures like at home, but the focus is on writing. You get an opportunity to learn the subject in a different way, as you write essays and talk to your tutor about what you wrote and what you are particularly interested in. I like the tutorial system because I get to focus my interests, which is applying the science to human diseases and medicine. It is a self-directed approach to learning.
I also took a Biochemistry course during Michaelmas term which was very interesting.
In Hilary term I took Shakespeare, as I am also completing a creative writing minor at Holy Cross. The way this course was taught is through essays and discussions. Each tutorial I come in with an essay about the plays I have read in the week and we formulate the discussion around the essay.
Why did you choose Teddy Hall for your study abroad?
I chose Teddy Hall for my study abroad experience because it had always been a dream of mine to attend Oxford University. I really wanted to learn from the best tutors and be surrounded by brilliant people. I also chose Teddy Hall because I wanted to be challenged and learn in a different way than what I was accustomed to.
What have you found most different about the Oxford system to your home university?
The biggest difference that I have found between the Oxford system and my home university has been the tutorial system. It is a much more self-directed approach to learning. This system of tutorials, in which you meet with your tutor and discuss your work and the subject material, provides an opportunity to gain confidence in presenting your thoughts orally, which is not the central focus at Holy Cross.
The plethora of occasions to get dressed up is also very different from my home university. The opportunities to go to 'Formal Hall' dinners, balls, debates and fashion shows have made this experience so exciting and fun.
What is your favourite aspect of studying here?
My favourite aspect of studying here at Teddy Hall is the community. Coming from Holy Cross, which is known for its small tight-knit supportive community, I was glad that Teddy Hall is similar in that way. It has been fantastic to be able to meet people studying a variety of subjects and hearing about their passion for what they are studying. Additionally, the one-on-one setting that tutorials take place in allows you to establish a good relationship with your tutor as well, which is what makes studying here so special.
What advice would you give to a prospective Visiting Student making an application?
I would advise them to be open to the opportunity to learn here in a completely different way than they are used to, and not be nervous! I would let them know how special this place is and to make the very most of all the opportunities here. There are so many options to learn and get involved here; I would recommend that they try to take advantage of it all.
What is life like as a Visiting Student here?
Life as a Visiting Student at Teddy Hall is very exciting. There is almost always something amazing happening around Oxford (like the Mamma Mia 2 filming right outside the Teddy Hall library). Although there is a lot of work, you get to do it in beautiful old libraries and you get to study what you are passionate about. There are also so many events and interesting talks that you can attend. During the day everyone is working and going to tutorials, but everyone comes together at dinner at the hall. The five-week breaks between terms are also a great opportunity for Visiting Students to travel and see the rest of Europe during the study abroad experience.
What sort of extra-curricular activities are you involved in at Oxford?
I am working in Professor Keith Gull's laboratory, which has been a fantastic opportunity to gain research skills and experience. I am involved in the College's creative writing club, which meets each week to write and edit work. I am also in the Oxford Biology Society, which has a lot of events that build community within people studying biology, and gives opportunities to attend interesting talks. I am also a member of the Canadian society, which meets for various Canadian events. Additionally I have the opportunity to give back by volunteering at a Barnando's store and with the Oxford Hub.
Visiting Students
More information about becoming a Visiting Student at St Edmund Hall – including finance, accommodation and how to apply