Saloni – Psychology & Management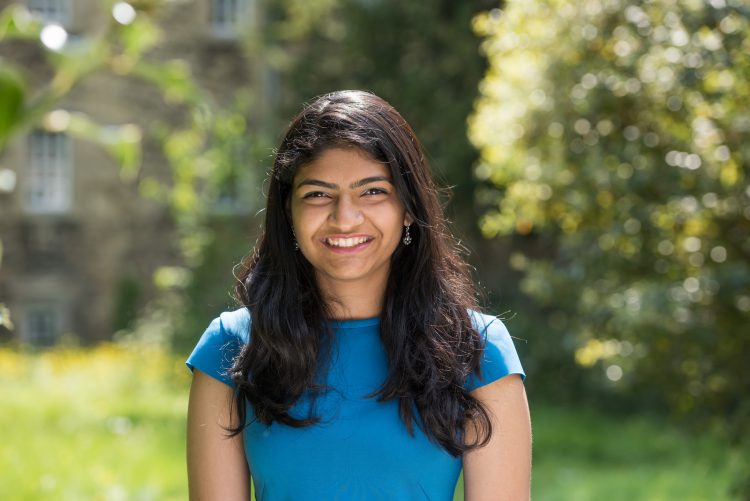 What subject(s) are you studying and how are they taught?
I am studying Psychology as my major subject and Management as my minor. They are both taught primarily through Oxford's signature tutorial style, where we engage in intense one-on-one discussions with our tutors about a wide range of topics each week. This also means that there are fewer contact hours and a lot of self-study is involved. Luckily, we have the flexibility to build our curriculum based on what we find interesting and wish to study further. Both my subjects involve intensive reading and I am required to write one to two well researched, argumentative essays on a weekly basis. In addition to these tutorials, we also have a range of lectures to attend based on our areas of interest. During my time at Oxford, I have thoroughly enjoyed taking undergraduate management lectures and having access to the resources at the Said Business School.
Why did you choose Teddy Hall for your study abroad?
When I was applying for the visiting student program we had to pick one of 6 or 7 of the Oxford colleges. As I had never visited the city before I came to study here I made my decision by reading about each of these colleges online. I chose mainly based on the subjects they offered. I also wanted to be in central Oxford and so Teddy Hall was the perfect choice for me. It had both of the subjects that I wished to study, a driven student community along with a great location, just off high street. Looking back, I can safely say that I made the correct decision by applying to the St. Edmund Hall!
What have you found most different about the Oxford system to your home university?
Compared to my home university, Claremont McKenna College in California, Oxford is different in many respects. For starters, the weather is very different and took some getting used to! The social culture in the UK is also more formal compared to California. Studying abroad at Oxford University has undoubtedly added to my holistic academic experience and personal growth, especially since its single subject focus and tutorial system is a stark contrast from my interdisciplinary US liberal arts experience in the USA. I am also happy that I had the chance to take management classes at Oxford's Said Business School, as my home school does not have a business school of its own. This experience challenged me and encouraged me to learn more about organisational behaviour and different work cultures.
What is your favourite aspect of studying here?
Studying at Oxford has been a very rewarding and enriching experience for me. I think the most unique aspect of the university are the traditions I have had the opportunity to be part of.
The whole city is a classroom, known for its formal dining halls, rich cultural heritage, museums, magical Evensongs, spires and world class libraries. Be it wearing sub fusc, punting, Oxmas or May Day morning, each one comes with its own quirks and history. I even attempted to attend formal hall at all the colleges but managed to visit only about half of them. I found these to be a great way to socialise and have interesting conversations. I have met some amazing people and made some lifelong friends through attending such events and will truly cherish my time at Oxford.
What advice would you give to a prospective visiting student making an application?
When applying to study abroad programs such as this one it is very important to know what you are getting into. Realise that given the limited term time and intense structure of the course, there will not be as much free time to travel around as some of the other study abroad programs. However, the long vacations between terms are the perfect time to explore Europe and UK and travel all you want.
Though this is not the quintessential study abroad experience, the Oxford experience is unique in itself and has so much to offer in terms of academics, extra-curriculars and traditions. Given how different the Oxford system is from colleges in the US and round the world, it is a good idea to research the subjects, teaching style and length of the program prior to applying to make sure that it is the right fit for you. The program involves a lot of independent self-study and as a visiting student you are required to have a good amount of background knowledge in the subject you wish to study so pick courses wisely and manage your time well!
What is life like as a visiting student here?
Life as a visiting student at Oxford is very similar to that of a full-time undergraduate student, (except we don't need to take final exams) as this is a very immersive and intensive program. There is always something going on, so it is important to manage one's time well. Teddy Hall is a tight knit community and its small size allows you to get to know people both in and outside your course. You will stay in one of the college accommodations not too far from the college and can eat at the dining hall as often as you like. There is also a fairly large visiting student population, which gives you the chance to develop close friendships with not only Oxford students but also other visiting students from all over the world. We have specific social events for visiting students as well, like dinners and quiz/movie nights, which are a great way to catch up with others. The tutors and staff at Teddy Hall are especially friendly and approachable. They're there to support you and make your transition to Oxford a smooth one.
What sort of extra-curricular activities are you involved in at Oxford?
I think at Oxford you can be involved in as many or as few extra-curricular activities as you like, given the flexible class schedules. I was mind blown at the number of sports, clubs and organisations I saw at the Fresher's fair when I first got here! There's everything you can imagine from a Harry Potter Society and Wine Tasting society to the renowned debating society, the Oxford Union.
Personally, I have been involved with a few societies and organisations in the past year and think that these are a great way to meet other like-minded people that share similar passions as you. I joined the Psychology Society and Indian Society and go to their talks, dinners and events regularly. Over the year, I served as a college representative for Oxford Women in Business and was also a part of the Enactus Consulting team and Oxford Consulting Initiative as a student consultant working with real-world clients on interesting projects. Teddy Hall is also very sporty, so it is fun to go and cheer for the teams during big matches and regattas!
Visiting Students
More information about becoming a Visiting Student at St Edmund Hall – including finance, accommodation and how to apply