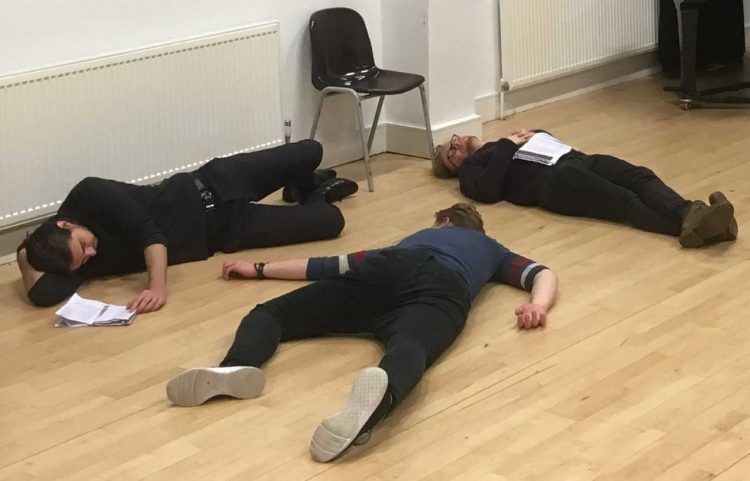 Location: Tomb to the side of St Peter-in-the-East
Time: 4pm
Performers: St Peter's Ensemble
Cast
Pilate/Angel – Marlow Stainfield
Caiaphas/Soldier 3 – Will Beynon
Annas/Soldier 2 – Iain Russell
Centurion/Soldier 1 – Jack Spencer
Mary 1 – Geraldine Curtis
Mary 2 – Ola Forman
Mary 3 – Zarima McDermott
Production Team
Director – Eoin Bentick
Design – Poppy Crumpton and Emma Deshpande
With thanks to Preston Lofti for costume hire; and Marlow Stainfield for casting and rehearsal space
Summary of the Play
Jerusalem. 33AD. Pontius Pilate has just put Jesus to death. Irresolute, he turns to his Jewish advisers to validate this decision. Caiaphas and Annas placate him smoothly by evoking both the law and the will of the people. Enter Centurion, who, having seen the universe tear itself apart at Jesus's last breath, tells Pilate the last thing he wants to hear: he has made a mistake. Caiaphas and Annas attempt to subdue the wide-eyed Centurion with reasoned explanations for that which he saw; until he reveals that the veil in their temple was ripped. Then he is dismissed.
Trying not to worry Pilate too much, Caiaphas mentions a pernicious rumour that the trouble-maker will rise from the dead. Annas, acknowledging that Jesus, being dead, could not rise alone, advises Pilate to guard Jesus's tomb with worthy knights. If anyone comes to steal Jesus's body and claim that he resurrected, they'll be slain by such noble warriors. After a good minute or so of guarding, the knights promptly fall asleep.
The three Marys travel to the tomb grieving, ready to anoint Jesus's body. They do not know whom to turn to now that their most beloved is gone. They contemplate how on earth they can roll away the heavy stone, when suddenly they spot an angel next to the open tomb. The angel asks them whom they seek at this place when Jesus had explicitly told them that he would rise. The Marys are excited to tell everyone the good news: Jesus has risen! Except one Mary, who cannot forget the physical suffering Jesus endured for her sake. She wants to see the risen Jesus in flesh and will not be happy until she does.
Waking to see Jesus gone, the bumbling knights try to come up with an excuse to tell Pilate, who will surely kill them when he finds out they slept through Jesus's abduction. They land on the story that a hundred armed men came and took the body away. Whilst they are in the process of beating each other up to provide good evidence for this tale, one knight decides on another course of action. Call it a vision, call it a hunch, he thinks that Jesus rose alone. He is willing to put his reputation, and life, on the line to relate this hunch to Pilate. The others say that they are too, but they scarper.
Pilate is mad on hearing the news that Jesus rose alone from the tomb. The solider, drawing on some impressive and seemingly earnest descriptions of Jesus's unwitnessed resurrection, explains how no man could have stopped Jesus from rising. After a final furtive conference with Caiaphas and Annas, Pilate decides to pay the soldier an inordinate sum to say that Jesus did not rise. Rather, Jesus was taken by an army of ten thousand men. With a moment's hesitation, the solider relents. Thus may the truth bought and sold.
About the Performance
"We have really been struck by the complexity of this piece. Without being too glib, it is a fascinating play to work with in an age of 'fake news'. It is very hard to track the thought process of Soldier 1. He wakes up to see Jesus gone. He needs to lie so that Pilate doesn't kill him. He goes along with the suggestion that a hundred men came and overpowered them. Then, he decides to tell the 'sooth'. This truth is nothing but a hunch that Jesus rose alone. His descriptions of the resurrection to Pilate, Annas, and Caiaphas are then extremely detailed and concordant with the Centurion's descriptions of Jesus's death. He is then, however, willing to drop this truth for a thousand pounds.
"By not casting a Jesus character and not visualising the resurrection itself, we have tried to recreate the feeling of the half-hunch, half-truth. As with Mary 1's need to see the body of Jesus in comparison to the other Marys' willingness to proclaim, the play is concerned with a willingness to believe without bodily proof. It also is also concerned with the manipulation of truth and belief. It is hard not have a picture of certain public figures in mind with Pilate's final 'counsel' about buying and selling truth."
Watch Performance
To watch all the performances please visit the YouTube playlist by clicking the link below.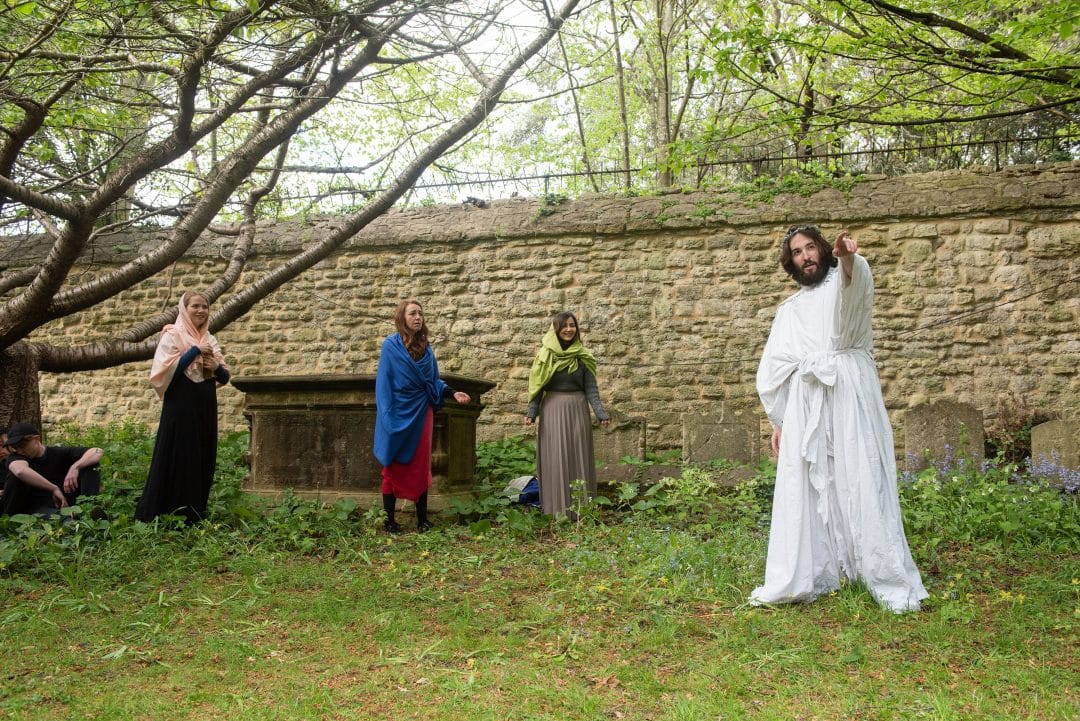 Performance Locations
Hover over a location marker for performance times and links to additional information.