Five Honorary Fellows Sworn in at St Edmund Hall
16 Oct 2019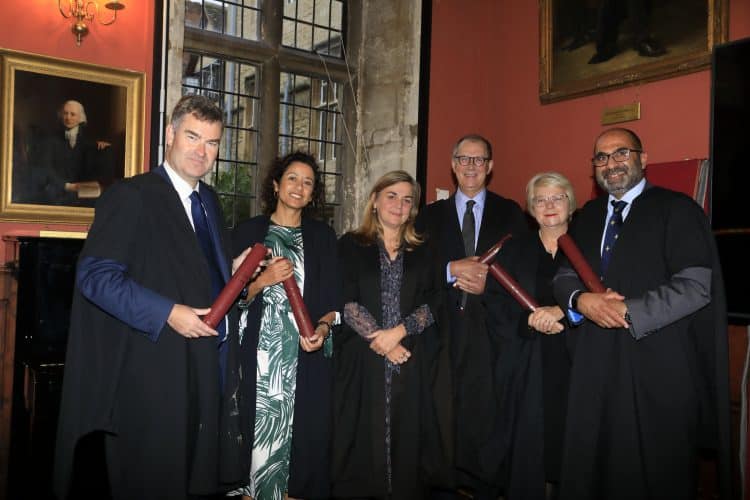 The College's Governing Body swore in five new Honorary Fellows of St Edmund Hall on Thursday 10 October. Each Fellow is distinguished in their respective fields, which include journalism, education, law, politics, literature and medicine.
Samira Ahmed (1986, English) in recognition of her work as an award-winning journalist with 20 years' experience in both the print and broadcast media. She began her career as a BBC News Trainee and has worked as a News Correspondent and a reporter on the Today programme and Newsnight. She is a Visiting Professor of Journalism at Kingston University and her work explores the relationship between popular culture, politics and social change. She currently presents Front Row and Newswatch and won a Stonewall Broadcast of the Year award while working for Channel 4 News.
Dame Sarah Asplin QC DBE (1982, Bachelor of Civil Law) in recognition of her distinguished career in the British Judiciary system; she was called to the Bar at Gray's Inn in 1984, and has been a Judge of the High Court of Justice, Chancery Division, since 2012.
Dr Sundeep Dhillon MBE (1988, Medicine) in recognition of his distinguished career in the British Army as a military GP in Afghanistan, Iraq, the Balkans and the Congo; and for his subsequent work at the Centre for Altitude Space and Extreme Environment Medicine (CASE Medicine) at University College London in understanding human biology at extremes, including altitude, heat and cold; and for his achievements in the world of extreme mountaineering – in 1998 he became the youngest person in the world to climb the highest mountain on each continent, The Seven Summits.
Rt Hon David Gauke MP (1990, Jurisprudence) in recognition of his distinguished career in law and government. He is currently an independent politician but was previously the MP for South West Hertfordshire and served in the Cabinet as Secretary of State for Justice and Lord Chancellor from 2018 to 2019. He was elected to the House of Commons at the 2005 General Election as member for Hertfordshire South West. He has variously served on the Procedure Select Committee, the Treasury Select Committee, as Shadow Treasury Minister on the Opposition front bench in 2008. He was re-elected in the 2010 General Election and appointed Exchequer Secretary to the Treasury. In 2016 he was made a member of the Privy Council and made Chief Secretary to the Treasury. In 2017 he was made Secretary of State for Work and Pensions.
Professor Keith Gull CBE BA, Phd (KCL) in recognition of his Principalship of St Edmund Hall from 2009 to 2018. Previously, he was a Wellcome Trust Principal Research Fellow at the Sir William Dunn School of Pathology in Oxford. He still holds a Chair of Molecular Microbiology and has an active research laboratory in the Dunn School.
The Hall's Honorary Fellows represent a wide variety of achievements and experiences.