Teddy Hall Careers Support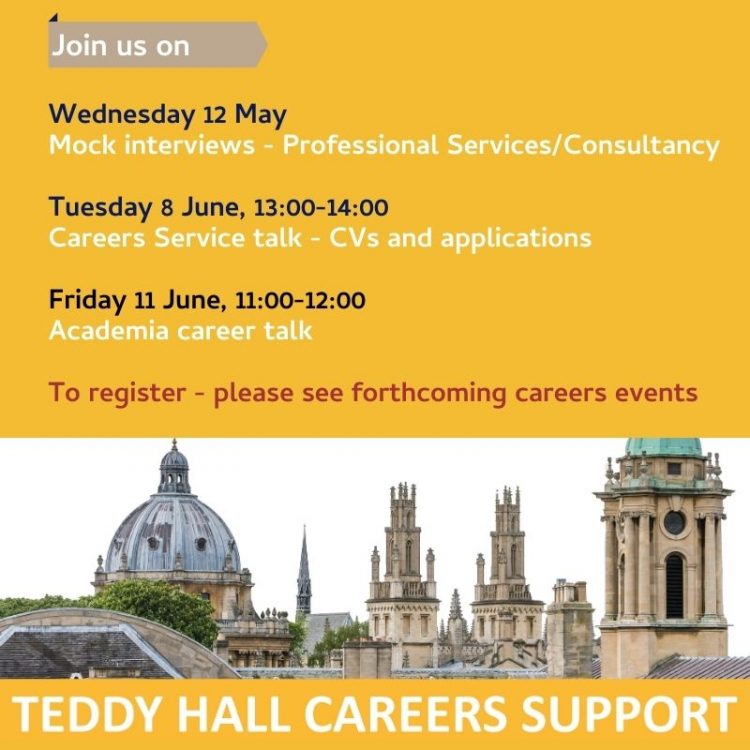 Teddy Hall Careers Support
The Hall has convened a series of careers events, which will take place over the course of this term and include a talk by the Careers Service, mock interview sessions, hosted by Alumni sector professionals, and an on-line talk by four of the Hall's fellows.
This term's events commenced on Wednesday 28 April, with Aularian Ann-Marie Myhill overseeing a series of 1:1 law mock interviews, with these continuing on Wednesday 12 May with Aularian Ian Durrans offering professional services/consultancy 1:1s.
On Tuesday 8 June, careers advisor, Abby Evans, will give a CV and applications talk and on Friday 11 June a talk/Q&A session on academia as a career will take place.
Events are open to all year groups and disciplines and to both undergraduate and postgraduate students.
For full details and registration, please see forthcoming careers events below.
Forthcoming Career Events
Career Guidance
The Careers Service offers comprehensive guidance covering all sectors and occupations.