A Medieval Mystery Cycle for Oxford at St Edmund Hall
28 Mar 2019|Henrike Lähnemann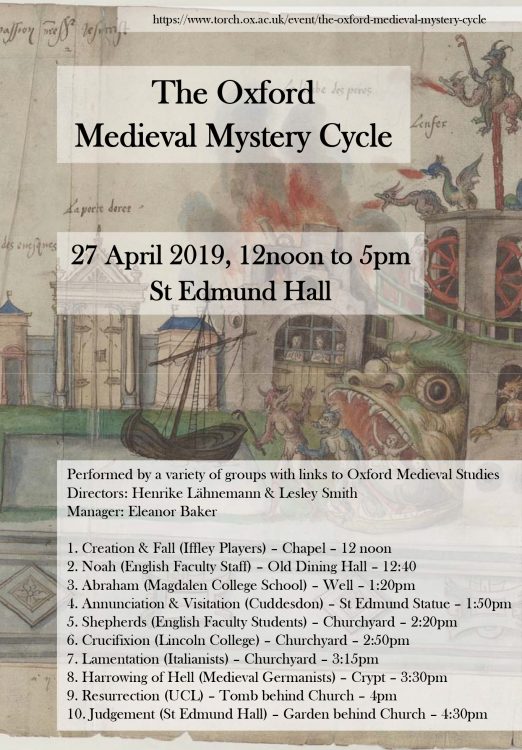 All St Edmund Hall is a stage – or at least will be on Saturday 27 April when a full cycle of medieval mystery plays will be performed across the College. At 12noon, God will ring the chapel bell before she announces from the Old Library window her intention to create the world. From there the story of mankind will unfold, with the Old Testament acted out in the Front Quad (with stops at the well for the sacrifice of Isaac, and the Old Dining Hall for the Flood) and the New Testament taking place at various points around St Peter-in-the-East.
Mystery plays were a very popular form of drama in the Middle Ages – with different groups performing short plays telling stories from the Bible. Annual performances were organised by guilds (associations of craftsmen or merchants) who would each take responsibility for a particular play. They were usually staged on wagons which would move through the town or city, stopping to perform at various fixed stages. The audience could therefore remain in one place to see the whole cycle, or move between different stations as they wished.
Due to space constraints, we will be dispensing with wagons and asking the audience to move around to see our various groups perform the ten plays in this 'Oxford cycle'. Although on religious themes, the mystery plays often contain a surprising amount of humour. Some of the highlights of our cycle will include a live lamb (in the shape of a small dog to avoid having to get Privy Council permission to have livestock on consecrated ground!) for the Shepherds Play; the Teddy Hall Chapel Choir making an appearance as angels storming hell in white surplices while singing a newly-commissioned piece about the lifting up of gates by Andrew Cusworth, composer and Fellow at the Bodleian; and the Harrowing of Hell, which will be acted in Middle High German. The grand finale will be provided by Teddy Hall's own students in the form of the Last Judgment, directed by Emma Hawkins (2018, Experimental Psychology) and involving actors from many different subjects. All of the plays are staged by different groups, ranging from the local 'Iffley Players' and pupils from Magdalen College School to various groups with University connections, including the English Faculty staff and Lincoln College.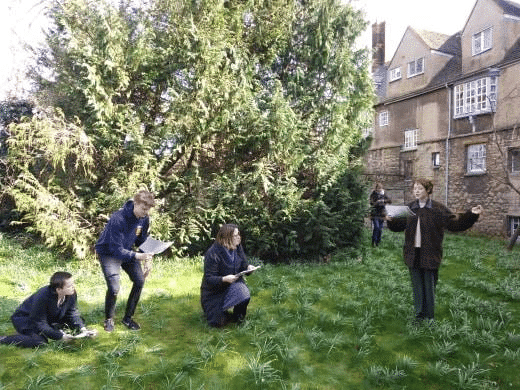 How did this mad-cap enterprise come about? When TORCH (The Oxford Research Centre for the Humanities) announced its key theme for 2018/19 as 'Performance', Prof. Lesley Smith (Harris Manchester College) proposed the staging of a Mystery Cycle with different groups from OMS (Oxford Medieval Studies). A similar formula has worked for decades now as a focus for groups of medievalists in Toronto where Lesley worked previously – being, as she recalls, "more singing angels than I can count." As Director of OMS, I was eager to undertake more ventures which would bring together medievalists from a number of different disciplines.
My own drama experience (apart from being the supporting act for my younger sister who is a professional actress) comes from the time spent co-directing a group called 'Komediävisten' in Tübingen which grew out of a reading group for Fastnachtspiele, the exceedingly bawdy plays performed at carnival time in medieval German towns (you can watch the 'doctor's play' and the 'marriage play' here – they are graphic enough not to need an intimate knowledge of medieval German to grasp the gist of it…). When I moved to Newcastle, I was pleased to learn about the Corpus Christi plays which were performed by the guilds there in the Middle Ages; only one of them survived – that of the shipwrights, who appropriately acted out the Building of Noah's Ark. It's ideal to act out with a small group of students – lots of action, a devil and finally cursing the audience! For the third performance of it, Harriet Archer wrote a new prologue, situating the play in the here and now; watch her reading it and see the action taking off here.
For the Oxford Mystery Cycle, we are grateful to Joel Lipson (DPhil student at Wolfson College, University of Cambridge) for writing some linking verses in faux Middle English. To give you a taste, this is his introduction to the Creation:
Hearken, gentils, how bigan
All thynges on erthe, and eke of man
Bifor his sory fall –
How God made all, and all was gode;
How all the Word was understode;
How Satan felle withal.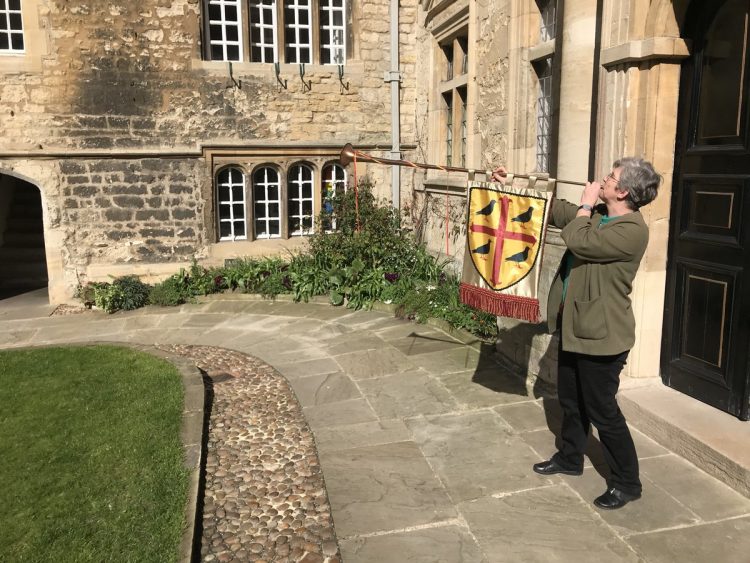 It has been really exciting to see the plays taken on by such a diverse group of people; to design a banner for the trumpet and tabards for the stewards; do numerous site visits (how to lift a cross with an actor hanging from it? how to process with an oversized hell-mouth? how to get a Trinity set up in the Old Library so that all three of them can be heard?); and bounce ideas around with a huge number of colleagues, students and enthusiasts.
I am very much looking forward to the whole action which is excitingly unpredictable (starting with the weather!) and would like to invite all members of Teddy Hall: come along for a single play or the whole cycle, and bring your friends – everybody welcome!
P.S. There are still volunteering opportunities – if you fancy a free brunch and a bright tabard, do get in contact!
See the interactive map below for the location of each play, with links to further information about each one and the groups staging them.
Creation & Fall (Iffley Players) – Chapel – 12noon
Noah (English Faculty Staff) – Old Dining Hall – 12:40pm
Abraham (Magdalen College School) – Well – 1:20pm
Annunciation & Visitation (Cuddesdon) – St Edmund Statue – 1:50pm
Shepherds (English Faculty Students) – Churchyard – 2:20pm
Crucifixion (Lincoln College) – Churchyard – 2:50pm
Lamentation (Italianists) – Churchyard – 3:15pm
Harrowing of Hell (Medieval Germanists) – Crypt Entrance – 3:30pm
Resurrection (UCL) – Tomb behind Church – 4pm
Judgement (St Edmund Hall) – Broadbent Garden – 4:30pm
Performance Locations
Hover over a location marker for performance times and links to additional information.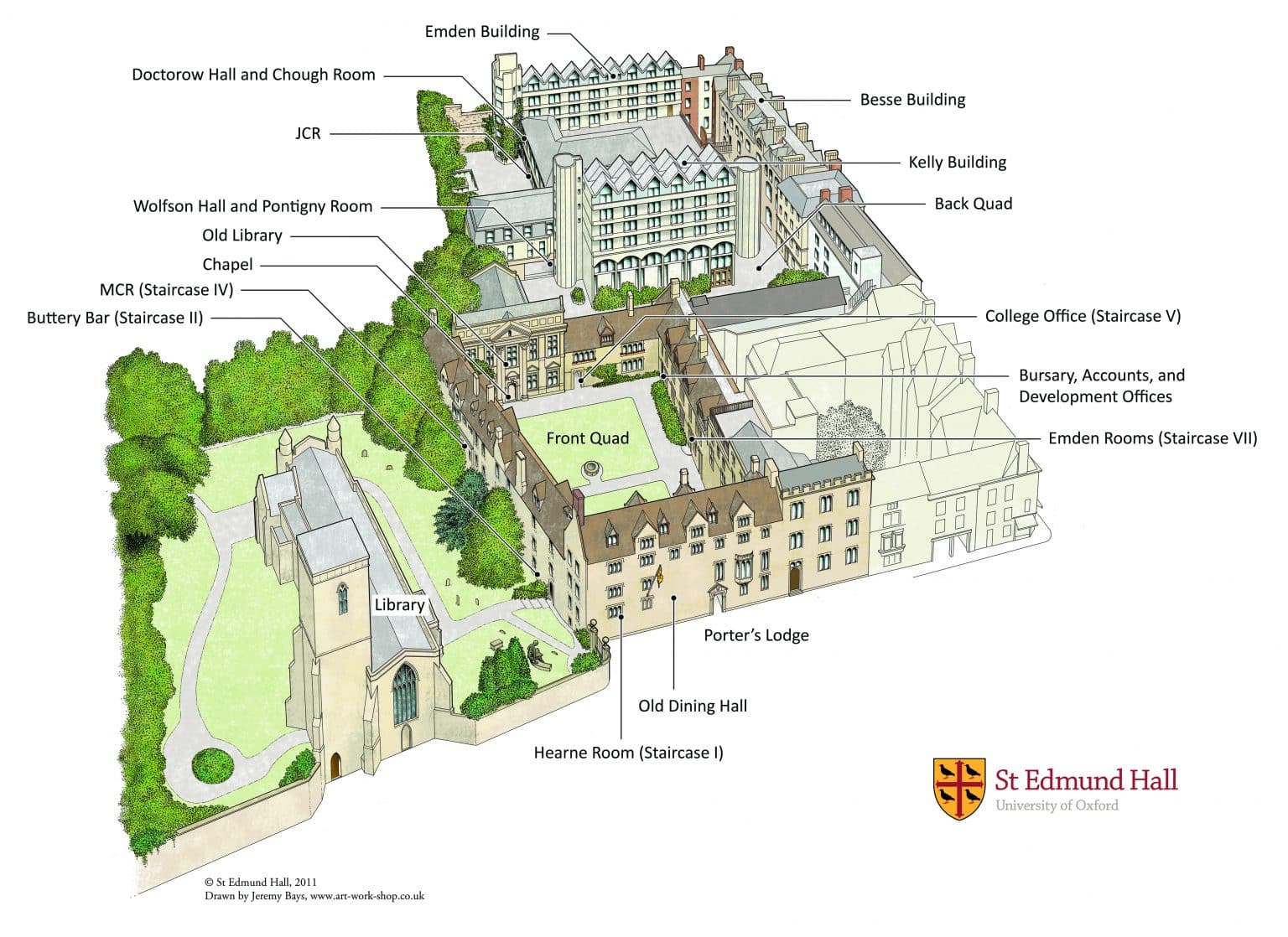 Blog Categories
Author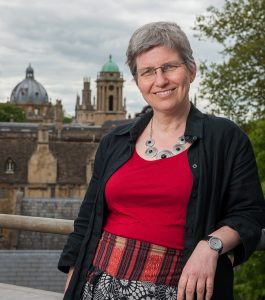 Henrike
Lähnemann
Henrike Lähnemann is Oxford's Professor of Medieval German Literature and Linguistics and a Fellow of St Edmund Hall. Her research interests include a wide range of medieval literature and religion, and particularly manuscript studies, the intersection of visual and textual culture, Latin-German bilingual writing, and the digital humanities.
Share Post