Biochemistry
visiting students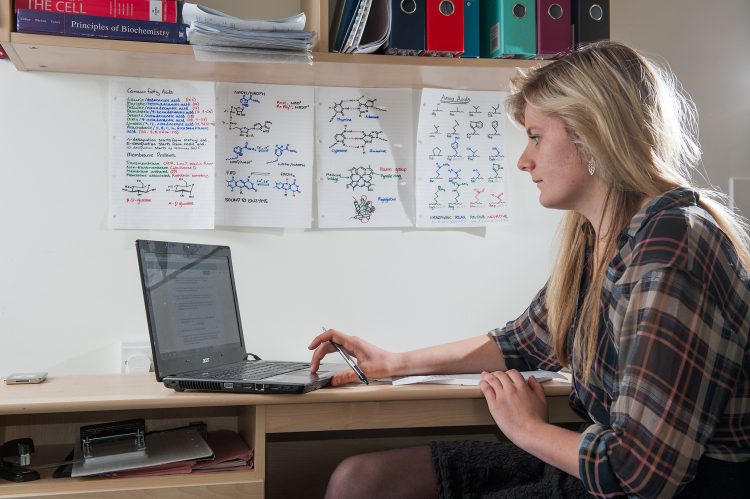 We welcome enquiries from Visiting Students interested in studying Biochemistry at St Edmund Hall. The course is normally taken from the first or second year of the Oxford undergraduate study programme.
Tutorials could be offered in the following topics:
Basic Cell biology
Molecular genetics (DNA replication, transcription, repair)
Chromatin structure and function
Cell division and cell cycle
Bioenergetics
Enzymes
Metals in biology
Proteins
First year level (broadly) physical biochemistry
Cellular biochemistry, molecular biochemistry and mechanistic biochemistry (excepting organic chemistry topics) as first year topics listed on the Department of Biochemistry website which is where most of the material in physical biochemistry is detailed.
Your Tutors
Professor Lars Jansen is a molecular geneticist with a PhD from Leiden University, the Netherlands. He then trained in human cell biology at the University of California, San Diego and spend 10 years at the Gulbenkian Institute for Science in Lisbon. He joined the Department of Biochemistry in Oxford in 2018. His lab focuses on understanding chromatin structure and function in human cell systems.
Lars has a broad interest in molecular and cellular biology with a specific focus on molecular genetics. Lars shares his expertise through lectures on Cell Biology at prelims and aspects of chromatin structure and chromosome biology in 2nd and 3rd-year courses. Additionally, he offers a broad set of tutorials in basic cell biology and the fascinating areas of molecular genetics that include: DNA replication, DNA repair, transcription, gene regulation, chromatin structure and function, epigenetics, chromosome biology, and the cell cycle.
Professor Stuart Ferguson has over 300 papers and publications to his name, including the undergraduate textbook Bioenergetics (with D.G. Nicholls). In a career stretching more than forty years, Stuart has taught many aspects of undergraduate biochemistry and is a recognised authority on bioenergetics. He has been the recipient of the Keilin medal from the UK Biochemical Society.
Visiting Students
More information about becoming a Visiting Student at St Edmund Hall – including finance, accommodation and how to apply