Biomedical Sciences
visiting students
Biomedical Sciences in an exciting interdisciplinary degree course at Oxford which allows students to develop an integrated understanding of the causes and treatments of human diseases. Visiting Students are invited to choose courses from the undergraduate degree programme. Successful applicants will already have an academic background in relevant subject areas and must have taken college level science classes prior to their arrival at St Edmund Hall.
Examples of course options within Biomedical Sciences are listed below. The exact content of your courses will be decided in consultation with your tutor at St Edmund Hall and may depend on your existing academic strengths, what teaching resources are available at the time, and which term of study you intend being in Oxford. Associated University teaching may not be available in all terms. The academic year at Oxford consists of three eight-week terms: October to December (Michaelmas term); January to March (Hilary term); and April to June (Trinity term).
Associated University Teaching: Intro to infectious diseases; Bacterial form and function; Antibiotics and Resistance; Bacteria Pathogenesis 1 & 2; Preventing bacterial infections; Neutrophils; Macrophages; Acute inflammation and fever; Adaptive immunology 1, 2, 3 & 4; Classic papers in innate immunity I; Cell-mediated infector mechanisms; Antibody effector mechanisms; Intro to virology; Influenza 1 & 2; Viral Hepatitis; Herpes Viruses; Latent Infection: tumour viruses; HIV/AIDS 1 & 2; Tuberculosis (this lecture is in Hilary term).
Associated University Teaching: Neutrophils; Macrophages; Acute Inflammation and fever; Adaptive immunology I; Immunopathology and Autoimmunity; Mucosal Immunity; Transplantation and Tolerance; Chronic Inflammation; Tuberculosis; Prions and Amyloid; Atherosclerosis; Arterial Thrombosis; Venous Thrombosis; Cancer biology lecture series 1 to 5 (including History, Therapy, Hallmarks and Metastasis).
Associated University Teaching: Drug receptor structure/function; Advanced drug/receptor theory; Receptors and signal transduction; Pharmacokinetics and drug metabolism; Peripheral pharmacology; Endocrine pharmacology: diabetes and obesity / reproduction, thyroid and bone; Respiratory pharmacology; Cardiac pharmacology; Vascular pharmacology; Pharmacology of BP control; The kidney – transporters and diuretics; Gastrointestinal pharmacology; Pain; Antibiotics and antiviral agents; Cancer and pharmacology of cell growth; target Identification and validation in drug discovery; Academic drug design and discovery.
Associated University Teaching: Renal-endocrine Interactions; Regulation of Potassium; Integrative Pharmacology of Fluid Balance; Physiological Changes During Exercise; Control During Exercise; Regulation of plasma pH; Renal contribution to control of Plasma pH; Physiology at High Altitude; Long-term Control of Blood Pressure; General Anaesthesia; Atherosclerosis; Arterial Thrombosis; Venous Thrombosis; Pharmacology of Blood Pressure Control; Pharmacology of Asthma.
Associated University Teaching: Cellular physiology strategies; Primary Active Transport 1 & 2; Volume Regulation 1 & 2; Ussing model; pH Regulation; Ca2+ Regulation.
Associated University Teaching: Families of Cell Surface Receptors; G proteins; The Second Messenger Concept; Calcium Signalling; The Inositol Lipid Pathway; Signalling through Enzyme-coupled Receptors; Nitric Oxide and cGMP Signalling; Kinases and Phosphatases.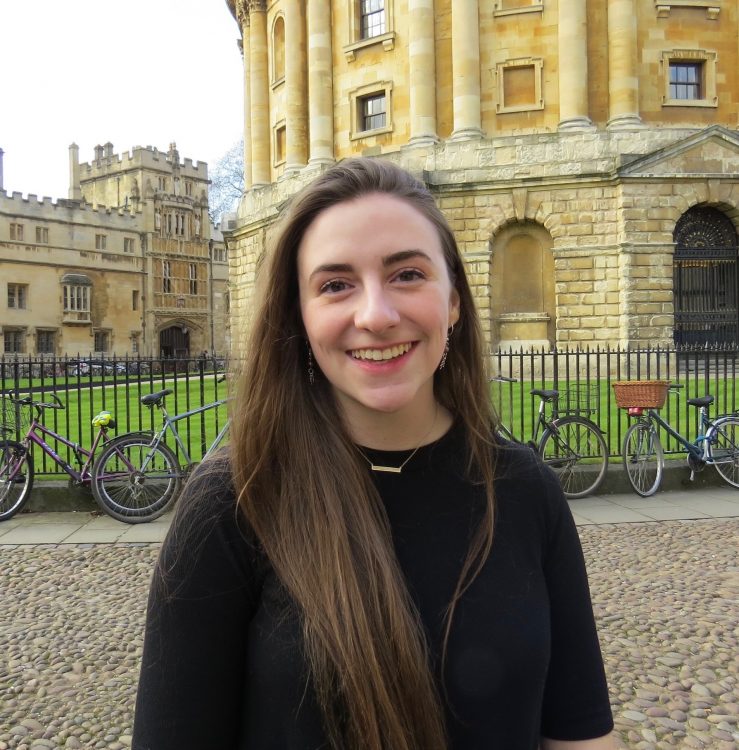 "My favourite aspect of studying here at Teddy Hall is the community. It has been fantastic to be able to meet people studying a variety of courses and hearing about their passion for what they are studying."
Hannah: Visiting Student studying Biomedical Sciences
Visiting Students
More information about becoming a Visiting Student at St Edmund Hall – including finance, accommodation and how to apply